A broken woman heals herself, then others
By Tian Xuefei and Zhou Huiying | China Daily | Updated: 2020-01-15 09:15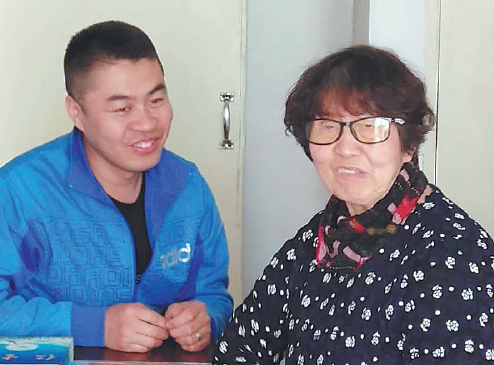 Over the past 20 years, Zhang Lianfang has helped more than 200 troubled teenagers with their emotional and psychological problems.
However, the 69-year-old from Daqing, Heilongjiang province, is not a psychologist or a schoolteacher. She is a retired worker with a visual impairment and physical disabilities.
In 1985, Zhang was seriously injured in an accident when she was working at a factory. She lost all the fingers on her right hand and a finger on the left hand. She also lost most of her sight.
"When I woke up several days after the accident in the hospital, I wanted to do nothing but commit suicide," she said. "I lost the courage to live because I didn't know how to survive with a damaged body."
However, encouragement from her family members and 5-year-old daughter gave her the will to live.
"My husband and daughter told me that they would have no family without me," she said. "My little daughter was my deepest concern. I couldn't leave her alone without a mother."
It was not easy to accept the nightmarish truth.
Due to the seriousness of her injuries, she stayed in hospital in Daqing for more than 40 days. She was later sent to a hospital affiliated with Harbin Medical University in Harbin for three months of further treatment.
After returning to Daqing, she underwent nine months of rehabilitation, including traditional Chinese acupuncture and massage to recover her limb functions.
She made great efforts to practice writing with her left hand and doing housework with her teeth and feet.
Zhang said she spent nearly three years overcoming her pain and trying to get back to normal.
Reach, don't preach
During the process, Zhang's daughter was deeply affected by her mother's strong will and became a hardworking and excellent school student.
"Some friends as well as parents of my daughter's schoolmates, began to ask about my experience in education," she said. "Especially after my daughter got a very good score in the gaokao, or national college entrance exam, in 1998. I received more calls and visits from strangers who hoped to get help from me."
The most anxious parents were those who didn't know how to change the behavior of their rebellious children.
In 1999, a middle-aged woman visited Zhang with her son and begged for help. "She told me that she had divorced her husband when her son was young and then sent him to her parents' home in the countryside," Zhang said. "When she brought him back for junior high school in Daqing, she found her son had become uncontrollable and often ran away from home to join young street gangs."
Zhang spent two hours talking with the boy. "At first, he seemed quite resistant and refused to talk with me," she said. Zhang just told him her stories and experiences without preaching to him. Gradually, "his features softened and he began to communicate with me".
"When he left, he promised to try to change and pay more attention to his studies, but I knew it would not be so easy," she said. "A month later, I sent him a present-a handmade sweater."
The young boy was shocked by the gift as he knew Zhang had done the knitting with only four fingers.
Zhang said after that he never ran away from home, went to school on time every day and even studied late into the night. She said the boy's mother cried with joy about the change in her son's behavior. "I was also very happy that I was useful to society and I could help others," Zhang said.
Life changer
In September, Zhang was faced with a different problem when a mother visited her with her daughter, a third year junior high school student. "She told me she was quite worried because her daughter had mentioned suicide several times," Zhang said.
The girl said she and two classmates had seriously considered suicide because life was boring and pointless.
"I just showed her the injuries on my body and told her how I fight my pain," Zhang said. "At the end of several hours' chatting, the girl began to cry and told me that she never appreciated that her life was so happy."
She was relieved when the girl promised to enjoy her fortunate life and left holding her mother's hand.
From 2001, Zhang began keeping a diary of what she has done to help others. So far, she has written more than 1 million words in 34 notebooks.
"I hope to compile these experiences into a book that may provide some help for parents who are anxious to educate their children," she said. "Some relatives and friends told me that I will not be able to solve all the problems and asked me to stay at home because of my old age and my bad physical condition. But I want to do something meaningful for me and the rest of society."
On top of her volunteer work and physical injuries, Zhang also has heart disease, high blood pressure and diabetes. But she never refuses a request for help, even when the phone rings at midnight. "I will stick to the job as long as someone needs my help," she said.