Libya truce talks lose out to fighting
By Ren Qi in Moscow | China Daily Global | Updated: 2020-01-15 09:29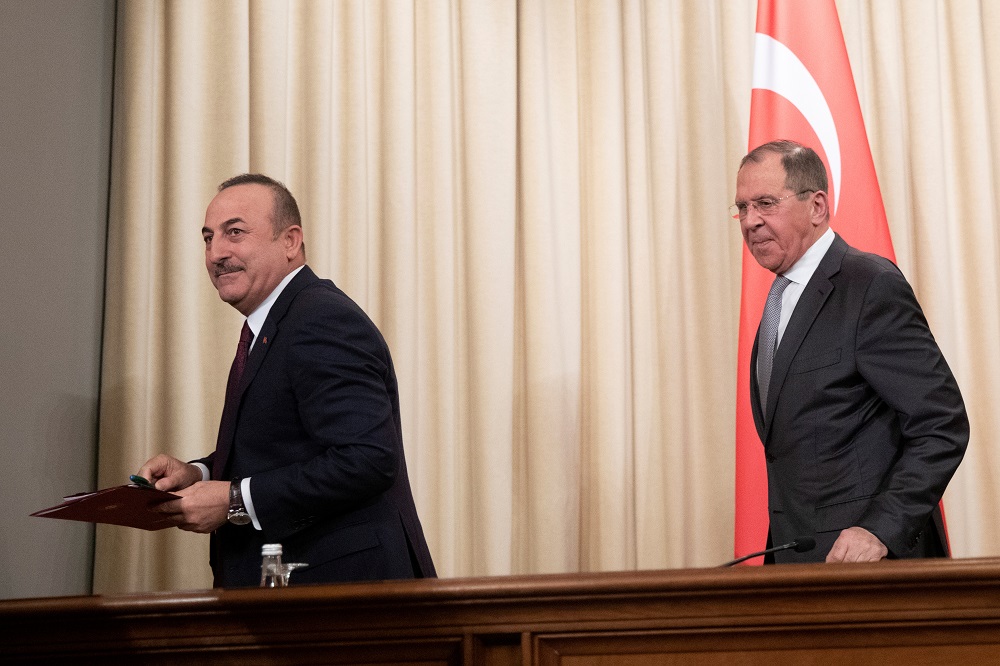 Artillery fire follows no-deal departure of rival leaders from Moscow negotiations
Libya's rival leaders have left Moscow without reaching agreement on a cease-fire deal proposed by Russia and Turkey aimed at ending the country's long-running civil war.
Fayez al-Sarraj, the head of Libya's United Nations-recognized Government of National Accord, or GNA, in Tripoli, and his rival Khalifa Haftar, commander of the Libyan National Army, or LNA, arrived in the Russian capital on Monday to discuss a truce with top diplomats and military officials from Russia and Turkey. The talks lasted about seven hours, and Sarraj and Haftar didn't meet directly.
As fighting resumed near Tripoli on Tuesday morning, Haftar complained that the proposed document ignored some of the LNA's demands. He left Moscow without signing any form of agreement.
Sky News Arabia channel earlier reported that Haftar insisted on allowing his troops to enter the capital and on the formation of a national unity government that would receive a vote of confidence from the east-based parliament.
Haftar, whose forces are based in the country's east, had also called for international monitoring of the proposed cease-fire, without Turkey's participation, and demanded the immediate withdrawal of mercenaries "who arrived from Syria and Turkey".
Illustrating the gap between them, Sarraj was said to have wanted Haftar's forces to retreat to positions they had occupied before April 4 last year. He also insisted on retaining the post of supreme commander-in-chief of the Libyan armed forces.
According to the channel's sources, those demands became the main bone of contention for the sides during their talks in Moscow.
Haftar and Sarraj participated in the talks under the mediation of Russia and Turkey. On Jan 8, Russian President Vladimir Putin and his Turkish counterpart Recep Tayyip Erdogan issued a joint statement in Istanbul that called on the parties to agree to a cease-fire.
After the four-party meetings, Sergei Lavrov and Mevlut Cavusoglu, the foreign ministers of Russia and Turkey, respectively, announced that Sarraj had signed a draft document spelling out the details of the proposed cease-fire deal, while Haftar requested more time to consider it.
Lavrov said efforts to reach a deal would continue.
"We will continue efforts in this direction. So far, the final result has not been achieved.... The Turkish and Russian representatives will continue to assist the parties in the implementation of the agreements that are being negotiated," Lavrov said.
Abdulhamid al-Safi, a media adviser to the speaker of the Libyan House of Representatives affiliated with the LNA, confirmed that no accord was reached in Moscow, except for agreements on humanitarian aid.
Tripoli-based official Khaled al-Mashri told Libya al-Ahrar TV that Haftar had asked for four days to consider sticking points in the cease-fire deal. He said he expects invitations to a peace conference in Berlin to follow later this week.
Later on Tuesday, the LNA posted on its Facebook page that it was "ready and determined" to achieve victory in the monthslong campaign to seize the capital from the GNA.
Libya's Al-Wasat news portal said, citing witnesses, that artillery fire had been heard in Tripoli's southern neighborhoods of Salah Al-Deen and Ain Zara.
Libya has been locked in a civil war since the fall of longtime leader Muammar Gadhafi in 2011.
Several armed militias of different backgrounds have emerged, and have been fighting each other to take power. Highlighting the difficulties facing negotiators this year, the warring parties had signed a peace deal on Dec 17, 2015, in the Moroccan city of Skhirat.