Philippines's Duterte orders people to stay away from restive volcano island
Xinhua | Updated: 2020-01-16 09:25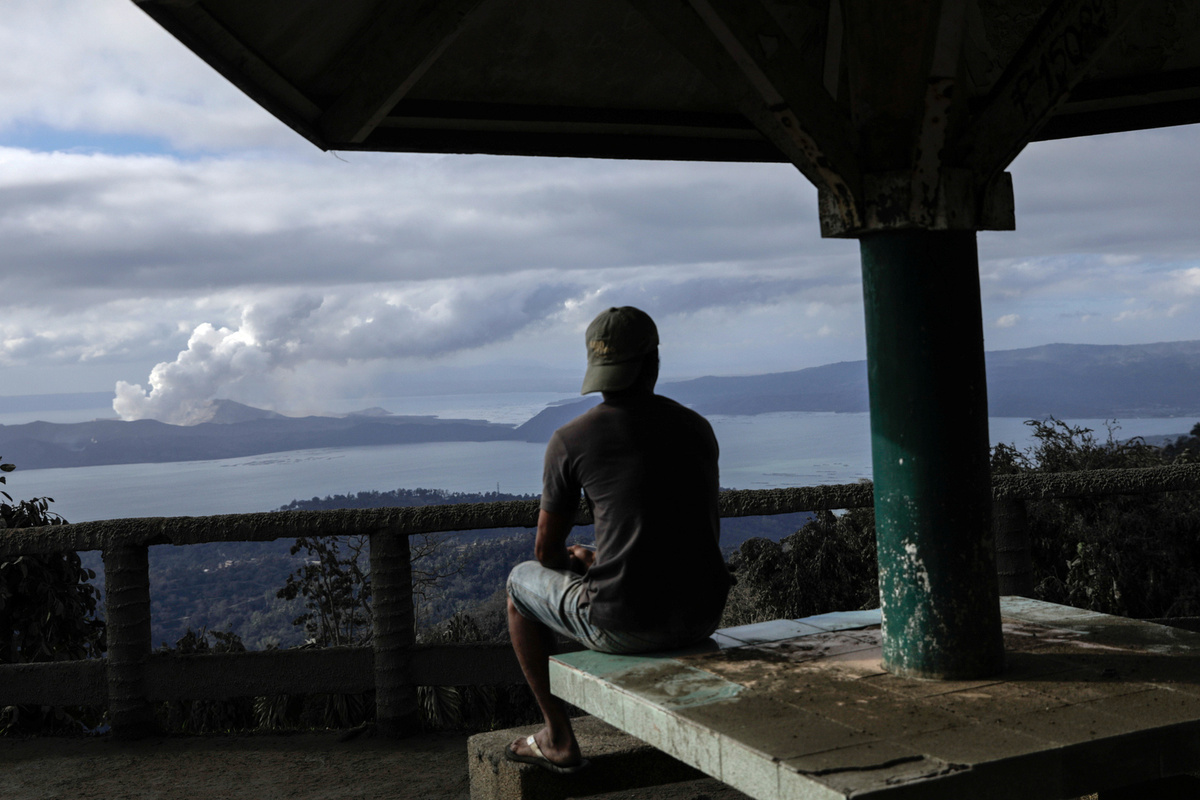 MANILA -- Philippine President Rodrigo Duterte has ordered the police to prevent people from going to a restive Taal Volcano island in Batangas province, citing concerns over an explosive eruption, presidential spokesman Salvador Panelo said on Wednesday.
"The directive was made in view of the activity currently taking place in the area, as well as of the possibility that a hazardous eruption may still occur," Panelo said, adding that "no person should stay within the Taal Volcano island until it is declared safe by pertinent government agencies."
He said Duterte "has explicitly ordered that no individual should return to the said island, and to this end, the Philippine National Police has been tasked to prevent those seeking to return to the locality from doing do."
Duterte's order came amid reports that thousands of villagers continue to defy official warnings to evacuate as fears on eruption grew.
Renato Solidum, the Philippines' chief volcanologist, said the activity "generally weaker" in the past 24 hours compared to the previous three days but it does not mean that the volcano is easing.
"It's generally weaker but it's (the eruption) continuing . . . It's hard to say it's going away, it's just generally weaker compared to the previous days," Solidum added.
Science Research Specialist Princes Cosalan of the Philippine Institute of Volcanology and Seismology said that "the possibility of an explosive eruption" remains. She further said that fissures were reported in at least three towns of Lemery, Agoncillio and San Nicolas in Batangas province, an indication of magma intrusion beneath the volcano.
The institute said it has recorded 520 volcanic earthquakes since Sunday. From 5 a.m. to 5 p.m. on Wednesday, the institute said it recovered 53 tremors with intensities ranging from 1 to 3.
"Such intense seismic activity probably signifies continuous magmatic intrusion beneath the Taal edifice, which may lead further eruptive activity," the institute said in its latest bulletin.
"The volcano's eruption has been characterized by continuous magmatic and hydrovolcanic activity that generated 700-meter tall dark grey steam-laden plumes that drifted southwest," the bulletin added.
The institute said alert level 4 remains in effect over the volcano, which means that "hazardous explosive eruption is possible within hours to days." Alert 4 in a scale of 5 is the highest alert level before a big eruption.
A government disaster agency said more than 53,000 villagers living in high-risk areas in the provinces of Batangas and Cavite have been evacuated to safety. Thousands more need to move out from the villages that are at risk.
Police have been deployed in Talisay town, a village just across the island. On Wednesday, more towns in Bantangas province were put on lockdown.
Aside from Talisay town, authorities also put Lemery, Agoncilo and Laurel town on lockdown amid continued ashfall following Taal volcano's Sunday eruption.
The volcano, some 66 kilometers south of Manila, spewed ash and lava on Sunday, prompting volcanologist to raise the alert level to 4.
It continues to emit a huge cloud of ash, gases and lava, covering Batangas province and nearby Cavite and Laguna provinces with volcanic dust.