Implants give paralyzed man's brain new control
By Ma Zhenhuan | China Daily | Updated: 2020-01-18 05:27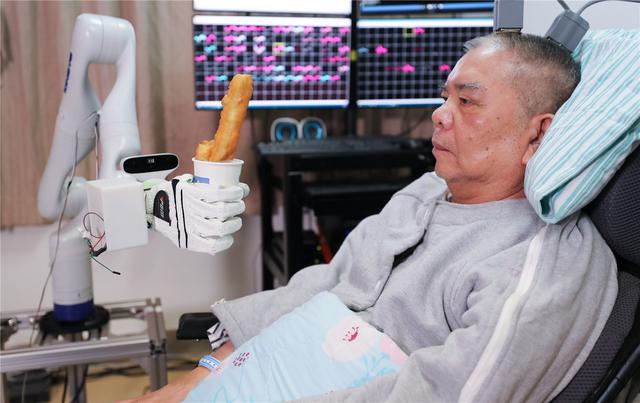 Chinese scientists made a significant stride forward in the clinical application of brain-computer interface technology with a successful procedure on a 72-year-old male patient whose body was paralyzed from the neck down.
Zhejiang University announced on Thursday that a team of researchers and doctors at the university's Qiushi Academy for Advanced Studies and its Second Affiliated Hospital in Hangzhou, had successfully implanted two microelectrodes into the man's brain to link his central nervous system to a mechanical arm outside his body. He can control the arm through natural signals from his brain.
It was said to be the first successful brain-computer interface, or BCI, operation on an elderly patient in China.
For people with spinal nerve trauma or disabilities in motor function, even simple motions, such as grasping objects with a hand, can be virtually impossible. Completing such movements requires the transmission and decoding of complex electrical signals from the brain.
"There are billions of neurons in the brain sending out electrical pulses to give instructions to our body parts," a researcher at the university said. Their work is to collect and decode the signals, and then match them to the appropriate target to command physical movement. That may be either a mechanical body part, such as a hand, arm or leg, or an external mechanical device.
A BCI usually uses tiny recording instruments or microelectrodes to manage the communication pathways from the brain — in the case of the 72-year-old quadriplegic, to a mechanical arm. As long as the cerebral cortex functions well, computers can receive and read the signals to control such devices.
Research on BCIs requires a combination of knowledge from neuroscience, information technology, engineering and medicine, said Wang Yueming, a professor at Zhejiang University, who was a leading participant in the breakthrough experiment.
Gao Shangkai, a professor in the Department of Biomedical Engineering at Tsinghua University, hailed the BCI technology as an important tool in physical therapy and rehabilitation.
"Most of the rehabilitation training done at hospitals involves movements of the arms and legs, which is far from enough. The main problem is in the brain," she said.
With special training, the patient who volunteered for the experiment in August, can convey brain signals to the microelectrode devices in his brain, which then translate his brain's electrical activity via computer algorithms into "thoughts", and from there into motions.
He has learned to shake hands with other people and get food, as shown in a video.
"In this experiment, we had no references, so we needed to explore and innovate ways to perform operations. We had to analyze signals and design training methods," said Zhang Jianmin, director of the neurosurgery department of the hospital.
According to Zhang, there have been other such operations on young and middle-aged people elsewhere in the world, but Zhejiang University's team performed the first such operation on an elderly patient who was generally considered to be weaker in physical strength, concentration and emotional control. Those factors were believed to lead to unstable neural signals and special decoding difficulties.
"The success of the experiment proves the feasibility of using implantable brain-computer interfaces to help senior citizens make complicated movements," Zhang said.
The ultimate goal of basic medical research should be clinical applications that tackle practical problems, he added.
Qin Jirong contributed to the story