Roses raring for shot at redemption
Share - WeChat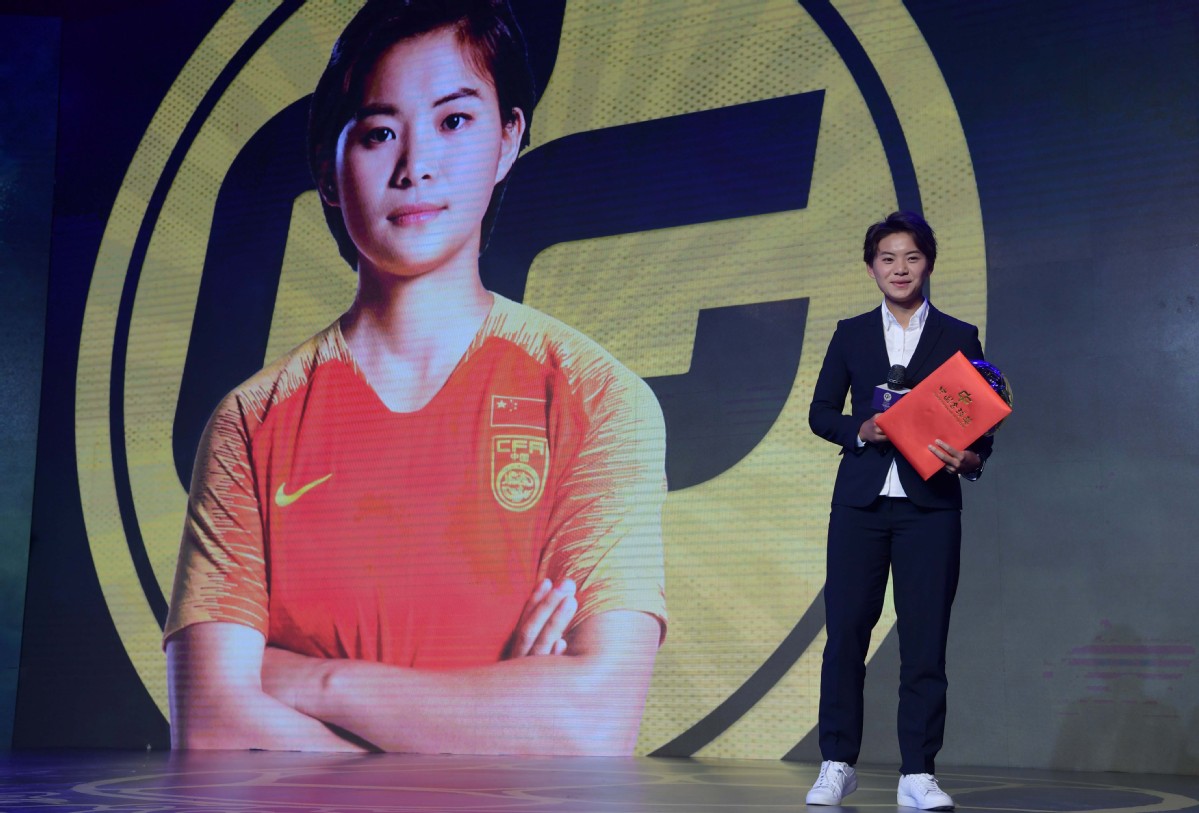 Wang Shuang is determined to put the disappointments of 2019 behind her by helping China reach the Tokyo Olympics.
The women's national team kicks off its Group B qualification campaign against Thailand in Wuhan on Feb 3, following by matches against Chinese Taipei (Feb 6) and Australia (Feb 9), with the top two finishers advancing to March's playoffs.
A below-par showing at last year's Women's World Cup and the recent failure of their male counterparts to secure their Tokyo tickets has placed added pressure on the 'Steel Roses' to avoid a slip-up.
As the team's biggest star, former Paris Saint-Germain playmaker Wang feels like she has an extra point to prove following a year that dipped slightly below her lofty standards.
"2019 was not the highlight of my career. Compared with the two previous years, I encountered many difficulties and setbacks," said Wang at an awards ceremony in Beijing last Friday after being named the 2019 Chinese Women's Footballer of the Year.
"The national team players are trying our best to prepare for the Olympic qualifiers. Shortly after we come back from our warm-weather training camp in Australia, we will face the first match in Wuhan in early February, which is our top priority.
"Our goal is to top our qualifying group and then achieve a good result in Tokyo."
After a year-long stint in Europe, Wang is now back in the Chinese Women's Super League with Wuhan Chedu Jiangda.
The 24-year-old, dubbed 'Lady Messi', made global headlines in 2018 when she transferred to PSG.She was soon earning plaudits both in France and back home after becoming the first Chinese to score in the Women's Champions League.
But while Wang was excelling on the pitch, off it she was having difficulty adjusting to her new life, and her unhappiness ultimately appeared to affect her form for China at last summer's World Cup in France.
A 2-0 last-16 defeat to Italy at the tournament suggested China was no longer the force it once was in the women's game, having finished runner-up at the 1999 World Cup and 1996 Olympics.
Working hard
National team coach Jia Xiuquan, though, has declared himself satisfied with his players' reaction to their struggles in France.
"Since the World Cup, we have been reviewing where we went wrong and trying to learn from it," Jia told Xinhua last week. "I really want to thank my players who have been working very hard in training."
Improving stamina and the pace of their passing have been focal points of the training, Jia revealed.
"After the World Cup, we realized we needed to up the pace of our game, which requires the players to be quicker both in movement and thought," Jia added.
"I've been telling them to consider each qualifier as an Olympic final. We plan to be in peak condition to guarantee top spot in the group. And we're ready for all situations."
Last year's World Cup woes prompted a wave of criticism from fans and pundits, but Jia says his charges remain as motivated as ever thanks to their unwavering courage and sense of pride in the national jersey.
Jia bore the brunt of that backlash, but he insists that, by always doing his utmost for the squad, he "has a clear conscience".
One of the few positives from the World Cup was the performance of goalkeeper Peng Shimeng, who became a household name with a number of superb displays between the sticks to help China advance past the group stage.
Peng, though, believes her best is yet to come.
"As the goalkeeper, I have to be more stable," she said. "I feel like I just reached the basic level for playing at high-level competitions last year. I hope to improve myself through training this winter.
"I really want to help our team qualify for the Olympics-even if that means I can barely have holidays over the Spring Festival. It doesn't matter because all of us in the team are working toward the same goal."