Coach Li lays down the law
Share - WeChat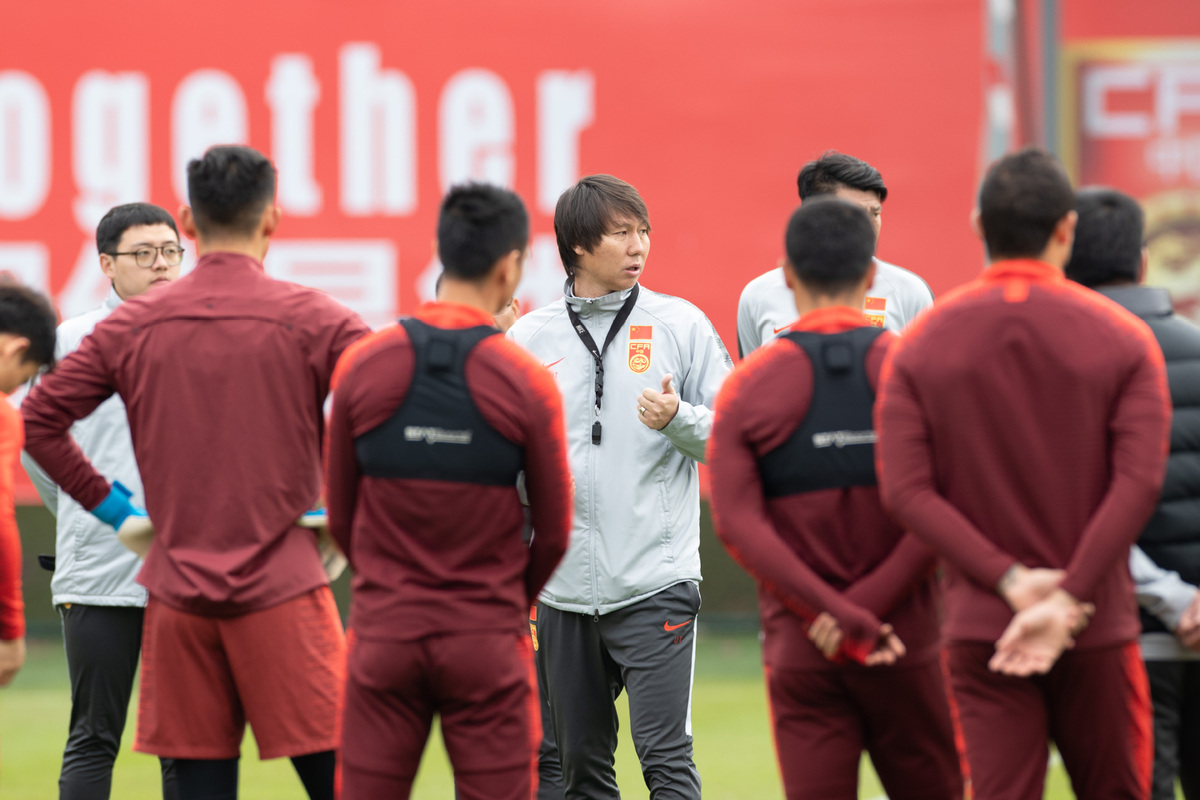 Just two weeks into his reign as Team China head coach, Li Tie's squad is already feeling the pace.
True to his name (tie means iron in Chinese), Li has been pushing his players to their limits during a tough winter training camp in Guangzhou, Guangdong province.
"The training for the past two weeks has been very intense. And the players are very tired already. We've trained three times a day, five days a week," said Li.
"It's been especially tough for those players who played at the East Asian Football Federation E-1 Championship (in December).They barely had time to take a break. They are tired both mentally and physically, but they just keep going.
"Technically speaking, we could cut it to two sessions a day. But we want to improve the players' ability to cope with tough situations through such intensive training. I'm happy to see they are really trying hard. And many are in the best condition of their careers."
The Chinese Football Association initially installed Li on a caretaker basis following Marcello Lippi's resignation in November. Earlier this month, the former China international and Everton midfielder was confirmed as Lippi's permanent successor.
Li has described his appointment as a "dream come true", but he faces a monumental task in trying to qualify China for the 2022 Qatar World Cup.
With four more first-round qualifiers to play, China is eight points adrift of Group A leader Syria and only leads third-place Philippines on goal difference. The eight group winners and four best second-place finishers will enter a second phase of Asian qualifying.
China is expected to bag three points against minnows the Maldives on March 26 and again against Guam five days later, before ending its campaign with crunch games against the Philippines and Syria.
China's current winter training block will end on Thursday, when players will return to their clubs.
"The two weeks of training is very important for us, because we will only have about a week to train ahead of the next qualifier," said Li. "The time for training is clearly not enough, but we are trying our best to prepare correctly.
"Another priority is to maintain good communication with the clubs. Players have made lots of improvements in terms of weight and their body-fat ratios, so I hope they can maintain it."
Last Friday, Li was named the 2019 Chinese Football Coach of the Year in recognition of his achievement in steering newly promoted Wuhan Zall to a sixth-place finish in the Chinese Super League and his subsequent promotion to the national team.
Due to his commitments in Guangzhou, Li was unable to attend Friday's ceremony in Beijing, so had his award delivered to him by former Team China head coach Zhu Guanghu.
Zhu, who coached Li with China's Jianlibao team-a now-defunct squad comprised of rising young talent in the 1990s-believes his former student possesses all the qualities necessary to succeed in the job.
"I saw his potential to become the Team China coach when he was still a player at Everton," said Zhu at the awards ceremony last week.
"Li Tie worked as an assistant coach with Lippi in 2012. Since then he has spent many years in the Chinese Super League. So he's very familiar with CSL players, which is a big advantage for him.
"Another advantage is his attitude. He always has the resolution of bringing honor to his country. Just like he said during his first media conference as the coach, he would've signed a one-day deal to take the job. He has had that spark since he was a kid."
Li, a veteran of the only Chinese men's squad to play at a World Cup finals (in 2002), dedicated the prize to his entire team of coaches.
"I'm so happy to receive the award from coach Zhu who has been my role model for years," said Li. "The award is not mine alone, but belongs to my coaching team. It's a huge responsibility to lead the national team and I will try my best."
Like his predecessor Lippi, Li's options have been bolstered by the addition of two naturalized players-Ai Kesen and Li Ke.
However, Brazil-born attacker Ai Kesen has so far not quite lived up to expectations in the national team, leaving some fans to question whether naturalization is a good fit for Chinese soccer.
Zhu, though, believes China should persist with the policy.
"Lots of countries have imported naturalized players, even in Europe," said Zhu. "Naturalization is a process of soccer development. For the current situation, introducing naturalized players is helpful to Chinese soccer."