Guangdong defeat Xinjiang, Royal Fighters win Beijing Derby
Share - WeChat BEIJING - The Guangdong Southeast Tigers defeated the Xinjiang Flying Tigers 112-101 for their 13th straight win, while Kyle Fogg scored 23 points to lead the Beijing Royal Fighters to a 108-92 derby win in the Chinese Basketball Association (CBA) on Tuesday.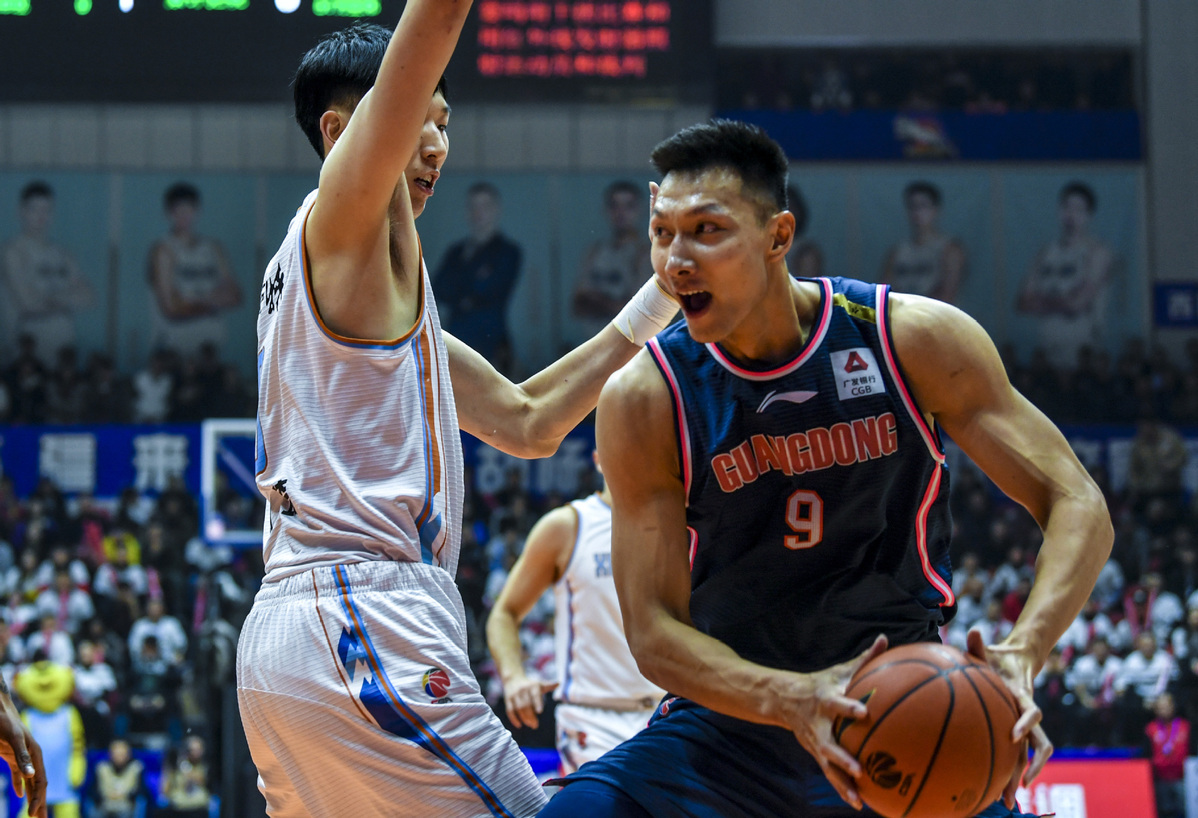 Guangdong head coach Du Feng was unable to sit on the sidelines due to having received six technical fouls, while Xinjiang forward Jarnell Stokes did not feature.
Guangdong took a 31-26 advantage in the first quarter before improving their defensive strength and offensive efficiency in the second, expanding their lead to 53-46 at the break.
Guangdong's Zhao Rui continuously attacked the interior line, causing damage in the third quarter as the away side widened their lead to 10 points, as Xinjiang's defense weakened.
At the end of the fourth quarter, Guangdong made several mistakes, but Xinjiang failed to take advantage, and the away side saw out their win.
"We had a strong desire to win and enjoy the Chinese New Year holiday," Zhao Rui said after the game.
Zhao posted 24 points and 10 rebounds for Guangdong, and Yi Jianlian scored 8-from-13 for 17 points, also grabbing 11 rebounds. Ian Clark had 27 points and five assists for Xinjiang.
The Beijing Royal Fighters and the Beijing Ducks played their third derby of the season, with the Royal Fighters claiming local bragging rights for the first time.
The home team surged into a 20-4 lead, and held a 27-19 advantage at the end of the first quarter.
In the second quarter, Zhu Yanxi and Fang Shuo hit several three-pointers for the Ducks, but the Royal Fighters still led 56-46 as the match entered the second half.
In the third quarter, although Zhu hit three points in a row, the Ducks could not trim the deficit.
Zhai Xiaochuan and Justin Hamilton then scored six points in a row, but the Royal Fighters held on for the win.
"We've learned a lot from the two derby games, and we were well prepared for this game," Beijing Royal Fighters's coach Stephon Marbury said afterwards.
In Tuesday's other CBA games, Jiangsu Dragons beat Shanghai Sharks 103-90, Tianjin Pioneers defeated Sichuan Blue Whale 98-88, Qingdao Eagles downed Shandong Heroes 122-109, Shenzhen Aviators routed Guangzhou Loong Lions 120-97, Liaoning Flying frustrated Zhejiang Golden Bulls 100-90, Zhejiang Lions breezed past Nanjing Monkey Kings 132-106, Fujian Sturgeons smashed Bayi Rockets 114-88, and Jilin Northeast Tigers outclassed Shanxi Loongs 127-91.