China vows at Davos it will continue to uphold globalization
By CHEN WEIHUA in Davos, Switzerland | China Daily Global | Updated: 2020-01-23 10:16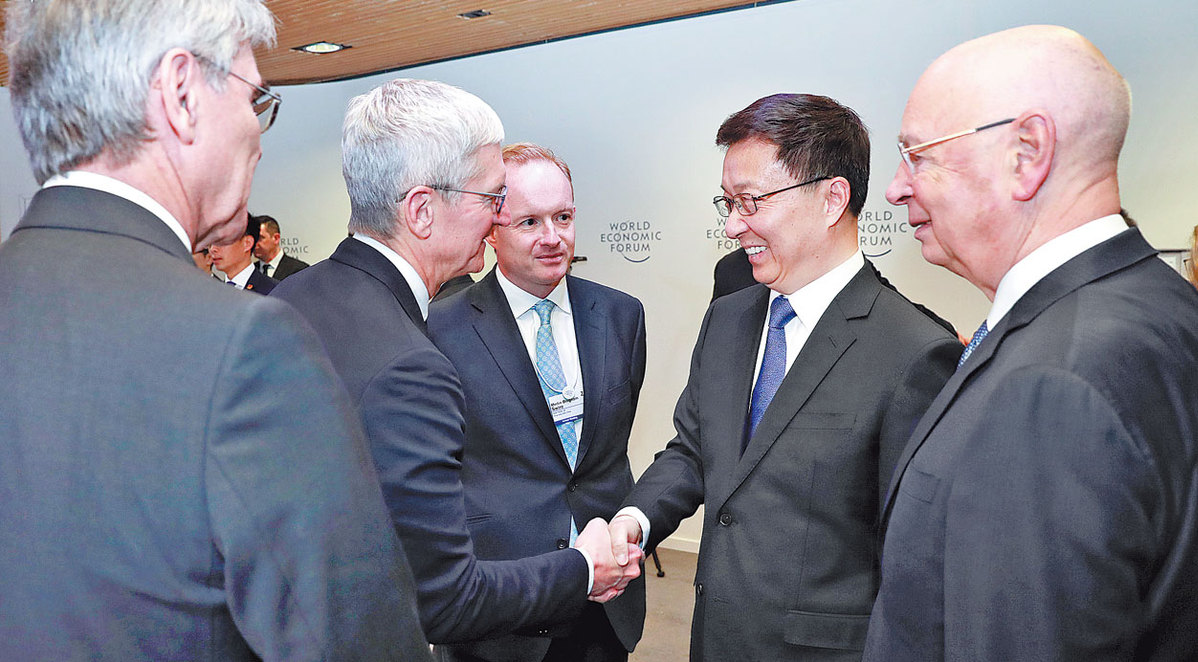 Vice-Premier Han Zheng tells Davos: Nation to further broaden market access
Vice-Premier Han Zheng pledged on Tuesday that China will continue to defend globalization and open wider to the outside world despite the challenges posed by unilateralism and protectionism.
Han praised economic globalization as the trend in history and an essential condition for productivity growth and the natural outcome of scientific and technological advancement.
He said that the fundamental solution to resolving the difficulties and problems of economic globalization lies in upholding multilateralism and building an inclusive and open world economy.
"Unilateral and protectionist practices, which run counter to the global trend, will lead to nowhere," he said in a speech at the 50th World Economic Forum in Davos, Switzerland. He added that those unilateral and protectionist practices will only weaken the foundation of global growth.
Han said that as economic globalization stands at a crossroads, the future direction it takes is a matter that requires attention and serious reflection. "To deal with the difficulties faced by economic globalization, it is essential to grasp the underlying patterns and the general trend."
Han said that in a world where all economies are deeply integrated, no country can achieve sustainable development outside the global division of labor. "We should make economic globalization more open, inclusive, balanced and beneficial for all."
Han, a member of the Standing Committee of the Political Bureau of the Communist Party of China Central Committee, said that China will open even wider to the outside world.
"Despite some unilateral moves by some countries, China will not stop pursuing high-quality opening up and will not follow in their footsteps to move in the opposite direction of globalization," he told the audience, which included government, business and civil society leaders.
He pledged that China will further widen market access for foreign investors, import more goods and services, improve the business environment, foster new drivers of opening-up, and strengthen multilateral and bilateral cooperation.
Klaus Schwab, founder and executive chairman of the World Economic Forum, praised China for its economic growth.
"China has made tremendous efforts, progress and achievements in the 70 years since the founding (of the People's Republic), and in particular the last 40 years of reform and opening-up," he said before introducing Han to the audience.
Schwab said that he is increasingly impressed by how China plays a responsive and responsible role in international affairs.
In Davos, Han attended a lunch hosted by Schwab where he met and exchanged views with business leaders such as Apple CEO Tim Cook, Siemens President and CEO Joe Kaeser, and Carlyle Group Co-Founder and Co-Executive Chairman David Rubenstein and Swire Group CEO Merlin Bingham Swire.
Markus Berni, a lawyer at Zurich-based Baker& McKenzie, said Han's speech "was assuring". "That was basically what we expect from a Chinese representative," he said.
Kenneth Goldman, president of Hillspire, LLC, based in California in the United States, said: "China has been doing a much better job in eliminating poverty, taking care of its people and providing for folks compared with some other countries.
"I think China has a lot of momentum… and the country has a lot to be proud of," he said.
Hussain Dawood, chairman of Dawood Hercules Group, a Pakistan-based company, said China's role in the world is a very responsible one.
He praised the Chinese leadership's initiative to develop the China-Pakistan Economic Corridor as well as the Belt and Road Initiative.
"That shows you the thinking of the Chinese leadership, the long-term thinking. Brilliant, brilliant," Dawood said after hearing Han's speech.