Putin states goals for new ministerial team
By REN QI in Moscow | China Daily | Updated: 2020-01-23 10:17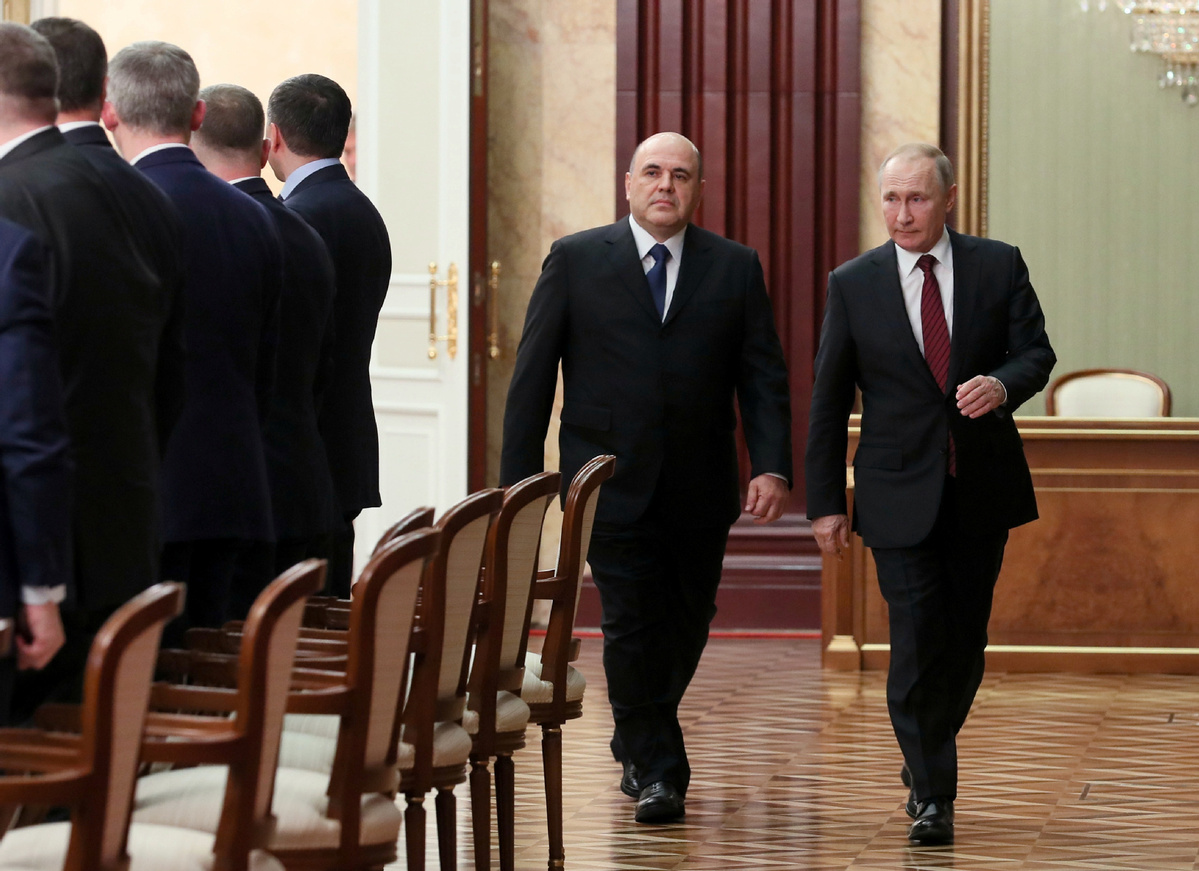 Russian President Vladimir Putin appointed a new Cabinet on Tuesday, saying the ministers must strive to enhance the welfare of Russians.
With the revamped ministerial line-up, described as marking a break with the past, the Russian president has brought in some fresh faces to serve alongside those senior ministers retained.
"The most important task is to increase the welfare of our people and strengthen our statehood and the position of our country in the world. All these are absolutely attainable goals," Putin told the new team.
According to decrees that the Kremlin published on its website, the number of deputy prime ministers has been reduced from 10 to nine. Former Kremlin aide Andrey Belousov has been named the first deputy prime minister.
Ministers tasked with steering Russia's security and foreign policies have retained their positions, including Defense Minister Sergei Shoigu, Foreign Minister Sergei Lavrov and Interior Minister Vladimir Kolokoltsev. Economy Minister Anton Siluanov also kept his position in the Cabinet, although not as a deputy prime minister.
New ministers were named for justice, education, health and economic development. There were also new chiefs for the ministry of sport, which has struggled to manage the fallout from Russia's doping scandal, and the ministry of culture, which is trying to resist foreign influence-as typified by Hollywood-in favor of patriotic, Russian-made films.
The new government was formed less than a week after Putin unveiled a sweeping shakeup of the political system, which led to the resignation of Dmitry Medvedev as prime minister, along with his entire government.
His successor Mikhail Mishustin said he wants the new government members to concentrate on "how to justify the confidence of the president and of our people at all stages of our activities".
He also wished the departed members of Medvedev's government "success in employing their skills in other important positions", noting the previous government "had to face big challenges".
"The main thing, as the president said, is that stable macroeconomic conditions were created by the former members of the government for further development. I expect that we will be relying on these conditions in our activities," Mishustin said.
Economic breakthrough
Kirill Dmitriev, the CEO of the Russian Direct Investment Fund, said the new government will aim to achieve an economic breakthrough for the country.
"We see that very successful, effective ministers kept their positions in the government. And coming in are new people who have made significant achievements in their previous positions," Dmitriev said.
The government will focus on economic growth, while increasing investment and speeding up the implementation of national projects, said Dmitriev, adding that these goals were outlined in Putin's annual address to the nation that he delivered in the Federal Assembly last week.
Dmitriev expects Russia's economic growth will increase in a range from 2 percent to 3 percent next year.