When reef ecosystems fail to recover
By KARL WILSON in Sydney | China Daily | Updated: 2020-02-03 09:45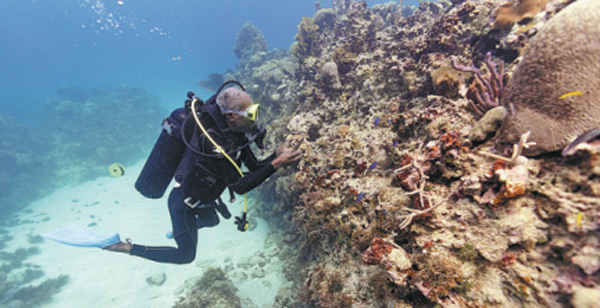 Coral reefs around the world are under increasing stress because of a combination of factors ranging from storms to mass coral bleaching caused by climate change.
Recovery of coral reef ecosystems has never been more important for the long-term survival and viability of these natural wonders, scientists say.
Decades after major disturbances to reef systems, corals have not recovered to their original numbers, says a study published last month by the Royal Society titled "Deficits in functional trait diversity following recovery on coral reefs".
The study examined major disturbances such as bleaching, hurricanes, and the coral-feeding crown-of-thorns starfish to reefs in Australia, French Polynesia and Jamaica. And it found the diversity of corals on reefs was lower, even if overall the coral cover had returned.
On Lizard Island in Australia's Great Barrier Reef, the study found, coral cover at most sites recovered to more than 90 percent of its original level within 10 years of a major disturbance-in this case, crown of thorns and coral bleaching-but the functional diversity of the coral that returned was significantly less.
Shani Tager, a spokeswoman for the Australian Marine Conservation Society on the Great Barrier Reef, said the entire reef is being affected by warming waters and ocean acidification.
"We've seen really significant impacts from climate change in the central and northern regions of the reef in the last five years."
The Great Barrier Reef is the world's largest reef system, stretching over more than 2,300 kilometers off the northern Queensland coast.
In 2016 and 2017 severe and unprecedented back-to-back coral bleaching occurred in this area, driven by global heating of the oceans.
Overall hard coral cover on the reef declined 10-30 percent in this period. This is not just because of climate change but also because of things like poor water quality, Tager said.
Michael McWilliam, a research associate at James Cook University in Townsville, northern Queensland, and lead author of the Royal Society study, said that during a disturbance populations of different species fall greatly and then either recover or remain depleted.
"What this study shows is that when recovery is unobstructed, the populations that bounce back are a minor subset of the species that were present before the disturbance, generating a lower-diversity reef community."
Disturbances having an impact on coral are becoming more frequent with climate change. "So, the recovery of ecosystems has never been more important," he said.
"Decades after disturbance on reefs we found many important corals have not recovered to their original numbers. Instead, a subset of species which were susceptible to the initial disturbance had bounced back and replaced those in decline."
Professor Morgan Pratchett, research leader in coral reef ecology at James Cook University's ARC Centre of Excellence for Coral Reef Studies, has spent a lot of time studying coral bleaching in French Polynesia, with a focus on Moorea.
Mass coral bleaching was first recorded at Moorea in the early 1980s, and there have been recurrent episodes every 2-7 years since then.
Pratchett said the coral assemblages on the outer reef slopes in Moorea have been dramatically altered over the past 30 years due to recurrent disturbances, not only caused by climate change and coral bleaching but also severe outbreaks of crown of thorns.
These disturbances have caused changes in the types of corals that dominate, he said.
"And it seems very unlikely-especially given that the incidence of major large-scale disturbances will increase with increasing emissions for the foreseeable future-that the coral assemblages will ever fully recover."
Emma Kennedy, postdoctoral research fellow at the School of Earth and Environmental Sciences, University of Queensland, said climate change has become the single biggest global threat to coral reefs. The Intergovernmental Panel on Climate Change concurs.
Changing seawater carbonate chemistry-ocean acidification, as carbon dioxide is dissolved in seawater-can undermine development and growth of calcifying organisms such as corals, affecting their ability to develop and grow, Kennedy said.
"Not only are we seeing mass losses in the total number of corals, but we are starting to see shifts in the types of corals, too."
Reefs are home to hundreds of coral species. Many species are slow-growing and live to be many decades, or centuries, old.
"Our study shows that if these populations are lost, their capacity to recover is very limited," McWilliam said. "You can't get a century-old coral back in 10 years."
karlwilson@chinadailyapac.com