Writers explore a galaxy of plots
By Yang Yang | China Daily | Updated: 2020-02-05 08:24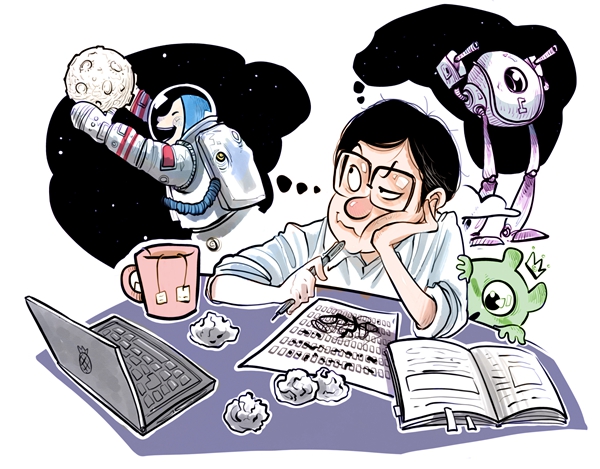 Science fiction authors take us on extraordinary journeys that remain relevant to our daily lives, Yang Yang reports.
Their work is out of this world. They have a universe of scenarios at their fingertips. Sci-fi writers have the ability and freedom to depict situations that in any other genre would be easily dismissible. "We can create completely new worlds to explore themes like nuclear disasters," says Japanese sci-fi writer Taiyo Fujii, talking about the first sci-fi story he wrote, Gene Mapper, a story about gene modification.
Fujii started writing science fiction after a 9-magnitude earthquake hit eastern Japan in March 2011, leading to the Fukushima nuclear power plant meltdown. He found news reports were misleading. His concerns that the media was magnifying the fear and this would ultimately kill more people than the disaster itself later turned out to be true. An elderly man committed suicide in despair, fearing that he could never go back home.
"So I want to use science fiction to show how we should face the world, science and technology," the 49-year-old says.
Fujii is one of the 13 writers participating in this year's Science Fiction New Year Gala that began on Jan 20 and ran until Feb 1. Organized by the Future Affairs Administration, a sci-fi business company, the gala aims to provide sci-fi content for readers during China's most important festival when hundreds of millions of people travel across the country back to their hometowns for the annual reunion with families and friends.
Since 2016, sci-fi writers from home and abroad have been invited to create short stories according to themes required by the FAA, all closely related to Spring Festival.
In 2016, it was about "How Aliens Observe the Tradition of Spring Festival". In 2017, the inspiration came from the Spring Festival gala, produced by China Central Television, that is broadcast on Lunar New Year's Eve. In 2018, the key words were "Beijing West Railway Station", from where, each year, hundreds of thousands of people in Beijing head back home. Last year it was "Hometown Odyssey".