Researchers urged to pool wisdom
By Xu Wei | China Daily | Updated: 2020-02-10 08:06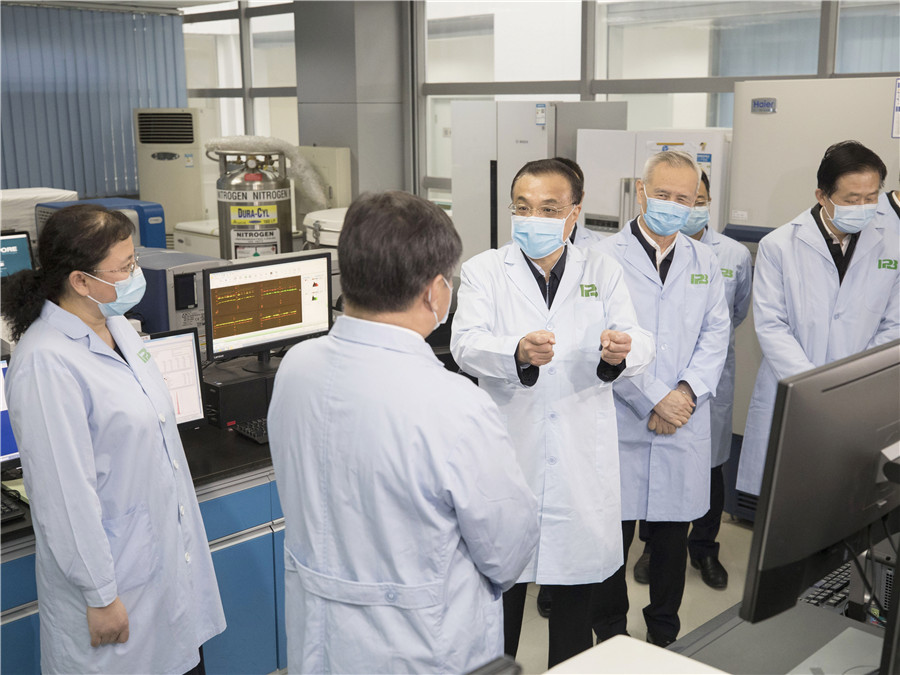 Premier Li Keqiang calls for all-out efforts to develop medicines for virus
Premier Li Keqiang called on Sunday for all-out efforts to research and develop pharmaceuticals in tackling the novel coronavirus pneumonia outbreak, saying that effective drugs are the key to curbing NCP and improving the recovery rate of patients.
In a visit to the Chinese Academy of Medical Sciences' Institute of Pathogen Biology, Li said fighting the outbreak requires actions from the whole nation as well as support in science and technology.
The country must concentrate its strongest forces in scientific research and step up coordinated research and development to conquer the most pressing difficulties in epidemic control and prevention, he said.
He encouraged researchers in pharmaceutical and other related areas to make every minute count, pool wisdom from various areas, enhance cooperation and conduct in-depth research on the therapy of recovered patients.
The authorities must scale up support in fiscal, material and human resources dedicated to the research of drugs and vaccines, he said.
He highlighted the need to ensure the safety and effectiveness of drugs and vaccines during the research process, saying that the research must respect science.
Li, who heads the leading group of the Communist Party of China Central Committee on coping with NCP, said it is important to continue with efforts to ensure the early discovery, reporting, isolation and treatment of people infected.
He called for heightened efforts to treat patients in groups and isolate suspected cases, cases of fever and close contacts for medical observation, adding that a higher percentage of infected people must be offered medical treatment.
The recovery rate of patients must be further improved, and the infection rate and fatality rate of NCP should be further reduced, he said.
The premier called upon researchers to accelerate research on the transmission path of NCP, a crucial step for scientific prevention and control efforts, so that the authorities can divert resources to the areas where they are needed most.
Researchers should also provide authoritative voices over the transmission paths of the virus to aid the epidemic control and prevention efforts, he said.
NCP had killed 811 people on the Chinese mainland as of Saturday, with 37,198 confirmed cases and 6,188 people in critical condition, according to the National Health Commission.
In a notice released on Saturday, the State Council coordinated prevention and control mechanism on coping with NCP urged authorities and businesses to coordinate epidemic prevention and control and the resumption of normal working order at an early date to provide sufficient material support to curb the outbreak.
Sectors that are closely related to the national economy and the public livelihood must resume work and production as soon as possible, and the railway and civil aviation sectors must offer the due support needed, the notice said.
The operation of whole industry chains must be accelerated, with efforts to solve problems such as machinery, staff and funding shortages, it added.