Former Wuhan official to guide prevention and control efforts
By CAO YIN | CHINA DAILY | Updated: 2020-02-11 08:41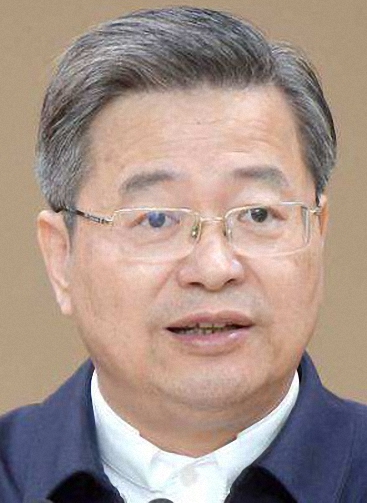 Chen Yixin returns to epicenter of virus outbreak after being away for two years

Chen Yixin, former deputy Party chief of Hubei province and former leading official of Wuhan, has returned to the city, the epicenter of the ongoing novel coronavirus outbreak, to guide local disease prevention and control work after leaving Wuhan for about two years.
Chen, secretary-general of the Commission for Political and Legal Affairs of the Communist Party of China Central Committee, has been appointed deputy head of a central government group to guide epidemic control work in Hubei province, according to a report posted by the commission on its WeChat account on Monday.
He arrived in Wuhan on Saturday and has conducted extensive inspections to learn about the current situation, the report said.
"After about two years, Chen has been entrusted with a special mission at a critical and difficult moment amid the ongoing epidemic of novel coronavirus pneumonia," it said.
Instead of holding a face-to-face meeting, Chen greeted local officials in Wuhan, many of whom are his former colleagues, in a WeChat group created for the urgent situation.
He told leading officials of all districts that he has always cared about Wuhan even though he has been away, according to the report, which released Chen's chat records.
"Now the central leadership has appointed me deputy head of the central group (to guide the epidemic control work in Hubei province)," he said. "We can fight together again."
Chen required local officials to fully carry out the requirement from the central government to admit all people who need medical assistance to medical facilities.
"It is an order that we have to resolutely and fully implement," he said, adding that the move is key to stopping the spread of the virus.
All people with serious symptoms must be hospitalized, he wrote, stressing that it is the bottom line and there is no room for bargaining.
Confirmed patients, suspected patients, people with fever and close contacts will receive different types of medical treatment and quarantine.
Those who do not complete tasks will be held accountable, he said.
Chen, 60, a native of Zhejiang province, worked as the deputy Party chief of Hubei and Wuhan Party chief from late 2016 to early 2018.
Besides Chen, Wang Hesheng, vice-minister of the National Health Commission, has also been appointed a standing committee member of the CPC Hubei Provincial Committee in a move to bolster the front-line efforts.
The appointment was announced on Saturday. According to the website of the NHC, Wang is in charge of healthcare reform and medical administration. He has been the deputy head of the country's top health authority since 2016.