Enhanced restrictions introduced to curb spread
Share - WeChat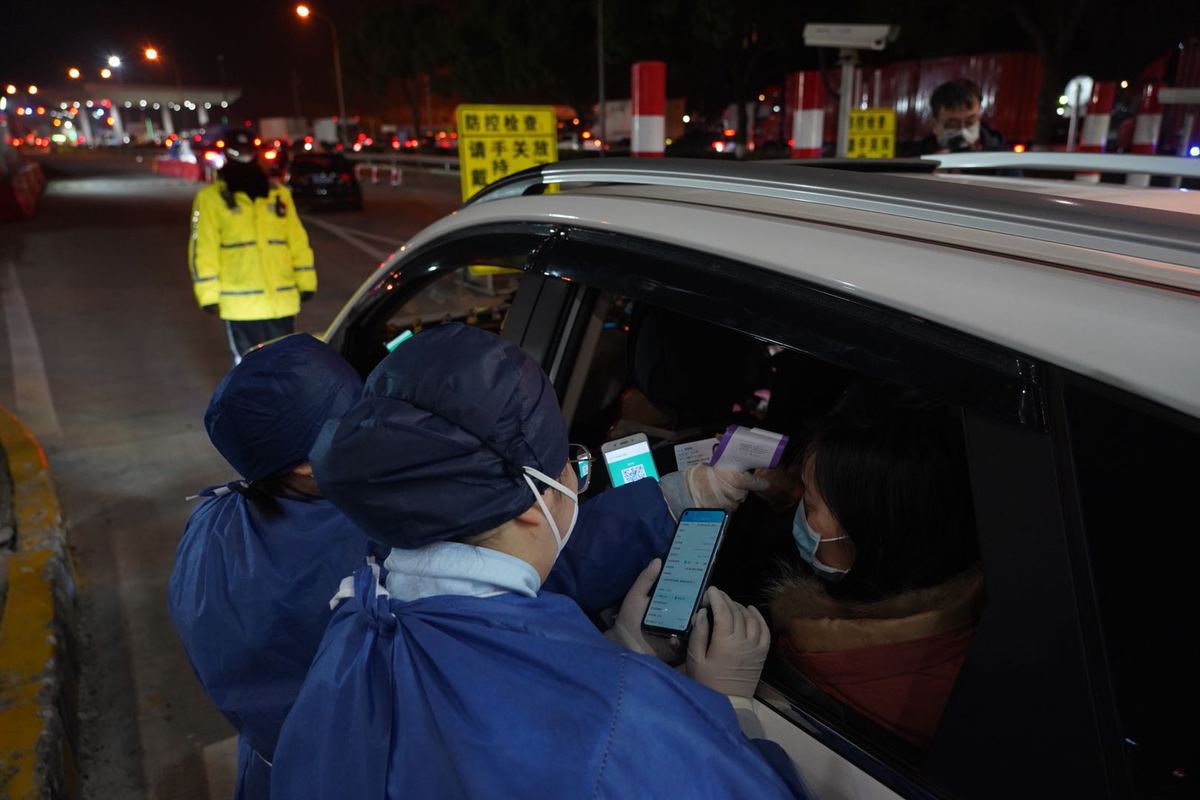 An increasing number of Chinese cities have introduced measures to partially close off communities and tighten entry restrictions, in order to curb the spread of novel coronavirus pneumonia amid the resumption of work on Monday in large parts of China.
The Beijing government announced on Monday the intensification of screening across its communities and villages by setting up checkpoints and enforcing temperature checks at their entrance, shutting down nonessential public venues and enforcing the registration of people returning from other regions as well as visitors.
If transmission of the virus is detected in a community, the affected residential building, block or entire neighborhood is likely to be put under quarantine, according to a statement released on the city's website.
District officials will be responsible for ensuring that people who are identified by health authorities as close contacts of NCP patients are isolated. Public security forces will intervene to counter poor compliance of mandatory isolation measures, the statement added.
In Shanghai, the majority of the city's 13,000 residential compounds have adopted restrictions on entry by reducing the number of entrances, and increasing manpower to ensure that every single person passing through will be questioned, registered and have their temperature taken, Zhu Qinhao, head of the city's Civil Affairs Bureau, said at a news conference on Monday.
"Those who have an abnormal body temperature will be immediately reported and transferred to designated facilities," he said.
The government of Shenzhen in South China's Guangdong province said late on Sunday that all residents are required to present a code image or a paper pass to go through the entrance of communities, and non-residents and visiting vehicles are barred from entering except under special circumstances.
The code image can be obtained through an online registration system, and offline services will be provided to the elderly, children and others who are unable to navigate the system, according to the Shenzhen government.
Chen Yueliang, an official at the Ministry of Civil Affairs, said many residential areas have deployed mobile platforms, including messaging apps WeChat and QQ, to replace paper and pens when logging information, in a bid to reduce contact and prevent cross infection.
"Internet companies are also encouraged to develop new tools that could facilitate faster and safer registration of residents," he added.
Hangzhou, Zhejiang province, one of the first cities to impose partial lockdowns in communities, has encouraged each household to send one family member every two days to go out and purchase daily necessities.
Similar rules aimed at intensifying screening across numerous neighborhoods and residential compounds in China are also seen in cities in Jiangsu, Heilongjiang, Sichuan provinces and Tianjin, as millions of people returned to work after the extended Spring Festival holiday.
Chen said the decision to implement travel bans in communities should be made based on the specific conditions of each area, rather than a one-size-fits-all method.
"The ultimate goal of imposing strict controls on incoming vehicles and people, as well as closing residential compounds or villages, is to cut transmission of the virus," he said.
"Some communities have arranged social workers to shop and care for special groups or families facing difficulties and those under quarantine," Chen added.
Since the onset of the outbreak in late December, nearly 4 million social workers have been mobilized to fight the disease's spread, he said. On average, each community has six social workers.
Ma Zhenhuan in Hangzhou and Yang Cheng in Tianjin contributed to this story.