As the holiday ends, how should the coronavirus be dealt with?
Share - WeChat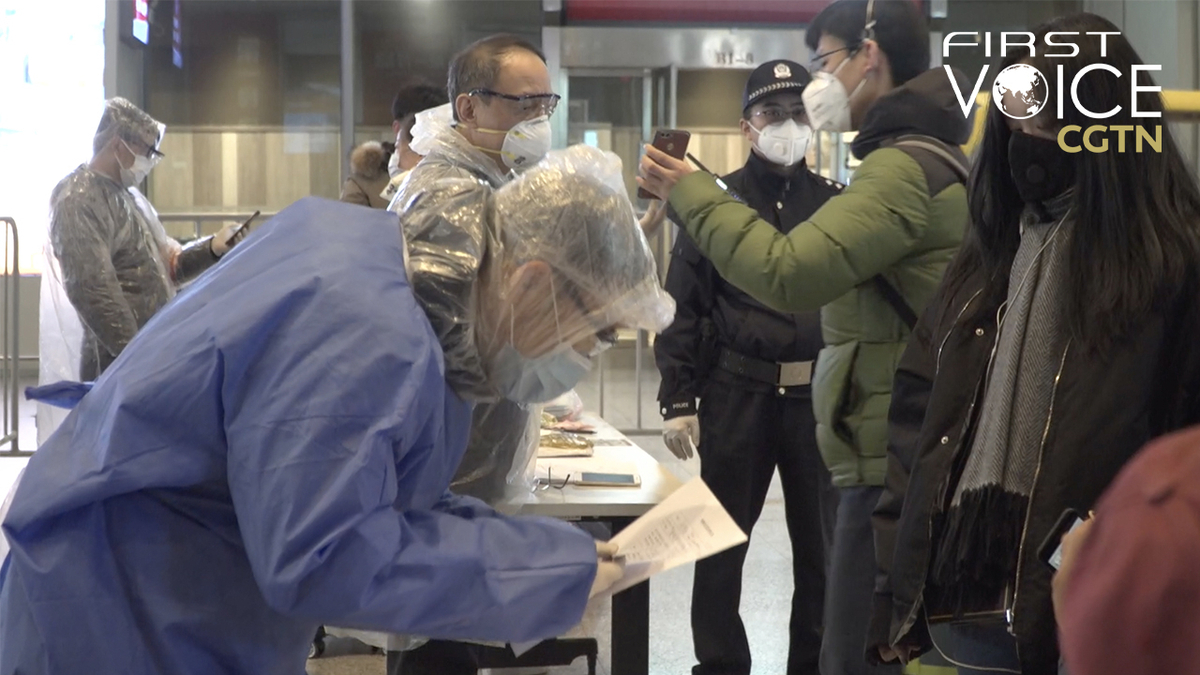 China's measures to contain the coronavirus outbreak have been working as its daily new confirmed cases outside Hubei Province have dropped from 890 on February 3 to 509 on February 8, according to Mi Feng, spokesperson for China's National Health Commission on Sunday.
However, the country's fight against the spread of the virus needs to continue with increased efforts. This is because as the country's extended lunar New Year holiday is drawing to a close, it is now seeing a new wave of movement across the country as people who traveled from their places of work during the holiday have embarked on a journey back to restart work.
This has posed renewed challenges about controlling the virus as the increased travels create the "perfect" breeding ground for a wider and quicker spread. So how should the challenge be dealt with?
Ren Zeping, a renowned economist in China, released a report on Thursday analyzing how to manage the current crisis with more people returning to cities. The report points out that as people move back to work, over 60 percent of the population moving across different provinces are ending up in Guangdong, Zhejiang, Jiangsu Provinces, and the cities of Beijing and Shanghai.
This leaves these areas particularly vulnerable to a further escalation of the outbreak and makes it an absolute necessity for them to shore up defense against the coronavirus.
Luckily, they have done so in the past week. For example, in Beijing, communities have stepped up measures to minimize the risks with apartment complexes asking residents returning to Beijing to register their recent travel history. As the situation continues to evolve, deliverymen are also not able to enter residential compounds any more and occupants in the area need to collect their food or packages themselves.
Cities like Guangzhou and Shenzhen have implemented tighter restrictions upon entry. For example, starting February 8, Shenzhen has strengthened the screening system towards travelers and vehicles that plan to go in and out, and vehicles that have been to major outbreak hotspots since January 1 will have to register online and indicate their intention to enter Shenzhen first.
Moreover, on February 7, the Shenzhen government issued several new measures to contain the outbreak as Guangdong has risen to be the province with the most confirmed cases outside Hubei. According to the new measures, movement in and out of residential areas are strictly limited to residents of these communities and their vehicles; residents who have been to major outbreak-stricken areas in the past two weeks are required to self-quarantine at home.
Tedros Adhanom Ghebreyesus, director-general of the World Health Organization /CGTN Photo
With the concerning uncertainty of the outbreak, these measures enacted in major cities to reduce contact between people as well as exposure to confirmed cases, should prove necessary for coping with the current crisis.
In the meantime, staggering the dates for reopening different businesses is also a step that has been taken. And this means the country's 29 million migrant workers (17 million of which work away from their hometowns) will not have to flock back to work at the same time.
For example, the city of Hangzhou has drawn up a "white list" of manufacturers that are allowed to open as of February 10, which includes those producing essential products or involved in major infrastructural projects, and those whose employees are mainly locals. Manufacturers whose employees are mostly non-locals but do not come from outbreak hotspots are allowed to open starting from February 15 with the others allowed to open on February 20.
What is also worth noting is that as the country's migrant workers start to head back to work, they need to make sure they are in good health, wear face masks and take care of personal hand hygiene, as Yang Zhiming, chairman of The China Association for Labor Studies, warned. In the meantime, their employers need to take up their responsibility to reduce infection risks for their employees by not cramming them into small spaces and disinfect the factories and other work space often, etc, he said.
Ren's report notes that the country should try its best to bring the situation under control by the end of February. While industries such as transport, express delivery, retail and manufacturers of essential goods such as medical equipment need to be in operation now, those such as restaurants, tourism and entertainment should better wait to reduce infection risks. Companies should also allow employees to work from home, and many are already doing this.
China's efforts to deal with the current coronavirus situation have been truly unprecedented. However, given the uncertainty over how long this crisis will last and with the new challenge of increasing movement across the country, it is important that it continues to present a united front and coordinate efforts to tackle the situation.
Today's Top News
Editor's picks
Most Viewed