Broom challenge tackled, next please
By ZHANG ZHOUXIANG | China Daily | Updated: 2020-02-13 07:01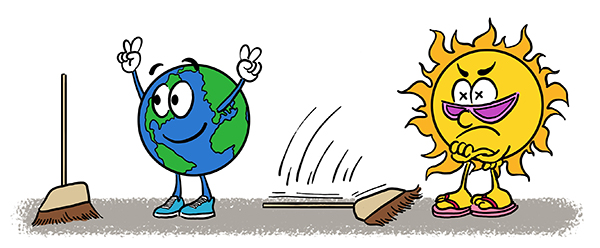 Can you make a broom stand on its own without support?
You should have tried it on Tuesday when the Earth's gravitational pull was rumored to have dipped to its lowest. Others went as far as to say the sun's magnetic pull toward objects on Earth was also at its lowest, making Feb 11 the only date when one could pull it off.
The rumor found traction and the challenge certainly swept users of domestic social networking sites off their feet, with just about everyone giving it a shot. Some figured out it was not really difficult-one had to just place a pen or some long, sharp object underneath the broom or make the broom stand on its sharp end.
The rumor was credited to NASA and the challenge given the "NASA broom challenge" hashtag, but the organization denied any involvement.
Anybody with the most basic scientific knowledge would have known how absurd the claim was. Whether or not a broom can stand on its own has more to do with its center of gravity than gravity itself. It was even more ridiculous to involve the sun. After all, the sun's magnetic pull on an object on Earth is only about one five billionth that of the Earth; too little to make a difference to a broom. However, the broom challenge came as a welcome relief for people who have stayed indoors for far too long, owing to the novel coronavirus scare. Many actually posted scientific explanations along with photos of their brooms standing on end.
Many still need to work from home in order to minimize population flow and avoid contact with others to stop the virus from spreading. Such nationwide confinement has already lasted more than two weeks and might not end any time soon. Bored citizens thus want something new to keep themselves busy. The broom challenge came at the right time. It is time to find more such interesting things to keep people busy and entertained at home.