New York titans Trump, Bloomberg take fight to Twitter
By HENG WEILI in New York | China Daily Global | Updated: 2020-02-15 01:05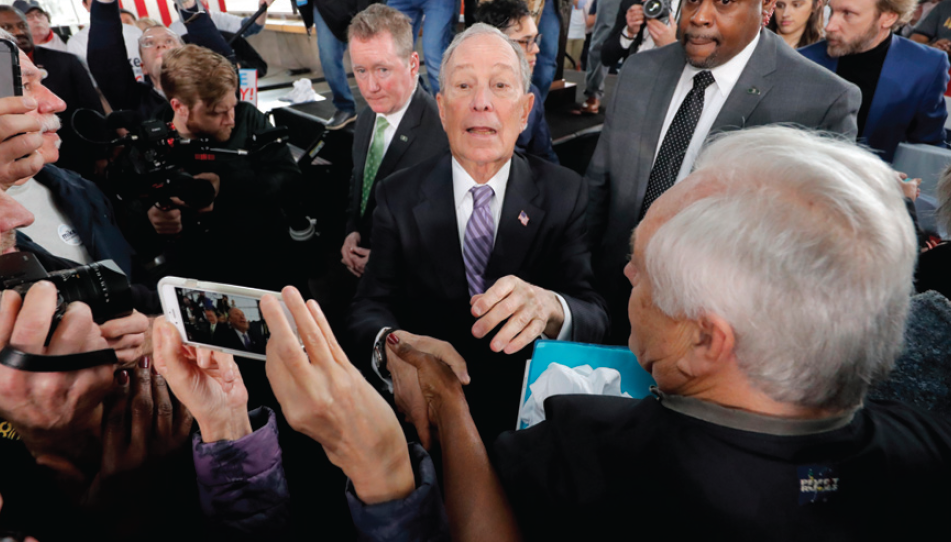 Two New York billionaires who in the past attended some of the same social events in the city had a few words again on Thursday, only it wasn't on some Hamptons beach or golf course but in the roiling waters of social media.
One of those billionaires, Donald Trump, 73, is the president of the United States. The other, Mike Bloomberg, 77, is a Boston-born, former three-term mayor of New York City and founder of a global publishing empire that bears his name.
Bloomberg, the richer of the two by far, is using hundreds of millions of dollars from his cash pile in a bid to become the 2020 Democratic presidential nominee, looking to unseat the Republican Trump in the November election.
While Bloomberg is lavishing dollars on TV ads and has built a well-compensated national campaign staff, getting into a Twitter showdown with Trump won't cost him a dime.
"We know many of the same people in NY. Behind your back they laugh at you & call you a carnival barking clown," Bloomberg tweeted. "They know you inherited a fortune & squandered it with stupid deals and incompetence. I have the record & the resources to defeat you. And I will."
Bloomberg's insult was in response to two salvos fired by Trump on Twitter earlier Thursday.
"Mini Mike is a 5'4" mass of dead energy who does not want to be on the debate stage with these professional politicians. No boxes please. He hates Crazy Bernie and will, with enough money, possibly stop him. Bernie's people will go nuts!"
Bernie Sanders, 78, is not the preferred candidate of the Democratic establishment, which is reluctant to throw its support behind the US senator from Vermont, himself a native New Yorker. Sanders faced the same obstacles in 2016, when the Democratic National Committee put the bulk of its resources behind the eventual nominee, Hillary Clinton.
Bloomberg says he is 5 feet 8 inches tall. The "boxes" comment was a line Trump first used in an interview that aired during halftime of the Super Bowl on Feb 2, in which the 45th president said Bloomberg requested to have a box to stand on at future Democratic debates.
Trump, who is estimated to stand around 6-foot-2 to 6-foot-3, earlier tweeted: "Mini Mike Bloomberg is a LOSER who has money but can't debate and has zero presence, you will see. He reminds me of a tiny version of Jeb "Low Energy" Bush, but Jeb has more political skill and has treated the Black community much better than Mini!"
In that tweet, Trump reprised one of his signature insults of the 2016 campaign in which he stuck former Florida governor Jeb Bush, part of the Bush family political dynasty, with a sobriquet that the once high-polling presidential hopeful never recovered from.
Trump also tweeted about a recording that resurfaced this week of a 2015 speech that Bloomberg gave in Aspen, Colorado, defending the "stop-question-and-frisk" policy of the New York City Police Department while he was mayor.
Stop-and-frisk was used to confiscate illegal guns. The approach ended up disproportionately targeting young African American and Hispanic men, and the former mayor has since apologized for it.
Bloomberg, the richest man in New York, has a fortune estimated by Forbes to be close to $62 billion. In a June 2019 article, none other than Bloomberg.com estimated Trump's net worth around $3 billion.
Those "fortunes" are almost the inverse on Twitter, where Trump has 72.4 million followers and Bloomberg 2.5 million.
The New York Times estimated that the Trump campaign and its committees have $195 million in a campaign war chest, while Bloomberg has said he is willing to spend $1 billion on his campaign.
Some see Bloomberg as the man who can save the Democratic establishment from the insurgent progressivism of Sanders. The longtime senator is playing the role of an outsider taking on the party's donor class, similar to Trump's anti-GOP establishment rhetoric in the 2016 Republican primaries.
Trump came barreling in from the right to challenge entrenched Beltway politicians, while Sanders has been trying to do the same from the left.
As far as a potential matchup between Trump and Bloomberg in November, polls show Bloomberg prevailing. In the RealClearPolitics.com average of five polls in a hypothetical Bloomberg-Trump matchup, the former mayor would prevail by 6 percentage points.
Trump, however, recently received the highest approval rating of his presidency, shortly after surviving an impeachment trial, an acquittal in which seems to have emboldened him. A Gallup poll released Wednesday said 61 percent of Americans say they are better off than they were three years ago.
Could anyone have predicted that in 2020, three prominent contenders for the White House would be septuagenarians from New York City?