New safety rules for medics rolled out
Share - WeChat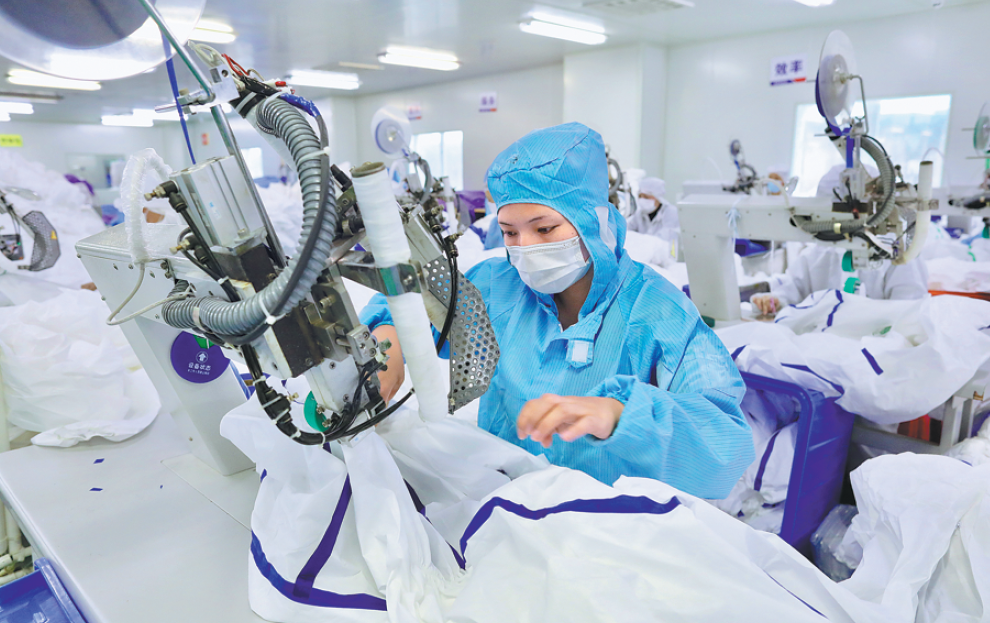 China has rolled out more mea­sures on Friday to protect medical workers fighting the novel coronavirus epidemic, as 1,716 medical staff had been infected by the virus and six killed as of the end of Tuesday.
The measures are meant to reduce hospital-related infections, resolve practical difficulties and boost the safety net for them.
"Epidemic control work is at a critical stage, and protecting and caring for medical staff plays a significant role in winning the battle against the virus," Zeng Yixin, deputy head of the National Health Commission, said at a news conference organized by the State Council Information Office on Friday.
However, Zeng said medics on the front line are handling extremely heavy workloads with limited resources and rest. They are also coping with mounting mental distress and high infection risks.
The 1,716 medical workers that had contracted the novel coronavirus through Tuesday comprised 3.8 percent of total infections on the Chinese mainland. The six who had died accounted for 0.4 percent of total fatalities, according to Zeng.
About 87.5 percent of the infected medical workers, or 1,502 cases, were in Hubei province. Among the confirmed cases in Hubei, 1,102 were reported in Wuhan, the epicenter of the virus outbreak, he said, adding that more research is needed to determine if they were infected in hospitals or outside of work.
As of Wednesday, the National Health Commission has deployed 189 medical teams with 21,569 workers to Hubei province.
Seventeen provincial-level regions had also dispatched 2,897 doctors, nurses or hospital administrators to 16 cities in Hubei as of Tuesday.
To address the overwhelming workload of medical staff at the front lines, Zeng said authorities will gauge adequate working hours and arrange shifts reasonably to secure enough rest for medical workers while meeting patient needs.
"In Hubei province, where the number of infected patients, especially those in severe condition, is particularly large, we have set up a maximum working time and ensured hospital administers rotate staff to ease their pressure," Zeng said.
A guideline jointly released by the commission, the Ministry of Human Resources and Social Security and the Ministry of Finance on Friday says governments will also exhaust all means to supply sufficient protective gear and equipment to curb virus transmission in hospitals, and needs of clinical staff will be prioritized when distributing protective resources.
"Medical staff will undergo health checkups, and infected workers will be immediately isolated, in order to reduce cross infections among medical workers, or between medical staff and patients, to the greatest extent," Zeng said.
Local governments at and above the county level are allowed to take over hotels near hospitals to provide single-room accommodations for medical staff, while ensuing supplies of daily necessities for them, the guideline says.
To eliminate discrimination against and exclusion of medical workers and their family members, which is often fueled by unfounded speculation that they are bound to carry the virus, the document also requests criticism of such behaviors, citing joint efforts from local public security authorities, prosecuting bodies and courts.
"Those who harm medical workers during the disease control work will be seriously investigated and punished based on the law," it said.
Meanwhile, all medical staff on the front line will be offered a series of subsidies, allowances and insurance policies to protect their legal rights, according to the document.
The central government will cover a daily subsidy of 200 yuan or 300 yuan ($28.60 or $42.90) for each medical staff, according to Ou Wenhan, assistant minister of the Ministry of Finance.
He said medical staff infected with the disease will be able to access insurance programs designed to provide compensation for work-related injuries, and the entire procedure will be accelerated through a special pathway. New standards intended to increase allowances to workers participating in disease control activities are also in the pipeline, he added.
Hou Liqiang and Cheng Si contributed to this story.