Cafe shows latte love for medics
By Li Yingxue | China Daily | Updated: 2020-02-17 07:20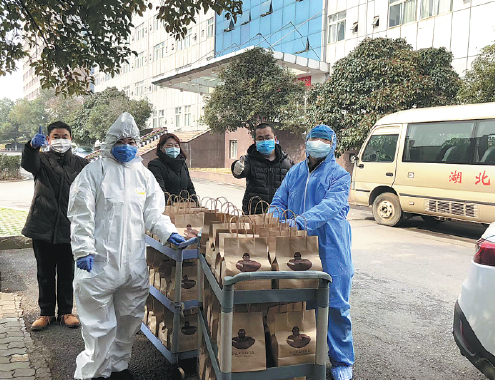 A team of baristas in Wuhan is working hard to provide a much needed liquid pick-me-up for dedicated local medical staff.
Seven staff, two shifts, 500 cups of free coffee, delivery to the hospitals twice a day-that's been the daily routine for the team at Wakanda Youth Coffee since the novel coronavirus outbreak caused the lockdown of Wuhan, capital of Hubei province.
At 10 am, Jan 23, the city of Wuhan was officially cut off, with all catering and entertainment venues temporarily shut down. There were no people or cars on the streets, and the smell of disinfectant in each community was getting thicker and thicker.
Tian Yazhen, the 30-year-old owner of Wakanda Youth Coffee, was worrying that if her cafe was closed, where would her regular clients-the doctors and nurses at Hubei Provincial Hospital of TCM-get their coffee?
Most of her 21 staff in seven branches had returned to their hometown for the Spring Festival and only six stayed in Wuhan.
Tian had a meeting with the remaining team members to discuss whether they should remain open and supply free coffee to the hospitals. With everyone in agreement, the meeting lasted for less than two minutes.
Li Jianghao, a Wuhan local staff member of Wakanda Youth Coffee, had flown to Chengdu, capital of Sichuan province, for the Spring Festival holiday. After hearing the news, he wanted to join his colleagues, but all flights and trains back to Wuhan had been canceled. Undeterred, Li took a train to as close to Wuhan as he could get and asked his family to drive there to collect him.
On the morning of Jan 25, all seven staff showed up at the Guanggu area branch of Wakanda Youth Coffee-named, incidentally, in homage to the fictional, but inspirational, African nation of Wakanda featured in the Marvel comics and movies as home to the superhero, Black Panther.
With face masks and gloves on, they use ethyl alcohol to disinfect themselves first, then the room before using food-grade sanitizer to clean the equipment.
There are two hospitals nearby which consume, on average, around 500 cups of coffee a day. After Tian communicated with both hospitals, she decided to send out the coffee twice a day-300 cups in the morning, delivered before noon, and 200 in the afternoon, delivered before 5 pm-coinciding with the shift changes of the medical staff.
To reduce the risk of infecting families, all seven staff stayed in a community a few minutes' walk away from the cafe. Two of the team didn't even tell their family before going back to work.
"Their families later understood that, instead of being anxious at home, we can actually do something to help," says Tian.