Irrepressible Steel Roses determined to pass playoff hurdle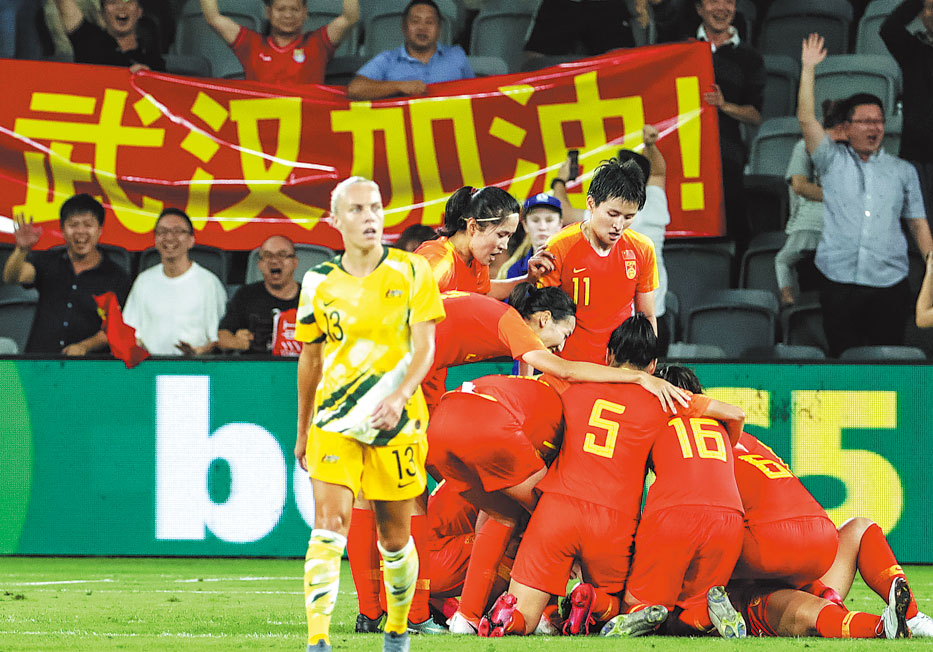 The odds were stacked against the Chinese women's squad, but the 'Steel Roses' refused to wilt.
Even under normal circumstances, last week's second-place finish in their AFC Olympic qualifying tournament would have been cause for applause. However, given the disruption caused by the coronavirus outbreak, their achievement is deserving of extra praise.
The tournament, which was originally meant to be staged in virus-hit Wuhan, was switched to Australia at short notice, with four players, including former Paris Saint-Germain star Wang Shuang, forced to stay at home because of virus-related travel restrictions.
Upon their arrival in Brisbane, the Chinese players endured a weeklong quarantine period, restricting them to training as best they could manage in their rooms and hotel corridors ahead of their opening match against Thailand in Sydney.
The Roses somehow still managed to drub Thailand and Chinese Taipei, 6-1 and 5-0 respectively, before wrapping up the campaign with a dramatic 1-1 draw against host Australia last Thursday.
Despite coming so close to topping the group, coach Jia Xiuquan said he was satisfied with the outcome, all things considered.
"In such a tough situation, it's quite moving that our team still produced such performances. They've showed great skill and executed our tactics well," said Jia after the draw against Australia, a team ranked eight places above China at No 7 in the world.
"After this match, we should find our confidence, but still recognize the gap. It's still a long way for Chinese women's soccer to grow. We should maintain our focus and direction."
Jia's team had gone agonizingly close to beating Australia, nicknamed the 'Matildas', on their own turf.
Tang Jiali's 86th-minute strike looked to have earned China the win after striker Wang Shanshan spurned several chances to kill the game off. However, the Aussies made China pay for its profligacy when Emily van Egmond fired home in the 92nd-minute, much to the relief of the home fans.
Jia said China's far-from-ideal preparations and resulting lack of training finally caught up with them in that third match.
"Since the players ended their quarantine on Feb 5 until now, their physical condition was improving, but they were still not at their peak," said Jia.
"We had many scoring opportunities, but their body strength was just not sufficient to seal victory in the dying seconds. We have to keep working and improving step by step."
Goal-scorer Tang admitted the result was hard to swallow but immediately set her sights on preparing for the playoff against South Korea.
"In general, our team had great performances. But it's pretty disappointing to draw the game this way at the end," said the midfielder.
"I'm thrilled to score and make my contribution to the team. Everyone of us needs to finish our mission as best we can. We have to try our best in each game."
Back in Wuhan, Wang Shuang showed her support for her teammates with a Weibo message after the third match, which read: "I'm so proud of all of you!"
Wang Shuang is not expected to rejoin the national team next month, but the 25-year-old has been doing her best to stay in shape just in case. She's uploaded several videos on Weibo showing her training, wearing a mask, on the roof of an apartment building. One of the videos was accompanied by the message: "Patience, focus and wait."
Tencent Sports has reported that Team China will call up seven players, including veteran Gu Yasha, to bolster its ranks for the playoff.
The team is also faced with the problem of where to play the home leg of the tie against South Korea.
The first leg is in Korea on March 6, with the return game to be played five days later at a venue the Chinese Football Association (CFA) has yet to announce.
It now appears increasingly likely that the match could be played abroad due to the ongoing difficulties presented by the coronavirus outbreak.
Xinhua reported that the CFA explored the possibility of playing the second leg in Japan, however that idea was abandoned after Japan last week announced that Chinese citizens carrying passports issued by Hubei and Zhejiang provinces will be denied entry to the country.
China's captain Wu Haiyan hails from Zhejiang and the squad could not bear to lose another key player, forcing a CFA rethink.
Several Chinese media outlets reported on Saturday that the game could be played in Sydney, a city the Steel Roses have grown familiar with after playing all their last three games there.
China is unbeaten against South Korea in the last three years, but the playoff tie is expected to be a closely fought affair, with just five places separating the sides in the FIFA rankings.
"The key is our preparation," said head coach Jia. "It's about our performance and details. We will respect our rivals and make our best efforts."