Wanshouyan discoveries
By Wang Kaihao | China Daily | Updated: 2020-02-18 07:25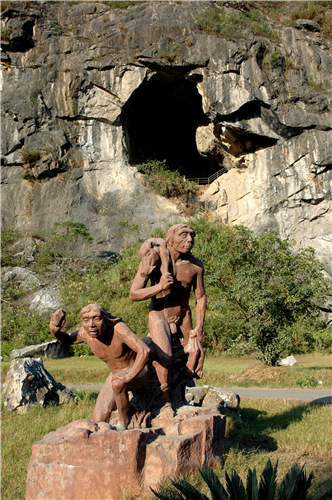 Fujian site adds to China's study of the Paleolithic period.
The Wanshouyan Hills, an archaeological site in Sanming, Fujian province, reveal an unusual episode in evolution. The many discoveries of tools and animal bones in caves suggest human activities may have happened some 185,000 years ago, the oldest known evidence in coastal China.
This site was almost demolished more than 20 years ago, as Yu Shengfu, director of the Sanming Conservation Center for Cultural Heritage, recalls. Nevertheless, thanks to preservation efforts, it has survived.
"It fills a void in the archaeological chronology of Fujian," Yu says.
Previously, there weren't any known findings in Fujian related to the Paleolithic period, referring to between 2 million and 10,000 years ago. The first discoveries indicating prehistoric human settlement in the province were made in the 1980s.
In 1989, five modern human teeth, from roughly 11,000 years ago, were unearthed in a cave in Sanming, triggering interest in further research.
Researchers including Yu launched a series of explorations in the 1990s in the 100 or so karst caves in Sanming, including Wanshouyan.
"Many fossils of mammal teeth were found in caves of Wanshouyan," Yu says."But it was still too early to directly conclude that they showed human settlement. Archaeologists needed more time."
However, a threat was imminent in 1998 as bulldozers approached the site.
In the 1970s, a State-owned steelworks expanded its business in Wanshouyan, and mining facilities, cement plants and other factories mushroomed in the mountainous area.
If these quarries were shut down, it would lead to an annual loss of products valued at 100 million yuan ($14.3 million), roughly 0.5 percent of the gross annual regional production of Sanming. The potential economic setback became the biggest concern then.
For villagers living nearby, the hills meant something more. Five retired teachers were chosen by the local community to draft and hand over to the local government a petition for the rescue of Wanshouyan.
Archaeologists also raced against time to look for key discoveries in 1999.