Guangzhou great Gao embarks on new chapter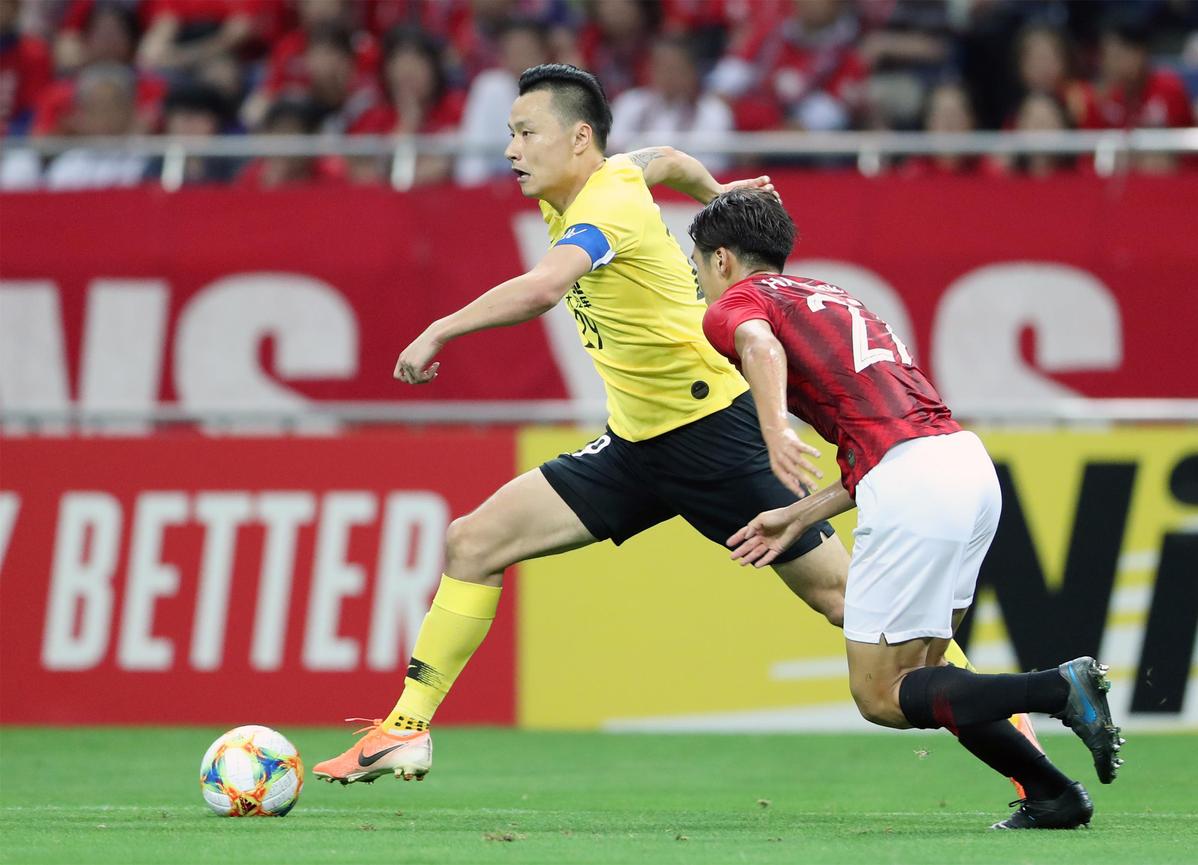 Veteran calls time on glorious 10-year Evergrande career to join Shenzhen
Gao Lin's glorious career is not done yet.
On Monday, the veteran China international sprung a surprise by confirming he had joined second-tier Shenzhen FC after ten years at all-conquering Guangzhou Evergrande.
Gao had long been expected to end his career at Evergrande, where he won eight Chinese Super League titles and two Asian Champions League crowns. At 34, though, the veteran was no longer assured of a starting berth in the Evergrande team and, after training with Tianjin Tianhai toward the end of last year, it looked like Gao might continue his career with the northern club.
However, on Monday, China League One's Shenzhen FC announced the signings of Gao and four other players-Wang Yongpo, Zheng Dalun, Pei Shuai and Blerim Dzemaili, a Swiss midfielder who arrives from Serie A Bologna.
"I hope I can have a positive influence on the team as an experienced player, and I believe we can win promotion back to the CSL," Gao told media.
"It's natural that I'm growing old. But veterans have their value, just like young players have their advantages. I feel I still have what it takes to play at this level. I will endeavor to exert my maximum influence and contribute to this new environment."
After being relegated last term, Shenzhen could make an immediate return to the top flight due to Tianhai's financial woes. The club is reportedly considering quitting the CSL due to its money troubles, with Shenzhen in line to replace it.
"I don't know what will happen to others," said Gao. "All in all, when I discussed the contract with Shenzhen, the plan was to fight in the second-tier league next season in order to return to the CSL. If we can directly play in the CSL, the decision is the Chinese Football Association's to make."
Whatever division it kicks off in next season (the start of which has been delayed due to the coronavirus outbreak), Shenzhen is hopeful all of its new recruits will provide it with extra strength in depth.
"The arrival of the five players will allow the team to have more diversified tactics and enhance the squad's overall strength," read a Shenzhen statement on Monday. "We hope they can fit in at the club as soon as possible. With their great performances, they will help Shenzhen make breakthroughs.
"Gao Lin has great speed and good assist skills. He will be a key winger or midfielder of the team. He has a humble personality and can cooperate well with foreign players. He will further enhance Shenzhen's midfield strength."
Gao scored 113 goals in 369 games over 10 seasons at Evergrande, according to Xinhua, with many fans in disbelief that he has left for a rival team.
Some even criticized Evergrande for the haste with which it deleted Gao's picture from the club's website and its failure to acknowledge his contribution over the past decade.
However, writing on his Weibo account, Gao expressed his gratitude to Guangzhou.
"I really want to thank the city of Guangzhou for tolerating and encouraging me for all these years, but this time I'm going to say goodbye for real," he wrote. "There were regrets, but also warm and great memories. I will not let you down but try my best to push forward. I will always hope to see Evergrande continue to grow.
"I wish to thank the club for making sacrifices and efforts to prolong my professional career. I also need to thank the help from Tianjin… no matter where I am, I will play as hard as I can. And the past decade is the most valuable memory of my life."
Gao was not the only player to make way this week at Evergrande, which is in the process of building a younger squad.
On Monday, 34-year-old Feng Xiaoting and 33-year-old Zeng Cheng were also omitted from the club's latest roster, although former Team China captain Zheng Zhi, 39, and star defender Zhang Linpeng, 30, have been retained.
Evergrande head coach Fabio Cannavaro is now expected to focus on nurturing the next generation of players, such as 24-year-old attacker Wei Shihao, 23-year-old striker Yang Liyu and 21-year-old midfielder Yan Dinghao.
Moreover, Evergrande is also leading China's naturalization trend, and is thought to be working on adding more imported talent to its ranks to join Brazil-born forwards Ai Kesen (aka Elkeson) and Alan, who played on loan at Tianjin last term.
Shenzhen finished 15th in the 16-team CSL last season, but Gao is not concerned that he might find the drop to a lower-profile team difficult to adjust to.
"I never entertained such a thought before and I will not think in this way now," Gao said. "The most important thing for a soccer player is to find a suitable platform for himself to perform."