Belgian pianist tunes into fight against virus
By CHEN NAN | CHINA DAILY | Updated: 2020-02-27 07:54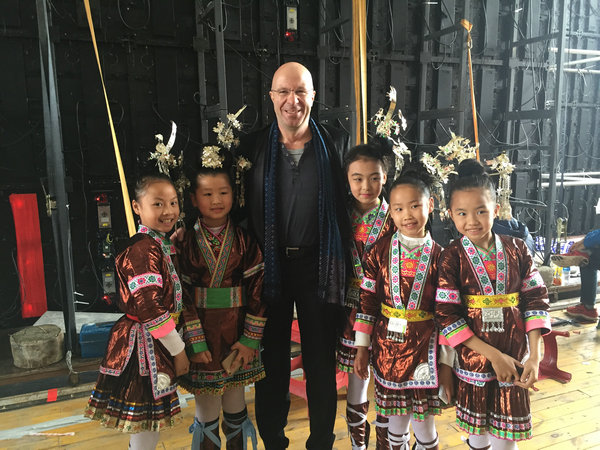 Belgian pianist Jean-Francois Maljean planned to go to Wuhan, Hubei province, in February to collaborate with a Chinese bianzhong (chime bells) player. However, the novel coronavirus outbreak forced him to postpone the trip.
The musician, who visited China for the first time in 2002 and has been a frequent visitor since then, decided to write a song after discussing the idea with his Chinese business partner, He Liu, who is a Wuhan native responsible for coordinating his performances.
"I have been playing concerts and traveling around China for almost 20 years. I have so many friends there, including friends in Wuhan. I also wanted to show my consideration to those people affected by the virus and those who are fighting in the hospitals, especially the doctors and nurses," says Maljean, 67, in an email interview with China Daily.
According to He, who met Maljean about five years ago when the pianist performed in Wuhan, it took the musician about three days to finish the song, Chime of The Dawn Bells, which was released online on Feb 10.
He, who works for a local media company in Wuhan, also invited 15 local residents to sing the Chinese version of the song, which was released on the country's social media platforms on Saturday.
"I wrote the Chinese lyrics and the 15 people singing the song are from all walks of life in Wuhan, such as medical staff, teachers and students," says He. "We are having a tough time right now, but people in Wuhan stay strong."
Maljean composed the music first, since the pianist already had an idea of a melody, which is inspired by a new piano solo album he is working on.
He Liu also discussed Wuhan's landmark buildings, such as the Yellow Crane Tower, and the city's famous scenery, such as its cherry blossoms, as well as the Yangtze River and bianzhong, which Maljean put into his music. Robert Murray, an English author, finalized the text, which gave the lyrics a poetic touch.
Last year, He gave the pianist, who was in China at the time, a small bianzhong. The melodic sound of bianzhong was also used in the song, which gives it a "Chinese touch".
Maljean's daughter, Noemie Maljean, who is a professional singer, performs the lead vocals and Maljean, who has been learning Mandarin for years, sings the middle part-written by He-in Chinese.
"I have sung with my father at private events, but I haven't yet performed with him onstage. I hope that we will be able to do it very soon, maybe in China when the outbreak is over," says Noemie.
"I hope that my music can comfort people suffering in Wuhan and in China, and give them hope to fight this outbreak," says the pianist, whose parents were both medical doctors.
Born in Verviers, Belgium, Jean-Francois Maljean started to learn piano at 6 years old. At about 12, the classically-trained pianist became interested in a diversity of music genres, especially pop music like that of The Beatles. He went to the United States to learn jazz music at the Berklee College of Music in Boston and when he came back to Belgium, the pianist, then 23, eventually launched a career as a professional musician.
Jean-Francois Maljean initially started studying medicine following the advice of his parents but after two years, he quit and concentrated on music, "which is my true passion since childhood", he says.
His music, as he describes it, is full of hope and peace. He made a number of piano solo albums and instrumental albums, most of which have been released in China.
During his music career, the pianist experimented with musical fusion in China, mainly with Chinese ethnic groups. His trips to Qiandongnan Miao and Dong autonomous prefecture in Southwest China's Guizhou province saw him become interested in ethnic music there. He also traveled to Yunnan province and North China's Inner Mongolia autonomous region to experience local music. In 2010, Maljean collaborated with Chinese singer Shang Wenjie during the 2010 World Expo in Shanghai.
The Hubei Provincial Museum is known for its collection of the globally famed 2,400-year-old bronze chime bells of the Marquis Yi of Zeng State. A set comprises bells of varying sizes that produce different sounds when struck. Maljean has been interested in mixing his music with bianzhong for a long time.
"I've learned about chime bells in Hubei province and I definitely want to go to the museums to see them," says the pianist. "I hope that my first concert back in China will be in Wuhan, and I already dream of playing this concert with chime bells players from Hubei."
chennan@chinadaily.com.cn