Deliveryman Zhang's right on time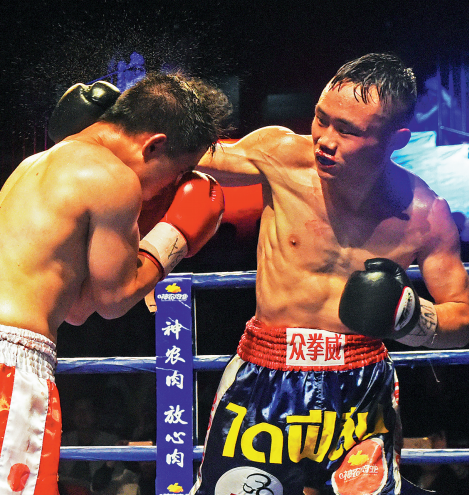 Hardworking Beijing-based brawler bidding to chuck his scooter for world-title shot, as Xinhua reports
After delivering his last food order of the night, Zhang Fangyong removes his yellow Meituan uniform, puts on his gloves and shadowboxes tirelessly in front of the mirror.
For the past three years, Zhang has switched between the two highly demanding roles-even after he was crowned WBA youth bantamweight champion in 2017, China's first WBA champion in this division.
"Boxing makes me no money, but titles might. An Asian champion can expect a higher appearance fee for a fight, but only a world title can really help you get on in life," Zhang told Xinhua last week from his current temporary training base in Thailand.
Born in a small village on the outskirts of Chongqing, Zhang spent his childhood in Zhejiang province where his family ran a noodle bar.
In 2008, the Olympic Games were held in China for the first time, sparking enormous enthusiasm for sports across the nation. Inspired by the Games at the age of 15, Zhang soon dreamed of becoming a professional athlete.
At first, Zhang took up wrestling when he went back to Chongqing for high school. But in 2010, he turned to boxing after watching a documentary about the rags-to-riches story of Filipino ring legend Manny Pacquiao.
"He is my idol," Zhang said. "I want to be like him."
With his decision made, the 17-year-old headed north for Xi'an, Shaanxi province. The first headache was money. Zhang needed to pay coaching fees of 3,600 yuan (about $500) plus rent and food. His parents covered half a year for him.
"In fact, their diner was having a tough time then and I felt guilty asking for more," recalled Zhang, who then turned to his uncle in Xi'an for help.
For a year, he slept in a cubicle at his uncle's noodle bar, waking at 4 am and working at the diner until the afternoon before training at his boxing club. He earned 1,800 yuan per month, with rent and food included-enough to survive.
He soon craved a more professional training setup, however, so in 2012 moved from Xi'an to Kunming, Yunnan province. There he joined Zovi Boxing Club, whose alumni include China's first professional world champion, Xiong Chaozhong.
Zhang was welcomed by Xiong's former coach, Liu Gang, at Zovi, but the youngster found it difficult to change his technique. He recalled of his first pro fight in 2014: "I didn't do well, but I won."
In 2015, Zhang faced a national youth champion on a five-match IBF winning streak. They both shared a former coach, who immediately disparaged Zhang's chances of victory.
The Chongqing-born battler had other ideas, however.
"He was dropped in round 4," Zhang said, adding that he has long realized that what he lacks in technical skill, he more than makes up for in stamina and willpower.
Money remained a problem. In addition to forking out for annual coaching fees of 2,000 yuan, he had to live in a cramped room containing only a small bed.
To make ends meet, Zhang took up a range of menial jobs, working first as a kitchen porter, then a security guard, a street vendor, and finally in 2016, as a food deliveryman.
Things did not start well, as Zhang's scooter, which he had bought for 6,000 yuan thanks to a small loan, was stolen just one month later.
To repay the debt, Zhang worked from morning to midnight, taking a bite of bread when hungry and often running in the cold wind.
"I took at least 45 orders every day, but 69 is my personal record," he said.
Zhang earned 5 yuan for each delivery, but one bad rating from a customer could lose him up to 100 yuan. "So time out is a nightmare," he said, adding that if he is ever late for his delivery, he will apologize even before his customer complains.
Zhang orders food online himself from time to time. Once a deliveryman was late and came to Zhang apologizing profusely. "I saw myself in this deliveryman and almost burst into tears," he said.
Zhang worked so hard that sometimes he earned as much as 8,000 yuan a month, a considerable income in Kunming. Yet the determined youngster was clear that all this was to fulfill his boxing dream. He showed up at the club every afternoon and trained for three hours before returning to his scooter. At night he practiced his skills no matter how late he finished working.
"I keep saying to myself, 'Boxing is your dream. Don't give up!'" he said.
At the end of February 2019, Zhang was offered the chance to join Beijing M23, home to WBA featherweight world champion Xu Can. To save money, he slept at the airport during his transit, giving him a stiff neck for a week.
"M23 is the best team in China. I came here without much professional experience, so it was hard at first," said Zhang.
The hard work paid off, though, in March that year at a Sino-Japan boxing event, where he stopped the highly rated Maekawa Ryuto in round 4. Ryoto hails from a boxing family and was crowned East Japan Rookie King at the age of 17. When Zhang was 17, he was only trying on gloves for the first time.
Zhang still works as a deliveryman these days but has been able to cut back on his hours after receiving a salary and a living allowance from the club.
Zhang is now training in Thailand with Beijing M23 to prepare for WBA Asia bouts. Details of his next fight remain uncertain due to the global coronavirus outbreak, but Zhang says the wait is making him feel like a real sportsman for the first time.
"All I'm doing here is training. Sometimes I think about my stressful daily life when I'm back in Beijing, but all I can do now is focus on boxing," Zhang said.
"I wouldn't say that I must have a world title, but I will definitely try my hardest."
XINHUA