Sanders feels heat from front-runner status
By WILLIAM HENNELLY in New York | China Daily Global | Updated: 2020-02-27 10:15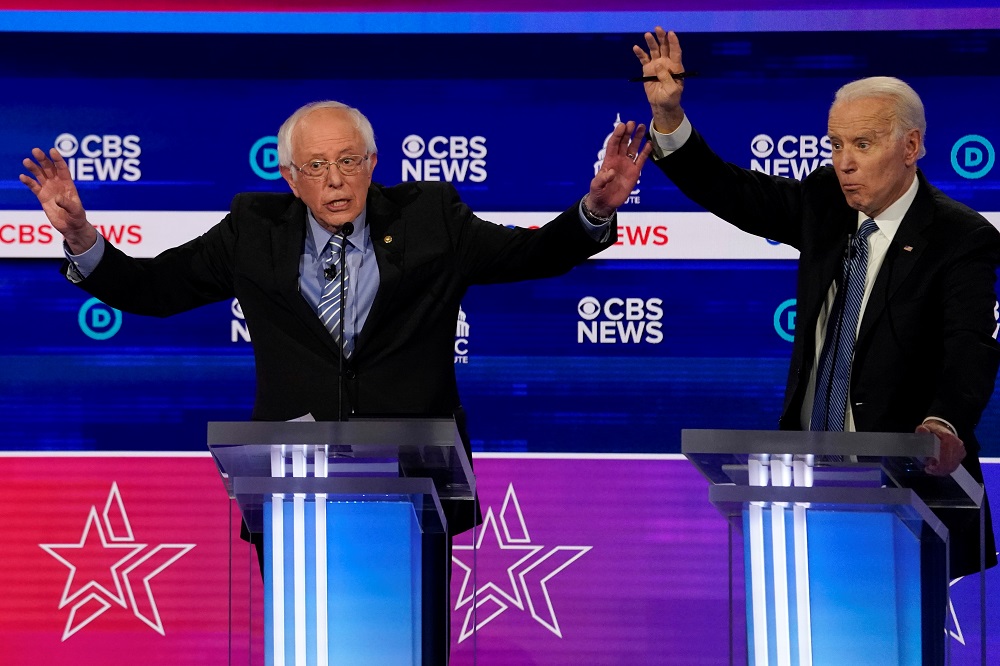 It was Bernie Sanders' turn on Tuesday to face attacks on a Democratic presidential debate stage, less than a week after Michael Bloomberg withstood an onslaught of criticism in the previous debate.
While Sanders said he was "hearing my name being mentioned a lot, I wonder why", Bloomberg also faced another round of jabs in what was a scintillating debate.
Both men also frequently went after each other at the party's 10th debate of the 2020 campaign in Charleston, South Carolina.
Sanders opened with an economic salvo: "The economy is doing really great for people like Bloomberg and other billionaires. For an ordinary American, things are not so good. Half our people are living paycheck-to-paycheck; 500,000 people are sleeping on the street, including 30,000 veterans." Bloomberg parried by saying:" (Russian President) Vladimir Putin thinks that Donald Trump should be president of the United States, and that's why Russia is helping you get elected so you lose to him."
Sanders replied: "Hey Mr Putin, if I'm president of the United States, trust me, you're not going to interfere in any more elections."
Moscow has denied all the alleged claims about meddling in the US election in 2016.
A common thread on Tuesday was whether a progressive or democratic socialist candidate could get enough votes in the presidential election.
Bloomberg argued that he couldn't see moderates or Republicans voting for Sanders in November.
"You have to do that to win," Bloomberg said. "Bernie will lose to Trump ... and the House and the Senate and some of the state houses will all go red, and then between gerrymandering and appointing judges, for the next 20 or 30 years we are going to live with this catastrophe." Sanders responded: "Of the last 50 polls that have been done nationally, I beat Trump 47 times."
Pete Buttigieg, former mayor of South Bend, Indiana, said: "They are running away from your platform as fast as they can." He was referring the 40 House Democrats elected in 2018 who helped the party capture the House of Representatives.
Warren defended the progressive agenda, but also took a swipe at Sanders.
"I think I would make a better president than Bernie. And the reason for that is that getting a progressive agenda enacted is going to be really hard," she said. "I dug in, I did the work, and then Bernie's team trashed me."
Strong showings
Sanders, 78, a US senator from Vermont who has momentum after strong showings in all three contests so far-Iowa, New Hampshire and Nevada-pressed his signature issues of Medicare for all, free college tuition and raising the minimum wage.
How Sanders performs in Saturday's primary in South Carolina could go a long way toward determining if he can capture nationwide support.
A Reuters/Ipsos poll conducted over Feb 19-25 showed 26 percent support for Sanders and 15 percent apiece for Biden and Bloomberg.
Former US vice-president Joe Biden, 77, buoyant after a second-place finish in Nevada following middling showings in the first two contests, has been looking to the state to propel him, while Bloomberg, 78, the billionaire former New York mayor, was looking to bounce back from what many perceived was an unprepared performance in Las Vegas.
The field could get substantially thinner starting March 3, when "Super Tuesday" takes place. Fourteen states in a wide geographic swath will hold primaries that day: Alabama, Arkansas, California, Colorado, Maine, Massachusetts, Minnesota, North Carolina, Oklahoma, Tennessee, Texas, Utah, Vermont, and Virginia.
The debate was held at the Gaillard Center in Charleston and televised by CBS, BET and Twitter.