The great escape
By DAVID GOSSET | China Daily Global | Updated: 2020-03-03 08:26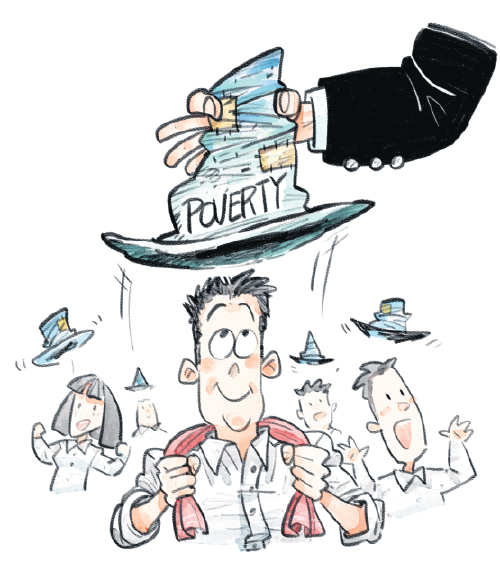 China's achievement in eliminating poverty is of global significance
At a time of unfortunate China-bashing, it is easy to lose sight of the numerous positive aspects of the Chinese transformation.
One of the most significant achievements in the past 70 years since the founding of the People's Republic of China is related to poverty alleviation.
On the list of the 17 United Nations' Sustainable Development Goals, the eradication of poverty rightly comes first.
By realizing its objective of building a "moderately prosperous society", 2020 will be the year in which China finally achieves its goal of eliminating extreme poverty. Given the demographic importance of China-18 percent of the world's population-this positive development is a major contribution to human progress.
There are several interdependent factors that have enabled this. Most importantly, Chinese governance allows for highly effective collective mobilization. More specifically, once the Communist Party of China has clearly identified an objective, the Chinese political organization is apt to tap all available resources to meet it.
And besides the capacity to mobilize, one of the advantages of Chinese governance is its continuity over a long period of time. This continuity is essential for transforming a society as large as China's.
China has also been able to follow its own development path. While many nations opted to follow the "Washington Consensus"-forged by the World Bank and the International Monetary Fund around a very Western set of ideas-China paved the way to a "Beijing Consensus", taking into account the specificities of an ancient civilization.
Since 1978, it is the combination of the State and market forces that defines Chinese society, or what is officially referred to as "socialist market economy". As former Chinese leader Deng Xiaoping said: "It does not matter whether the cat is black or white, as long as it catches mice." It can certainly be said that poverty eradication is a mouse that China caught.
In the battle against poverty, the Chinese authorities have been able to remain focused on the right priorities. The capacity to put in place solid infrastructure has allowed China to progress. China rightly followed a sequence which is expressed by its oft-repeated saying: "Want to be rich? Build roads first!"
In parallel with this attention to infrastructure, the country has taken the country's literacy rate to an unprecedented level. While 71 percent of the population is considered literate in India, in China the proportion raises to an impressive 96 percent, with education contributing to the emancipation of women.
In the list that the United Nations established in 2015, "Good Health and Well-being" comes third. Following the success of its strategy of reform and opening-up, China has been able to set up a basic healthcare system. With the New Rural Cooperative Medical Care System (NRCMCS) created in 2005, 800 million rural residents gained access to basic healthcare coverage.
In The Great Escape, Nobel laureate Angus Deaton wrote: "The greatest escape in human history is the escape from poverty and death." It is for his analysis on poverty and welfare that Deaton received the Nobel Memorial Prize in Economic Sciences in 2015. China's great escape from poverty has also been a great escape from death. In 1949, life expectancy in China was 35. It is now 77. However, as the 2019-20 coronavirus outbreak has regrettably shown, China's healthcare system still needs major improvements.
Relatively harmonious urbanization can also be seen as an element contributing to poverty alleviation. "Sustainable Cities and Communities" is the 11th goal of the UN SDGs. Cities provide jobs, but there are many cities around the world that are associated with slums. That China managed to avoid this phenomenon affecting so many urban centers across the world is a remarkable achievement.
The signal that China is sending to the world can't be clearer: poverty is not a destiny. It can be defeated. In 2018, when Beijing established the China International Development Cooperation Agency (CIDCA), it was also a powerful statement. Following its own success, China is organizing its aid to less advanced countries.
Medical help in Mauritania, Uganda, Libya, Comoros or South Sudan; humanitarian support in Afghanistan, Cuba, Iran or Somalia; education programs in Tunisia, Ghana, the Maldives or Ivory Coast; and technical collaboration in Pakistan, Nigeria or Laos, the CIDCA is already a major international cooperation agency.
However, there is no such a thing as the end of history. After solving the issue of eradicating extreme poverty, China is certainly facing a new set of challenges. In 1978, the notion of inequality did not apply in the Chinese context. What is often referred to as the urban/rural gap also has to be combined with its geographic imbalance.
China's demographic challenge is another issue that should not be underestimated. Like many of China's neighbors, China boasts a sizable elderly population. While China will have to find the ways to reduce inequalities-here fiscal reforms, among others, will be necessary-it will also have to avoid what economists call the middle-income trap.
More generally, it can be argued that it is the changing expectations of the Chinese people that poses a new set of more complex problems. After immediate material needs are satisfied, more qualitative aspects of life have to be addressed. The urban and hyper-connected Chinese population living in Beijing, Shanghai, Xiamen, Guangzhou or Shenzhen is increasingly demanding better education, healthcare and environment. This transition from quantity to quality will have to be carefully managed.
China's top leadership has identified the "imbalances and inadequacies" which characterized the new phase of China's transformation. It therefore maximizes the chance for rebalancing and for fixing its inadequacies.
By continuing its progress on its own charted path of reform and opening-up, China will certainly overcome its new challenges and, in doing so, will contribute to global stability and prosperity.
The author is a sinologist and the founder of the Europe-China Forum. The author contributed this article to China Watch, a think tank powered by China Daily. The views do not necessarily reflect those of China Daily.