Bleak winter leaves clubs feeling the financial chill
Share - WeChat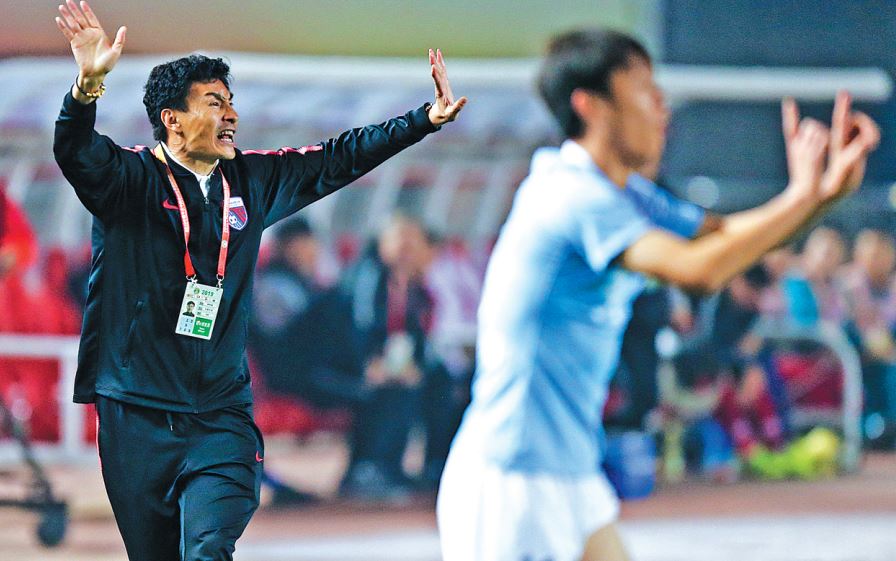 Tianjin's troubles typical of Chinese Super League's cash-flow quagmire
It's been a harsh winter for Chinese soccer, with shrinking budgets and severe financial problems forcing some clubs to fold and leaving many with an uncertain future.
Chinese Super League side Tianjin Tianhai barely managed to avoid relegation last season, ranking 14th in the 16-team division, but the club's top-flight future remains in doubt due to money troubles.
Its business model is typical of many CSL clubs-relying heavily on the investment of owners and unable to generate significant revenue via marketing or endorsements in the same way that elite European clubs can.
The coffers have dwindled so much at Tianhai that it failed to sign a single player during the winter transfer window while it watched a total of 13 players leave.
Among the mass exodus, eight players departed following the expiry of loan deals, including Brazilian forward Alan, while three have been transferred to other clubs. Huang Ruifeng left as a free agent, while Kwon Kyung-won has been loaned to the K League 1 club Sangju Sangmu.
Tianhai's misery was compounded when striker Sun Ke sustained a serious leg injury during winter training, with the 30-year-old expected to be sidelined for at least six months.
The shortage of investment and players have led many to speculate that Tianhai may simply be unable to kick off the new season, which has been delayed due to the coronavirus outbreak.
However, Tianhai head coach Li Weifeng is bemused and a little angered by talk of his team's anticipated demise.
"There's a difference between Tianhai's situation and other clubs that are facing survival problems," Li was quoted by Tencent Sports. "Some players of other clubs have gone unpaid, but we never delay paying our players.
"I'm very confused now. If the media can be the judge then why do we need the Chinese Football Association? What's going on right now is very unfair to our players."
Li also denied speculation that the CFA could expel Tianhai from next season's CSL due to its financial woes. "Such rumors are very irresponsible and disrespectful to the players who tried so hard last season," he said.
Li conceded Tianhai is in a precarious position and stressed his opinions on the matter were not necessarily those of the club's management.
"The club is facing some problems, but they can be solved," he added. "And some are questioning why we did not sign new players. There's no rule that a team must sign somebody during a transfer window. Every team has its own troubles, that's normal. That doesn't mean the club has no future."
For some clubs in the second and third tiers, however, the end has already arrived.
In early February, the CFA announced that nine clubs had failed to submit documentation showing they had fully paid the wages and bonuses of players, coaches and staff in 2019.
CFA regulations introduced last October stipulate failure to pay salaries on time is punishable by disqualification from the league. So the nine clubs-second-tier Sichuan, Shanghai Shenxin and Guangdong Southern Tigers, and six third-tier teams-have effectively now quit the CFA's professional leagues.
The overall picture could be even bleaker. "Even for many of those that have submitted the wages confirmation form, they still face other financial problems," thepaper.cn reported. "So it's still possible that more clubs will 'disappear' in the future". Sichuan and Guangdong Southern Tigers have officially gone out of business, while Shanghai Shenxin is reportedly continuing to operate but only to help its players find new clubs.
Wang Qian, the deputy general manager of the Southern Tigers, told Xinhua that his club had tried desperately to find a solution to its problem.
"If the CFA had allowed, we could have still competed next season with a full team. But we had to delay paying the wages as we had no cash flow," Wang told Xinhua.
"Even if we sell all our assets, that would still not be enough to pay our players…we didn't pay because we really didn't have the money."
The CFA's plans to expand the second-tier China League One from 16 to 18 clubs this year now look in tatters, with the coronavirus outbreak further complicating matters.
Wang has urged Chinese soccer to remain focused on its long-term development and strengthening the game's grassroots base.
"Many in Chinese professional soccer want to profit instantly from zero and in a very short time, but that's impossible. We have to take things step by step," Wang added.
"How did foreign clubs grow? They started from a pitch, a coach and youth training. Nurturing players eventually generates income and then they can form teams, starting in low-level leagues.
"But many Chinese bosses bought a first-tier team straightaway and then subsequently invested in youth training. Before the youth training could work out, the first-tier team might have already collapsed.
"Chinese professional soccer needs big teams like Guangzhou Evergrande and Beijing Guo'an. But not everyone can be a big club. There must be small clubs to continuously produce promising young players. The aim of the small clubs is not to win the championship all the time. They need to survive and profit."