Shandong farmers busy as new solar term arrives
By ZHAO RUIXUE in Jinan | China Daily | Updated: 2020-03-06 09:22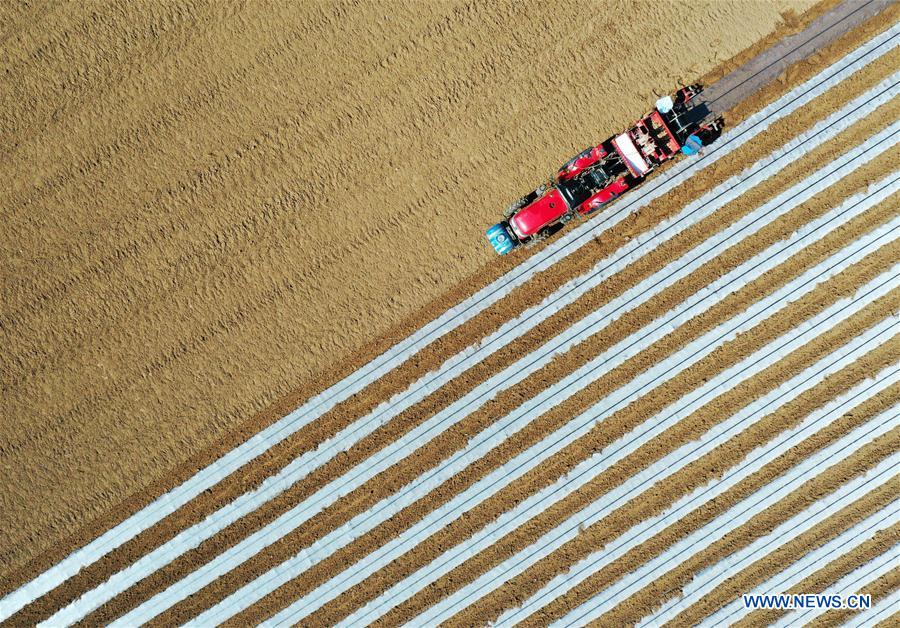 Shandong, a province known for its superior agriculture, has started orderly yet busy farming work across the province.
Thursday marked the Awakening of Insects solar term. It is a key time of year for spring agricultural activities, according to the traditional Chinese calendar that divides the solar cycle into 24 periods.
At Shouguang, a major vegetable production base in China, farmers tend strawberries in greenhouses at Yujia village.
"Years ago, farmers plowed and watered crops around the Awakening of Insects. But now, thanks to the greenhouses that keep the plants living at a constant temperature, farmers are busy almost every day," said Gao Xiangpeng, Party secretary of the village, adding the epidemic has barely affected their work.
In Yantai and Weihai, dozens of farmers are busy trimming apple trees; in Zaozhuang, farmers tend to pomegranate trees; and in Jining, farmers select good ginger in a basement 8 meters underground.
The busy agricultural activities have attracted netizens to express their feelings.
"The epidemic will surely collapse as the Awakening of Insects comes," said an online user named Danbo Ningjing.
Some online users were impressed by the highly efficient machinery used in farming work.
Amid the prevention and control of novel coronavirus pneumonia, such machinery - including drones, self-propelled agricultural machines and automatic driving tractors - is being widely adopted, along with information technology.
On Thursday, automated tractors equipped with the Beidou navigation system were used to plow the field at Pingdu, rolling out smooth, even ridges.
"The tractor can plow over 6 hectares of field a day, equal to the work of more than 70 farmers," said Gao Hongyun, a tractor driver at Wanggezhuang village at Pingdu.
At Xuzhuang village in Heze, 10 machines were spraying pesticide over a large expanse of wheat on Thursday to help rid the wheat of disease caused by pests.
The machine can spray pesticide evenly over 40 hectares of farmland a day.
It barely harms wheat while it passes over, according to Sun Fengguang, an agricultural technician at an agricultural technique station in Heze.
To reduce the chances of spreading the coronavirus, agricultural experts have adopted an online channel to help farmers with agricultural problems instead of going to the fields in person.
Fu Minzong, an agricultural technician in Lijin county, Dongying, zoomed in on two pictures of cucumber seedlings that a farmer in the county had sent to his WeChat. Fu observed that there were white dots on the leaves and told the farmer he needed to give the seedlings some medicine.
Shandong is scheduled to plant over 2 million hectares of vegetables and crops in the spring.
Agricultural materials, including seeds, pesticides and fertilizer are ready to ensure spring farming work, according to the Shandong Provincial Department of Agricultural and Rural Affairs.