HK police defend 'vilified' reputation in Geneva
By Chen Zimo | chinadaily.com.cn | Updated: 2020-03-10 16:24
HONG KONG - The deputy chief of Hong Kong police on Monday told a United Nations Human Rights Council conference that Asia's finest have been "vilified" by rioters using violence to pursue their political agendas.
In a direct effort to clear the name of the much-maligned law enforcement agency, the deputy commissioner of the Hong Kong Police Force, Oscar Kwok Yam-shu, set out to establish the "truth" in Geneva of what has happened in Hong Kong over the past eight months.
Hong Kong has been held hostage by rioting mobs with their brand of activism characterized by intolerance and violence, their trademark response to any disagreement, Kwok told a room of international representatives in response to a comment made by a non-governmental organization.
Rioters had relentlessly accused police of brutality to vilify police and impede their actions, he said. Police were the only force that physically stood in the way of those who sought to extort their demands from the government through mob violence, he added.
Mobs have vandalized shops, banks, restaurants, train stations and traffic lights, set fires to buildings, attacked police officers with bricks, gasoline bombs and even genuine firearms, he said. They viciously assaulted innocent citizens who opposed them, even proudly showing the attacks online to intimidate people, he noted.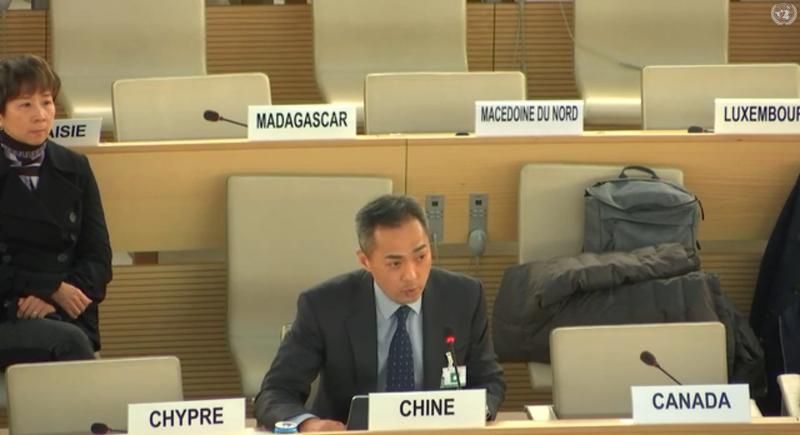 "This was the nature of the horrible menace that faced innocent Hong Kong citizens," said Kwok, after listing acts of violence committed by protesters, including setting a man who confronted them on fire, and hurling bricks at, and eventually killing, a 70-year-old cleaner who videoed their actions.
As of Dec 10, a total of 6,022 people were arrested during the often-violent protests against the now-withdrawn extradition law amendments.
The vandalism of public property has cost the public coffers over HK$65 million (US$8.4 million) in repairs. As of December, 740 sets of traffic lights had been damaged, 52.8 kilometers of metal railings along walkways dismantled, and about 218 hectares of paving blocks on footpaths removed.
As of November, 147 of the city's 161 metro stations had been reportedly vandalized, causing damage worth as much as HK$500 million for repairs or replacements.
Hong Kong police have had the unenviable task of preserving innocent citizens' rights and freedoms, which were no less worthy of protection than those claimed by the protesters, said Kwok.
He refuted statements by some rioters, who claimed that "breaking the law to achieve their goals was a noble cause".
"Whether the cause is altruistic or in fact self-serving is completely irrelevant to us," said Kwok.
The police's one and only mission is to find out whether anyone has committed a crime; and it was then the police's lawful duty to stop criminals and arrest them, he said.