Millions volunteer help in fight against virus
Share - WeChat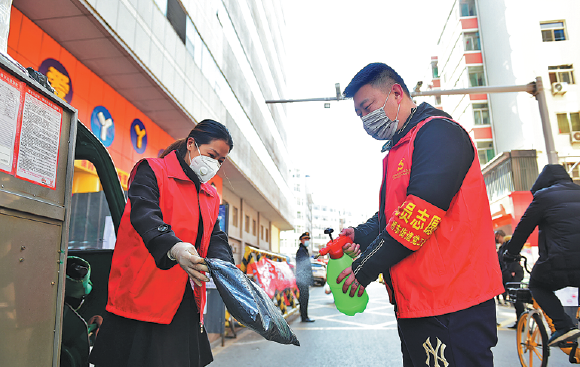 Distribution of urgent supplies, free therapy and tutorship among the services offered by Shanxi residents
More than 3 million people in North China's Shanxi province spent their "Volunteers Day" by contributing to the battle against the novel coronavirus pneumonia.
March 5 was designated by the Shanxi government as the local volunteers day, to mark local people's efforts to make society better.
Since the outbreak of the epidemic in late December, these volunteers have engaged in various jobs, including distributing preventative supplies, offering psychological services, advocating new policies on disease prevention and control, and maintaining order for local communities.
He Wenyong from Linfen city is a boss of a labor service company. He has been concerned about local workers who were unable to return to work, either in Shanxi or other parts of the country, due to transportation issues caused by the epidemic.
To solve this problem, he hired a fleet of buses to send local laborers to their work sites.
To date, more than 700 local workers have been driven to destinations in Tianjin municipality and Jiangsu and Anhui provinces.
During the past month, it has not been easy for people to have their hair cut because most barber shops are not open.
In Changzhi, the local volunteers association has called for barbers to volunteer their services to medical staff and others working for disease prevention and control.
A total of 34 barbers came forward to serve.
Li Shuanlong, a 73-year-old veteran barber, was the first to answer the call.
"At this moment, people working on the front line battling the epidemic are the most respectable," Li said.
"I'm glad to serve them with my skills," he added.
Wu Liang is the chief of a volunteers organization in Taiyuan devoted to helping senior citizens and underprivileged people.
He noticed that many seniors were not able to get health supplies including face masks, disinfectant and disposable gloves.
He and his fellow volunteers bought masks and distributed them to the elderly for free.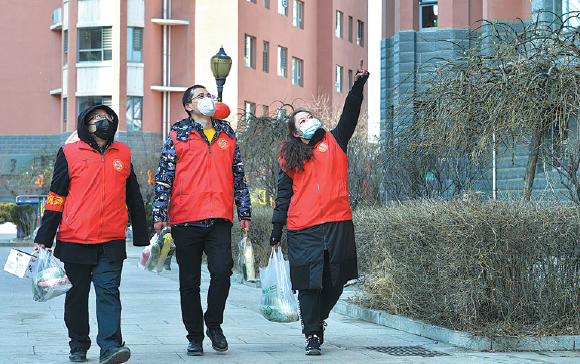 However, dispatching masks is the easiest part of the volunteers' work.
Every early morning, when people are still asleep, Wu and his colleagues are busy disinfecting the residential communities of their neighborhood.
In Changzhi city, university students, especially those majoring in medical sciences, used their knowledge to help residents better protect themselves from the epidemic.
Zhang Ruichong is a grade-four student in Shanxi Medical University. She is now publicizing public health knowledge and offering psychological services in a residential community in the city.
As part of local epidemic prevention measures, schools in Shanxi are still locked down and students are required to study online at home.
In Pingcheng district of Datong city, staff members of a local public service center noticed that equipment for online education was not available to some impoverished families.
To tackle the problem, the center recruited 36 local university students to help the children in need.
The volunteers brought their iPads and smartphones to the families, helping the children access various online lessons.
In addition, they worked as tutors for these students, helping them to get familiar with all of the educational apps and answering their questions relating to their curriculum.
According to the Shanxi Provincial Department of Civil Affairs, there are more than 3.13 million volunteers and more than 26,900 volunteer organizations in the province. These people are playing an important role in local epidemic prevention and control.
Li Yali contributed to this story.