Forever present
By Zhang Lei | China Daily | Updated: 2020-03-14 13:57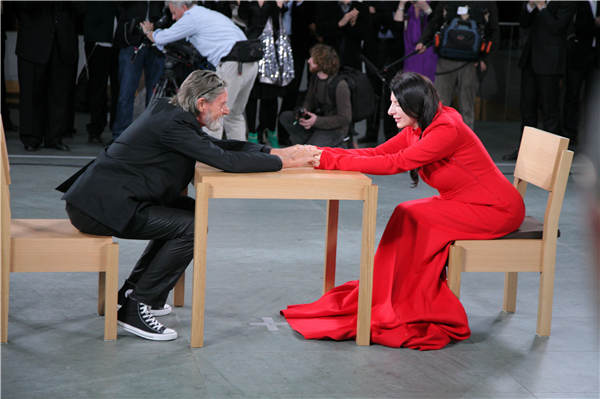 As the art world mourns the passing of Frank Uwe Laysiepen, his unique, compelling legacy of disruptive performance, irreverent observation and subversive ideals will live long in the memory, Zhang Lei reports.
The world-renowned performance artist Frank Uwe Laysiepen died in his sleep in Ljubljana, Slovenia at the age of 76 on March 2, due to complications in treatment caused by his lymphatic cancer. Best known by his artistic pseudonym Ulay, the former partner of the "Mother of Performance Art" Marina Abramovic, and a pioneer of Polaroid photography, created a large number of works of depth and intensity, in which he pushes his performance boundaries that hit to heart of the humanitarian tensions that reshaped postwar Europe.
On Ulay's Facebook page, an eulogy posted by his studio hit a heartfelt note and sent a shock wave through the art world. "Ulay was incomparable. As a human being and as an artist. The gentlest soul, a giver. A pioneer, a provocateur, an activist, a mentor, a colleague, a friend, a father, a husband, family. A seeker of light. A lover of life. A traveler. A fighter. A brilliant thinker, who has been pushing limits and enduring pain. Selfless and fearless, ethical, elegant, witty. He, who has influenced so many. He will be deeply missed by his family, friends, the art community and the thousands of us, who he has so deeply touched and inspired. He influenced generations of artists and many more to come-his memory and legacy will live on forever through his work and the work of the Ulay Foundation."
Ulay was born in a World War II air-raid shelter in 1943, when the German city of Solingen was under bombardment. His father died in the war, and his mother went crazy from grief, which led to Ulay's solitude and reticence in his early years. He became an orphan at the age of 15. He married and had children and, at the age of 21, in the 1960s, he gave up everything and traveled to Amsterdam in the Netherlands by himself and joined the art group the Provos.
There, he began to devote himself to photography and became a consultant to Polaroid, which gave him the opportunity to travel to London, Paris, Rome and New York. Ulay's lens penetrated into the world of marginalized groups outside society's mainstream, including transsexuals, transvestites and tramps. His photographs, with their sharp, taboo themes and realist style, shook the art world.
The love-hate relationship between him and Marina Abramovic is also one of the most discussed and, arguably, famous love stories in modern art history.
Abramovic responded to the artist's death on Instagram: "It is with great sadness I learned about the death of my friend and former partner Ulay. He was an exceptional artist and human being, who will be deeply missed. On this day, it is comforting to know that his art and legacy will live on forever."
Ulay met Abramovic in 1976. The duo shared a birthday on Nov 30, and much more than that. Abramovic once said that "artists should not fall in love with another artist," but reneged on that statement, falling for Ulay, who embarked on his new artistic direction shortly afterward.