Wuhan companies begin to resume production
Share - WeChat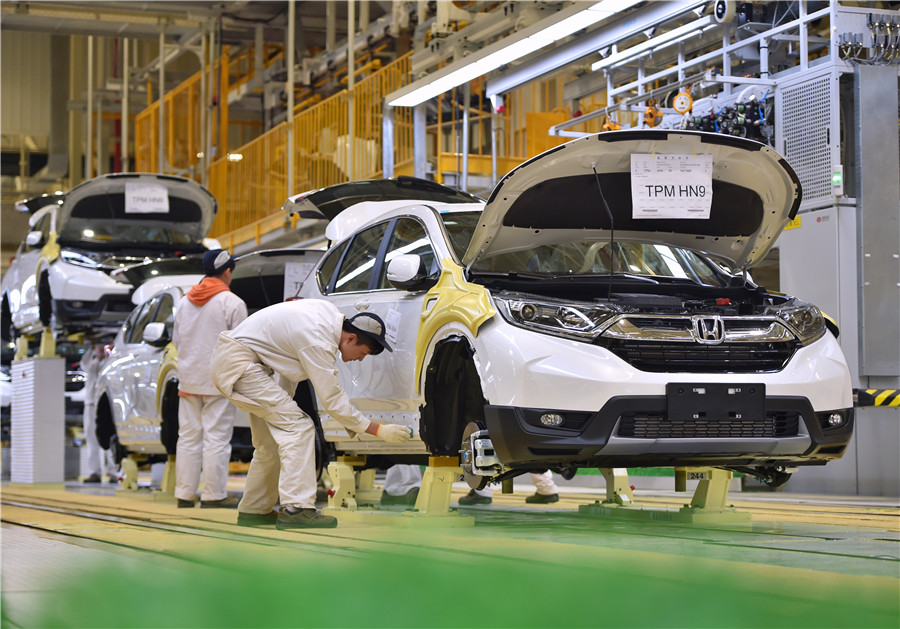 Enterprises in Wuhan, Hubei province, epicenter of the novel coronavirus outbreak in China, are set to resume production after a monthslong suspension as containment of the epidemic gains momentum.
Only four new infections were reported on Sunday in Wuhan thanks to the comprehensive and rigorous measures taken to stem the spread of the virus in the city. As the situation improves, local authorities look to reinstate normal socioeconomic order.
Companies in Wuhan that are part of such sectors as medical equipment, medicine, protective gear and disinfectant production-and those related to public utilities including power, water and gas supply, communications, environment and medical waste disposal-are allowed to resume production, according to a notice released by the provincial authorities.
Enterprises that help provide daily necessities for the public and products or services for agricultural production are also allowed to restart operations, the notice said.
The companies that have an impact on national or global industrial chains may resume operations subject to the approval of related authorities and under the condition that they will put epidemic control measures in place and remain committed to shouldering their responsibilities for epidemic prevention, according to the notice.
Further, enterprises that have been authorized to remain in operation since the Lunar New Year holiday may continue functioning, while other businesses are still not allowed to resume operations before March 20, the notice said.
Since the start of the outbreak, the local government has ordered businesses to suspend operations to reduce population movements as part of its efforts to curb the spread of the epidemic.
An Yonghong, vice-president of Humanwell PuraCap Pharmaceuticals (Wuhan) Co, said his company obtained approval to resume production on Feb 26 after putting an emergency plan in place.
"The market demand for our products has surged over the past two months. However, we need to strike a balance between ensuring employee safety and meeting market demand, so we have partially resumed production while making sure everything is under control," An said, adding his company has resumed only 20 percent of its operations.
Jiang Tao, general manager of Sinopharm Zhonglian Pharmaceutical Co, said that about 130 of the 457 employees in his company have come back to work.
Jiang noted that he has been quite stressed over the past few weeks, not only from the business itself but also from epidemic prevention measures as he has to ensure his workers are not infected.
"Despite resumption of production, epidemic prevention still remains a priority as one infected case among our employees might risk us suspending production," Jiang said. "So we have put every rigorous preventive measure in place."
With the city still in a state of emergency, many restrictions and challenges have to be tackled and overcome before full production can resume. Like many other business operators, both An and Jiang are facing the challenges while preparing for full production.
"The supply of raw materials and spare parts for our equipment is disrupted because logistics are restricted and our suppliers haven't fully resumed operation," An said. "Besides, some of our employees are stranded in their hometowns because traffic between Wuhan and other cities is sealed off."
Jiang said he has made a plan for his other employees to return to work in different batches and has also inked deals with suppliers on the raw materials for their products.
"There is hope that we can resume normalcy soon, so we need to make good preliminary plans for full production in order to make up the losses we have suffered during the outbreak," he said.