Museums in Shanghai greet visitors once again
By Zhang Kun in Shanghai | China Daily | Updated: 2020-03-20 08:11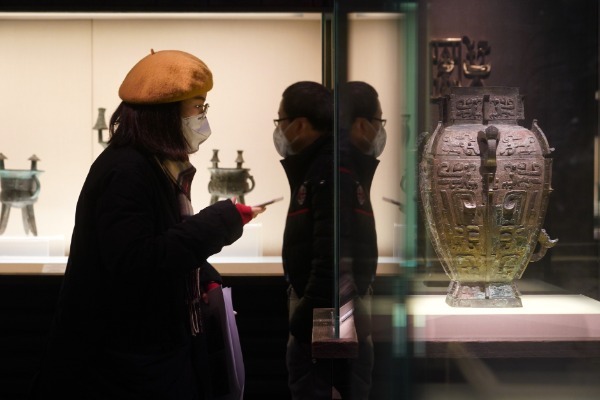 Museums in Shanghai have been reopening as the number of new COVID-19 cases continues to dwindle. Among the cultural institutions that reopened on March 13 were Shanghai Museum, Shanghai History Museum, Shanghai Natural History Museum, China Art Museum Shanghai and the World Expo Museum.
As the outbreak has yet to pass, all of these venues have taken measures to control the flow of visitors and protect them from potentially getting infected with the virus.
"We have placed a cap of no more than 2,000 visitors every day," says Li Feng, deputy director of Shanghai Museum, which used to receive as many as 8,000 visitors daily before it was closed on Jan 23 because of the outbreak.
Li says that the construction of the East Wing of Shanghai Museum had also resumed on March 9.
According to the protocols by the municipal commission of culture and tourism, all museum visitors must present a valid ID, have their temperatures taken and wear masks at all times when they are on the premises.
Museums must also be sterilized regularly and control the flow of visitors.
One of the ways that Shanghai Museum has attempted to control visitor traffic is by requiring everyone to make an appointment on the museum website or WeChat platform three days prior to their visit.
On March 13, two museum employees stood at the gate of Shanghai Museum to ensure that visitors had valid appointments, IDs and their health QR codes which indicate how likely they are to be infected with COVID-19.
More than 800 people visited Shanghai Museum on the first day, according to Sun Luyao, a spokesperson with the museum.
"Half of those who made the appointments showed up," she says. "The upcoming two days were fully booked."
Currently, nine of Shanghai Museum's exhibition halls are open, including the display of bronze, ceramics, calligraphy and paintings. The showcase of ancient sculptures, furniture and arts and crafts created by Chinese ethnic groups are still closed.
One of the ongoing highlights is the special exhibition, A Blessing over the Sea: Cultural Relics on Jianzhen and Murals by Higashiyama Kaii from Toshodaiji. The exhibition is about Jianzhen, a Chinese monk in the eighth century who took six agonizing voyages eastward before arriving in Japan in 753. There, he founded Toshodaiji, head vihara of the Ritsu Buddhism in Japan.
Jianzhen and the Toshodaiji temple have for centuries been a strong testimony of the links between China and Japan. In the 1970s, Japanese artist Higashiyama Kaii was commissioned to paint 68 murals for the temple's Mieido Hall, where a statue of Jianzhen is enshrined.