Nation gets creative in challenging times
Share - WeChat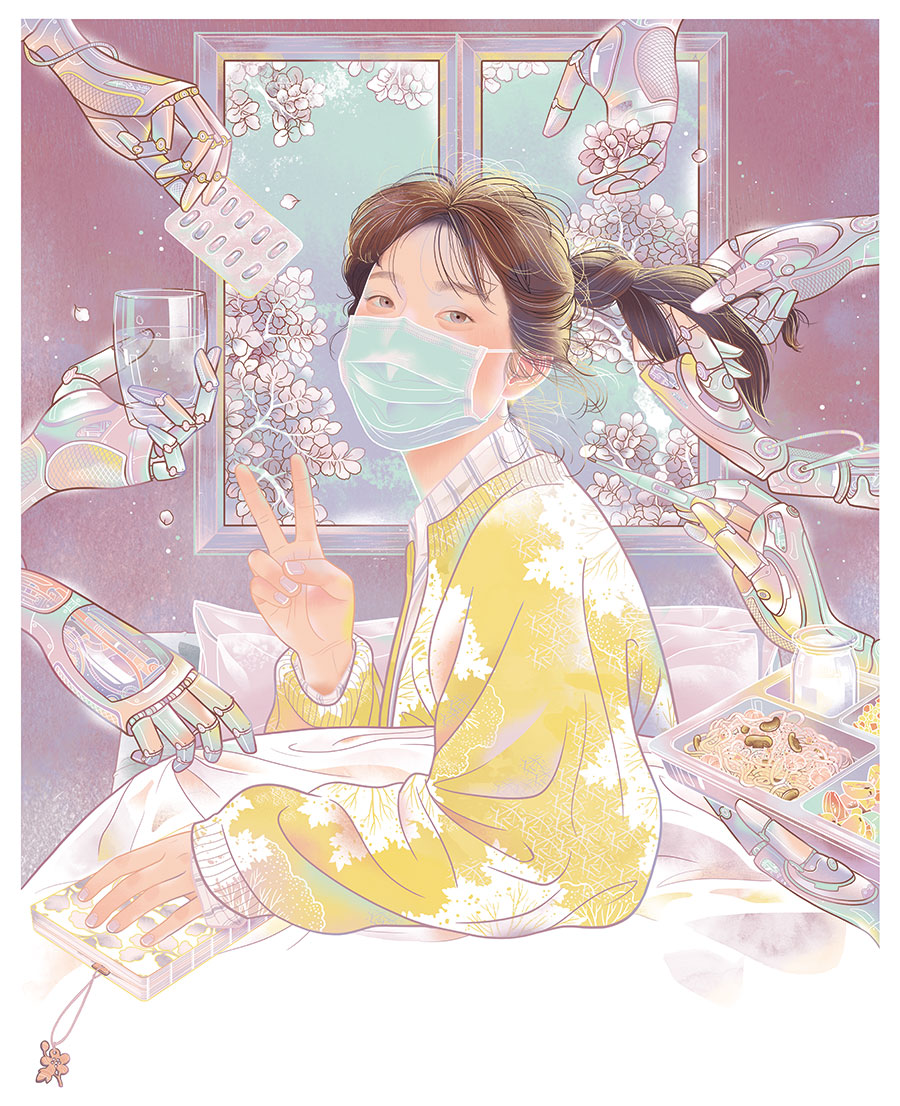 Range of technologies used to curb outbreak
Editor's note: Novel coronavirus pneumonia is posing a worldwide threat. Here, we take a look at how China is playing its role in the global fight against the outbreak by mobilizing a vast amount of resources. This is the sixth part of a series titled "United Actions".
Wang Jiayi, a 31-year-old fashion magazine editor living in Tongzhou district of Beijing, is relying on a vending machine powered by artificial intelligence at her residential compound to supply her with fresh fruit, vegetables and other necessities.
"I select products displayed on the transparent door of the machine and use my mobile to scan a quick response code. Once it is scanned, the door opens and payment is processed automatically after I make my selection and close the door," Wang said.
The entire process is convenient and requires no human-to-human contact, she added.
The AI vending machines, developed by e-commerce giant JD's logistics innovation laboratory, are being rolled out in Beijing, Shanghai and Chongqing due to the rising demand for unmanned shopping experiences amid the novel coronavirus outbreak.
JD said the products sold by the machines are sourced from its fresh-food supermarkets, where employees regularly clean and disinfect the machines and also monitor the quality and quantity of produce.
Since the outbreak emerged in China, state-of-the-art technologies, including fifth generation wireless technology (5G), artificial intelligence, big data analysis, robots, cloud computing and drones, have been used widely not only in people's daily lives, but also in the fight against the pandemic.
The application of such technologies to contain the outbreak stems from China's long-time, massive input into their research and development, with the country a world leader in these fields.
President Xi Jinping has stressed that the use of digital technologies, such as big data, AI and cloud computing, must be encouraged to enable them to serve as a "pillar" in monitoring and analyzing disease outbreaks, tracing viruses, controlling and preventing epidemics, and in medical treatment and distribution of resources.
On March 4, a meeting of the Standing Committee of the Political Bureau of the Communist Party of China Central Committee emphasized that the country would accelerate the construction of new infrastructure such as 5G networks and data centers.
Market research company International Data Corp has forecast that the outbreak will bring opportunities for 5G applications, remote offices and online activities, unmanned commerce and services, fresh-food e-commerce and online education.