Ex-US envoy decries political focus on coronavirus' origin
By ZHAO HUANXIN in Washington | China Daily Global | Updated: 2020-03-25 23:31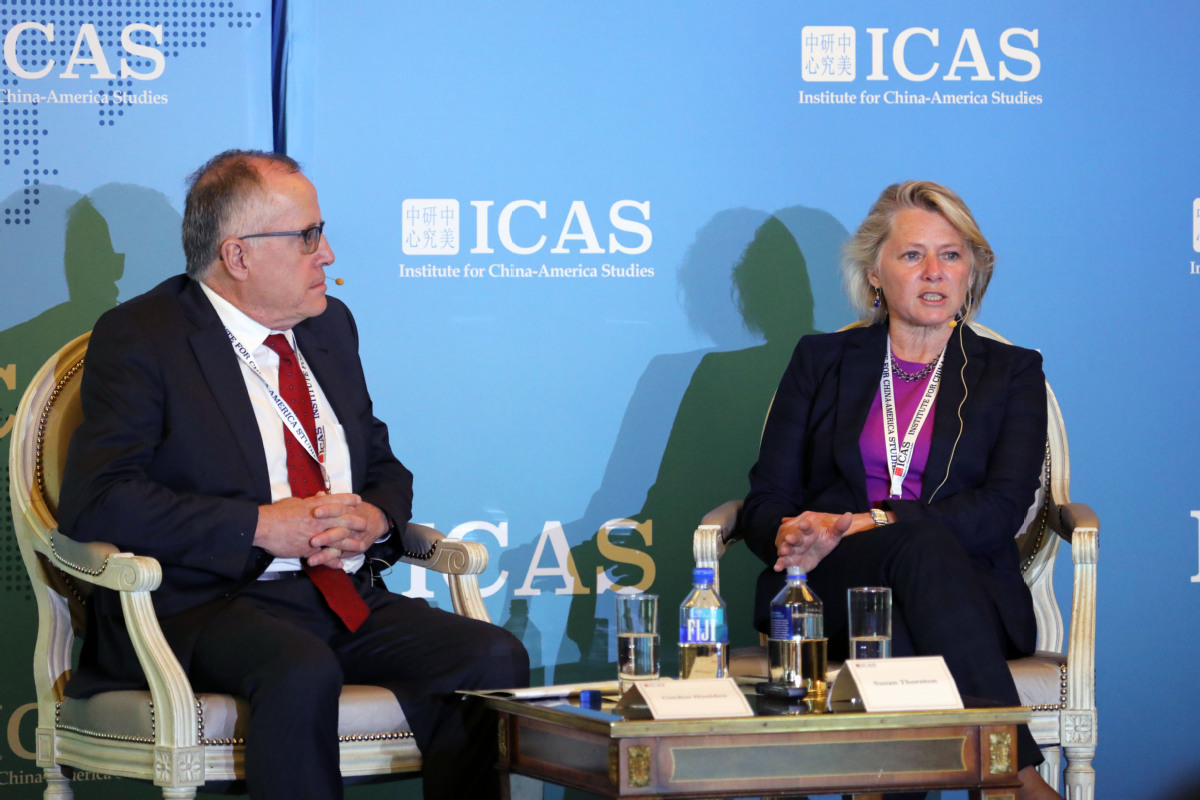 A former veteran US diplomat has criticized the amount of attention focused on the origin of the novel coronavirus, saying that it has created a "political distraction" at a time of global crisis, and everyone should contribute positively to "bending the curve" of the disease.
Over the past few weeks, there have been conspiracy theories on social media platforms as well as on official occasions discussing the origin of COVID-19, which has led to a pandemic, killing at least 18,000 people and sickening more than 410,000 worldwide as of Tuesday.
"The COVID-19 pandemic is a natural disaster. It is not the doing of any particular country or government," Susan A. Thornton, former US acting assistant secretary of state for East Asian and Pacific Affairs, told China Daily.
"Political leaders facing public scrutiny and criticism in both China and the US are too focused on the domestic political ramifications of their perceived response, rather than on galvanizing people to work together and marshaling resources for technical experts who know what to advise and do," Thornton said in an interview by email.
US President Donald Trump has repeatedly used "Chinese virus" to refer to the novel coronavirus, seemingly on grounds that he "didn't appreciate the fact that China was saying that our military gave it to them. Our military did not give it to anybody."
Thornton, now senior fellow at the Paul Tsai China Center of Yale Law School, said, "To focus on where the disease came from is a political distraction," adding that it doesn't matter where the first cases were of the 1918 "Spanish Flu" pandemic or the 2012 Middle East Respiratory Syndrome (MERS).
"It is factually true that the first cases were discovered in China, so it is natural for those not given to using technical terms to shorthand China or Wuhan in describing the virus," Thornton said. "It is not racial any more than Middle East Respiratory Syndrome is racist."
But it is "regrettable" that it frequently comes with a clear partisan political agenda that is "highly inappropriate" in this time of global crisis and widespread human suffering, Thornton said.
"It is also irresponsible for media or officials to spread obviously false conspiracy theories about the origins of the virus," she said. "All these stories have been scientifically debunked, and officials should send clear messages accordingly."
In an interview with Axios on HBO that aired Sunday, Chinese Ambassador to the US Cui Tiankai said it is up to scientists to find the answer eventually.
"We have to find eventually — we must have an answer to where the virus originally came," he said. "But this is a job for the scientists to do, not for diplomats, not for journalists to speculate, because such speculation will help nobody. It's very harmful."
Beijing has said that labeling the coronavirus "Chinese virus" or "Wuhan virus" is stigmatization, and World Health Organization officials have warned against calling COVID-19 the "Chinese virus", saying that it could lead to racial profiling.
In the Axios on HBO interview, Cui also said that the WHO has a rule regarding naming new viruses, including never giving people the impression that the virus is linked somehow to a particular location or a group of people to avoid stigma. He said he hoped the WHO rule will be followed.
Thornton said governments and experts around the world are responding in the best way they know how, and it is "distracting and harmful" in a crisis to pick apart the response.
Social media, however, is compounding the problem, spewing fear and blame, which is "counterproductive", she said.
Concerted efforts should also be made to manage risk appropriately to blunt the impact of the outbreak on economies and help avoid a global depression.
"This is at least as important as stemming the spread of disease, as many people will face life-threatening consequences from a severe economic downturn," she said.
Thornton said that government institutions, which have not been polling well around the world recently, have a chance to show their mettle in this crisis. If they fail, they will confirm that people's eroding faith in their ability to perform is justified.
"I hope that they can step up to the plate and lead, as none of us should want to see a world without governments that are able to competently exercise authority," Thornton said.