US has the 'potential' to be next virus epicenter
Share - WeChat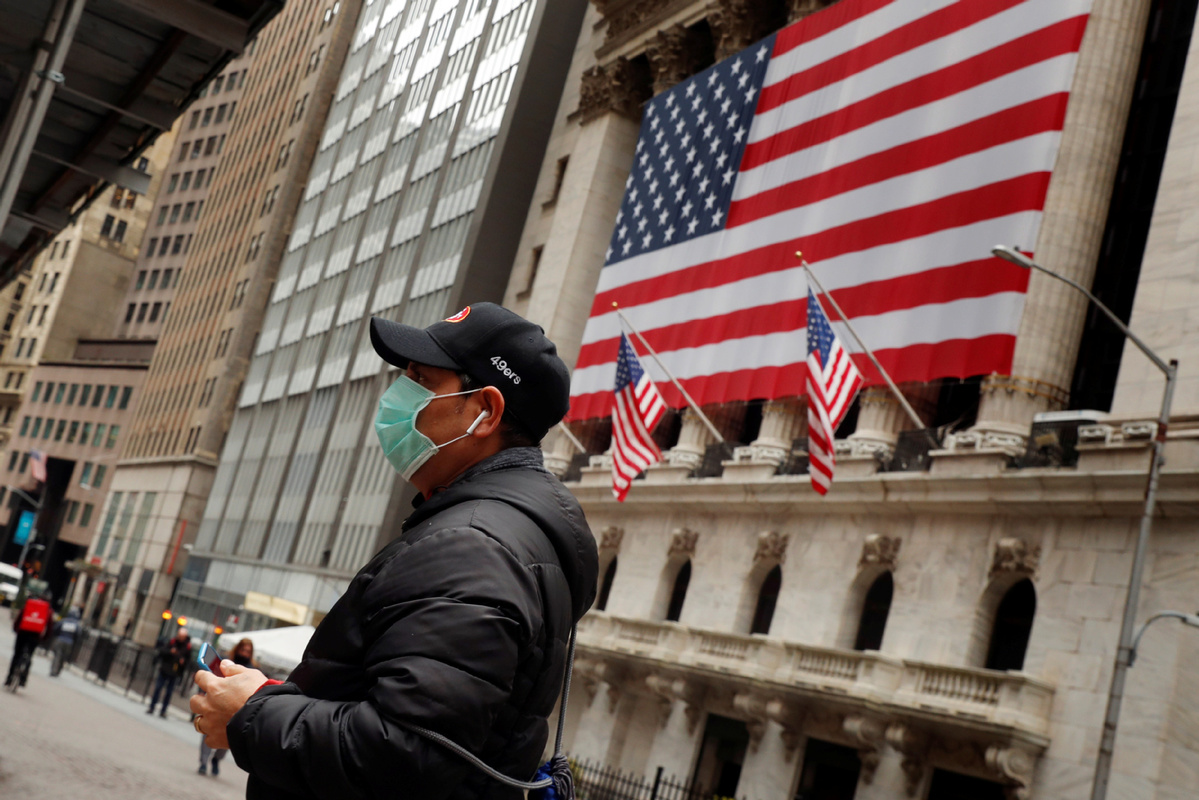 The United States has become the first country to report more than 10,000 new cases of novel coronavirus infection for two days in a row, with its confirmed cases topping at least 55,000 as of Tuesday. That means the US ranks third worldwide in cases behind China and Italy, prompting increasing concern that it has potential to become the next epicenter of the pandemic.
Margaret Harris, a spokeswoman for the World Health Organization, said at a Tuesday news conference that 85 percent of new cases worldwide since Monday were from Europe and the US. Of those, 40 percent were from the US.
"We are now seeing a very large acceleration in cases in the US. So it does have that potential (to become the new epicenter)," Harris said.
"A lot of countries are now taking very strong measures to distance people, to really quarantine entire societies, and these have been shown to be an important way of slowing down this spread of the virus and buying some time," Harris said.
"But to defeat the virus, to stop it, countries also need very aggressive targeted tactics, testing every suspected case, isolating and caring for every person known to be ill and also tracing and quarantining and finding every close contact."
Despite the fact that many public health officials are calling for stricter restrictions on public interactions in the US, on Tuesday, US President Donald Trump said he was already looking toward easing advisories that have sidelined workers, shuttered schools and led to a widespread economic slowdown.
Trump said he wants the country "opened up" by Easter-April 12-and "just raring to go" as he sought to make the case that the US response to the coronavirus outbreak is more damaging to the economy than it's worth.
As Trump said "our country has to get back to work", the US reported its 800th coronavirus death and three sailors on board the USS Theodore Roosevelt aircraft carrier in the Pacific Ocean tested positive for the coronavirus, the first known cases on board a US military ship at sea. Also, stocks roared to their biggest single-day gain since 1933.
The US is now more than a week into an unprecedented 15-day effort to encourage all citizens to drastically scale back their public activities. The guidelines, issued by the US Centers for Disease Control and Prevention, are voluntary, but many state and local leaders have issued mandatory restrictions in line with, or even tighter than, those issued by the CDC.
Officials in hard-hit areas voiced dire warnings about Trump's comments. New York state Governor Andrew Cuomo said on Tuesday that his state's hospital system will soon hit a breaking point-result-ing in avoidable deaths-even with restrictions already in place.
Cuomo said the state needs a minimum of 30,000 ventilators within the next two weeks when the outbreak is expected to peak, but in fact, it has only about 3,000 to 4,000 ventilators on hand now.
Hospitals across the US are in urgent need of ventilators and other medical supplies as the number of patients rapidly escalates, and doctors say they are preparing to make grim decisions for critically ill patients.
Trump on Tuesday asked South Korean President Moon Jae-in for medical equipment to help combat the outbreak in the US, according to Yonhap News Agency.
During a phone call between the two leaders, Moon said his country will provide "maximum support" if it is available. The South Korean leader also told Trump the support could require approval from the Food and Drug Administration. In a later report it said Trump has requested test kits from South Korea.
The White House confirmed that the two leaders spoke on Tuesday but did not say whether Trump made such a request. The phone call lasted 23 minutes and was made at Trump's "urgent request", Yonhap reported. It was the first phone call between the two leaders this year.
Meanwhile, Trump said on social media on Monday that people should "protect our Asian American community" by adding "the spreading of the virus...is not their fault".
According to Zhao Yuezhi, a professor and Canada research chair in the political economy of global communication at Simon Fraser University in British Columbia, Canada, Trump's message can "at some point be seen as an apology", but it mostly "serves as cheap rhetoric to win Asian American votes".
"Trump is now exploiting the naming of a virus to sustain and escalate his war against China. Once we understand his racist rhetoric within such a context, it is hard to imagine that he will apologize.
Zhao said that at a time when the whole world should be rallying together to fight against a pandemic that threatens the entirety of humanity, Trump using such a term is truly "ill-intended, indefensible, disingenuous and absolutely disgusting".
Liu Yinmeng in Los Angeles and agencies contributed to this story.