Mahjong fans in Sichuan jam tables again as restriction lifted
By Huang Zhiling in Chengdu | China Daily | Updated: 2020-03-26 09:07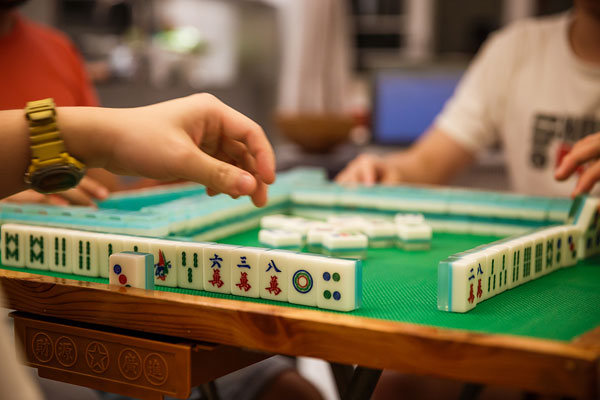 Luo Po, an octogenarian in Chengdu, Sichuan province, started playing mahjong with friends in a parlor immediately after lunch on Wednesday.
"It's her first time playing mahjong since early last month," her daughter Yue Ping said.
To prevent people from getting together during the outbreak of the novel coronavirus, Sichuan implemented a regulation on Feb 9 that temporarily closed mahjong parlors, teahouses and Internet cafes.
As the efforts to curtail the deadly virus have paid off, the province issued an announcement on Wednesday that those businesses could resume operation on the very same day.
Sichuan's announcement brought great joy to many mahjong fans in Sichuan. Luo did not return home from the mahjong table until 5 pm.
Visitors to Chengdu are impressed with how popular mahjong is in this southwestern city of 14 million people.
During a stroll, they are bound to find locals playing the game in outdoor teahouses or in parks. Almost every back street has little tables with crowds of people playing.
Chengdu's love for mahjong is better known than its other attractions such as the giant panda, Sichuan Opera and Sichuan cuisine, according to an online survey by www.sohu.com at the end of 2000.The idea behind the survey was to find the one thing that best represented Chengdu and to seal the name of it in a jar for the residents of Chengdu to open 1,000 years later.
Staying at home is key for preventing the spread of the novel coronavirus, health professionals say, but staying cooped up can be stressful and depressing after a period of time, many people have discovered.
To help people let off steam, the Chengdu Sports Bureau organized a run on Sunday with 1,000 participants covering 6 kilometers in Dujiangyan, a city under Chengdu's administration.
Not a single case of novel coronavirus pneumonia has been reported in Dujiangyan. All the runners are locals whose temperatures were monitored before the race and who had to don masks while participating, said Gao Wei, deputy head of the bureau.
Many runners came with their children, Gao said.
While the race was believed to have boosted people's morale, a health and epidemic prevention expert in Beijing said that it is not a good time to hold a large event.
People exercising should run in parks or stadiums, and masks are not recommended, he said.