WHO meeting stresses united action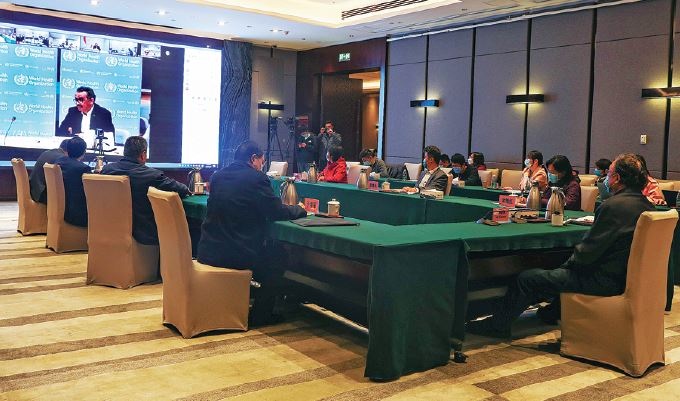 A senior Chinese health official called on Friday for actively implementing the results of the G20 Extraordinary Leaders' Summit on COVID-19 and urged countries to work together to build a community of common health for mankind.
Ma Xiaowei, minister of the National Health Commission, spoke during a videoconference organized by the World Health Organization on information sharing about control of the pandemic. It was attended by health ministers and representatives of WHO members.
With the leaders of the Group of 20 countries having just concluded their videoconference on Thursday, Ma said it was the right time for health ministers of the WHO members to share their epidemic control experience and discuss response strategies so as to jointly uphold global public health security.
China stands ready to actively develop international cooperation in the battle against the COVID-19 pandemic while making all-out efforts to prevent and control the outbreak in the country, Ma said.
Saying the virus and the disease are common enemies of humanity, Ma stated that it is the only right option for countries to help each other at this trying time.
China is willing to provide material and technical support for countries and international organizations to the best of its ability, he added.
Ma shared China's experience in epidemic control and disease treatment with other countries at the online meeting. He mentioned best practices such as a unified and effective command system, scientific and precise strategies, coordinated deployment of medical resources and supplies, a people-specific anti-epidemic approach and enhanced international exchanges and cooperation.
Health ministers of Japan, South Korea and Singapore also briefed the group on their countries' efforts in controlling the contagion.
Speaking at the conference, WHO Director-General Tedros Adhanom Ghebreyesus expressed his worry about the rapid spread of the pandemic globally.
Saying that around 500,000 people in the world have been reported to be infected with the novel coronavirus and with more than 20,000 deaths, the WHO chief called for solidarity and united action to combat the virus and save lives.