A very special and sophisticated Caesar salad
Share - WeChat In a storied career as a chef that brought him from Italy to Hong Kong in 2012, Luca De Berardinis has created culinary masterpieces at numerous top Italian restaurants in the city, including Nicholini's, Il Milione, Operetta and now LucAle in Sai Ying Pun. He loves to share his passion for delicious Italian cuisine with diners. Combining traditional cooking techniques with innovative new techniques, the Special Caesar Salad is one of his signature dishes.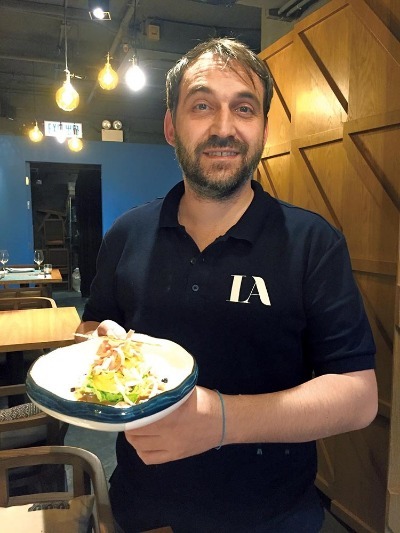 What makes your Caesar salad "special", exactly?
I didn't want to serve my customers an easy, classic Caesar salad – it wasn't my world. So I tried to work on this salad. It's a baby gem lettuce imported from Italy, featuring a normal Caesar dressing with eggs, anchovies, garlic, mustard, salt and pepper. But I put some hazelnut paste and some balsamic pearls on the bottom, and on top of the salad I mix some baby gem with gin. Usually baby gem doesn't have too much taste, so the gin helps to push out the greener notes of the salad. Then I shave some frozen foie gras on top.
Is foie gras a common ingredient in Italian cuisine?
Not really, but I use foie gras because it helps make the taste richer and the dish more valuable. This is goose foie gras and with a few little flakes of sea salt on the top, its taste is just amazing. Cold, it melts in your mouth with the fresh salad – it's a great combination. I love it and the people who eat it love it as well, so I think it's fine.
When exactly did you create this recipe and how long did it take to perfect it?
I started working on this salad about five years ago and I spent a couple of months to adjust the taste, the texture, and the balance between the gin, hazelnuts, salt and foie gras.
Ultimately, it's a very sophisticated Caesar salad…
In Hong Kong, you need to work this way. You need to give the best you can to your customer by using premium ingredients you can find in the market. At the same time, you need to make your business work. Sometimes, what you feel in your heart is too complicated for people to understand. You need to make a choice between what you want, what you decide and what's working.
Is that the secret to success for a chef?
It's a kind of good sense – but perhaps it's the secret to success.
Most Popular