Epidemic prompts new approach to tomb-sweeping custom
By Li Lei | CHINA DAILY | Updated: 2020-04-04 07:29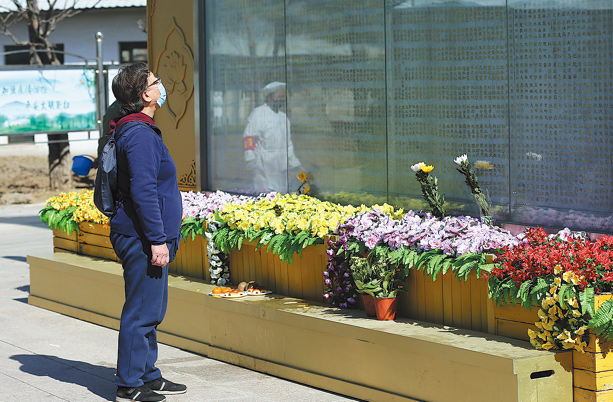 The Beijing government is also promoting online mourning over visits to tombs, and has introduced a reservation system to limit the number of daily visits to graveyards.
For example, the Babaoshan People's Cemetery in the city's western suburbs, which reopened on March 21, has suspended the interment of ashes indefinitely and limited daily visitor numbers to just 3,000.
In the past, the cemetery played host to as many as 40,000 visitors a day in the weeks straddling Tomb Sweeping Festival, according to the management.
The ashes of about 100,000 people are interred there.
The main entrance has been cordoned off to form four narrow, one-way passages that allow only slow progress.
In addition, thermal imaging equipment has been installed at the end of the incoming passageway to monitor body temperatures.
Cemetery workers are required to wear protective gowns, goggles, face masks and single-use caps. A broadcast system reminds visitors not to overstay their alloted time slots, and in-house flower shops have been closed to prevent crowds and long stays. To fill the void, a small counter has been set up to hand out chrysanthemums free of charge.
The cemetery has also unveiled a cleanup service to reduce visitor numbers. Cemetery workers scrub headstones and lay three chrysanthemums at the request of family members, free of charge. When the cleaning is completed, a photo is kept in case family members want to check on the work.
The cemetery used to offer equipment, such as buckets, rags and shovels, for tomb-sweeping relatives, but the service has been stopped to reduce person-to-person contact.