Epidemic prompts new approach to tomb-sweeping custom
By Li Lei | CHINA DAILY | Updated: 2020-04-04 07:29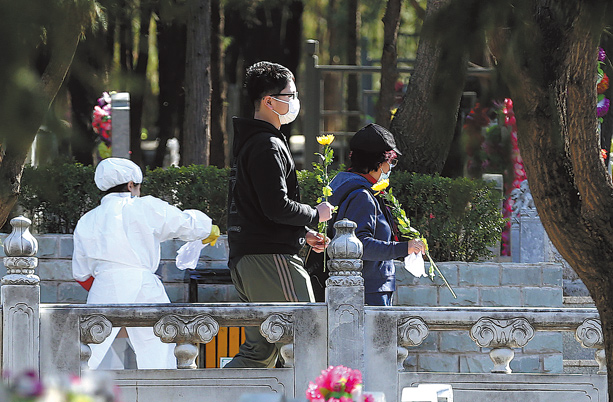 Low turnout
Meng Xiankai, the cemetery's deputy director and spokesman, said the measures seem to have worked so far, with the number of visitors hovering at around one-third the daily limit.
According to Meng's office, 711 visits were booked for March 22, but only 597 people showed up. As of March 24, about 2,000 visits had been booked on April 4, Tomb Sweeping Day, which is usually the peak time for visitors.
Meng added that the authorities felt obliged to impose the strictest measures because many of the tomb sweepers are seniors, and therefore especially vulnerable to the effects of the coronavirus.
"We've no official tally of senior visitors, but very few young people visit the cemetery, and then usually only to accompany their aging parents," he said.
Guo Hao, who was helping his elderly parents tidy his late grandfather's burial plot on March 23, said they had expected more people at the ceremony, but they were the only visitors in the area.
"There are far fewer people," he said. "I can tell from the street outside, which is nearly empty. It used to be packed with cars carrying tomb sweepers during similar periods before."
In response, demand has risen for cleanup services. Liu Kun, who oversees the service, said about 400 orders were placed in the first three days after reopening.
"We have 10 people on board, and they are split into three smaller groups," he said, adding that a group can only clean about six headstones an hour because some of the early tombs are hard to locate. "We are short of hands."
The labor shortage is the result of the outbreak. It disrupted Lunar New Year celebrations and triggered widespread travel restrictions, which have prevented many cemetery workers from returning to Beijing from their hometowns.
Even if the travel restrictions were lifted in most places outside of Hubei, strict quarantine rules have been put in place so new arrivals are subject to 14 days' home isolation, which makes an immediate return to work impossible.