Makeshift hospitals useful abroad
Share - WeChat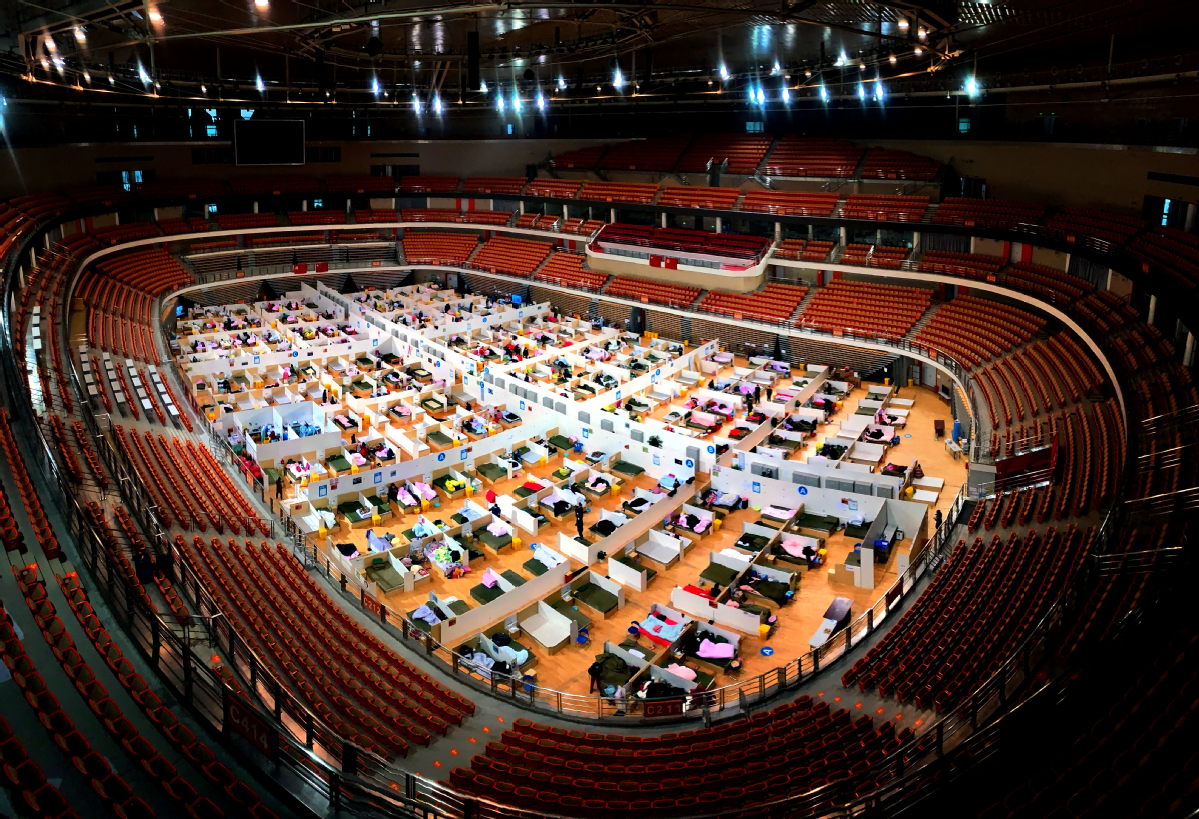 Fangcang shelters provide blueprint for other countries to contain spread of coronavirus
The type of makeshift hospitals built in Wuhan, Hubei province, to control the COVID-19 epidemic could be built in other countries, according to a study published in the medical journal The Lancet.
"Early descriptive evidence suggests that the fangcang shelter hospitals were a major reason for the successful COVID-19 control in China," said the study, which was published online last week. "Other countries facing the COVID-19 pandemic should consider using fangcang shelter hospitals as part of their public health response."
The study was jointly conducted by researchers from institutes including the Chinese Academy of Medical Sciences in Beijing and Heidelberg University in Germany.
A total of 16 makeshift hospitals, called fangcang hospitals in Chinese, were built in February in Wuhan to relieve severe bed shortages.
During a month of operation, they received more than 12,000 patients with milder cases, accounting for nearly a quarter of the COVID-19 patients in Wuhan, according to the National Health Commission.
The number of daily confirmed cases fell to double digits on the Chinese mainland in early March and has remained there since. In Wuhan, the number has remained zero for most days in the past three weeks, from a peak of thousands of new cases a day in mid-February.
The fangcang shelter hospitals were transformed from existing venues, such as sports stadiums, exhibition halls and warehouses, so they were quickly adapted to provide large numbers of beds.
With the decreasing number of new patients, the makeshift hospitals closed on March 10 after the remaining patients were transferred to regular hospitals.
According to the Lancet study, the number of new confirmed patients in Wuhan started to decline steadily on Feb 18, 12 days after the first fangcang hospital started to receive patients.
Wang Chen, president of the Chinese Academy of Medical Sciences and a leading author of the study who advocated for building fangcang shelter hospitals, said apart from providing beds, such hospitals are ideal quarantine sites for milder patients, who account for the majority of COVID-19 patients.
"Patients with milder conditions could receive proper treatment in such hospitals, and be transferred by medical workers to designated hospitals for better treatment if their conditions worsen," he said.
"By caring for large numbers of patients who would otherwise have to stay at home, fangcang shelter hospitals effectively supported China's COVID-19 policy of leaving no patient unattended or untreated," he said.
Patients treated at makeshift hospitals in Wuhan said they had been unable to get admitted to regular designated hospitals at the end of January and early February.
Feng Bangli, a resident of Wuhan, said he developed a fever at the end of January but could not get diagnosed due to a lack of testing kits. He stayed at a designated hotel for suspicious cases for several days before being sent to a makeshift hospital in mid-February.
Feng said he received basic care, such as body temperature tests, and took traditional Chinese medicine during his 12-day stay, although he had no symptoms at that time. Two tests showed him negative for the virus at the end of February. All treatment and meals were free, he said.
China has been supporting many other countries in epidemic control, including sharing information and knowledge on the management and operation of makeshift hospitals, the study said.
Countries such as Serbia, the United States, the United Kingdom and Spain are also building temporary medical facilities similar to fangcang shelter hospitals, the study said.
Although more research is needed to establish the impact of fangcang shelter hospitals on COVID-19 incidence and health outcomes, the experience with such hospitals during the COVID-19 outbreak in China suggests that they may be also applied in other large-scale emergencies such as mass poisonings or natural disasters, according to the study.
Wang, president of the Chinese Academy of Medical Sciences, said when building major structures such as exhibition centers, stadiums and warehouses, new design standards may be formulated to ensure their compatibility with fangcang shelter hospitals so such buildings can be converted into temporary hospitals as quickly as possible.