New York's virus toll surges to single-day high
By Ai Heping in New York | China Daily Global | Updated: 2020-04-09 09:47
US President Donald Trump said the United States might be getting to the "top of the curve" of the novel coronavirus outbreak, as the number of confirmed cases in the country approached 400,000 as of Tuesday, with 12,910 deaths.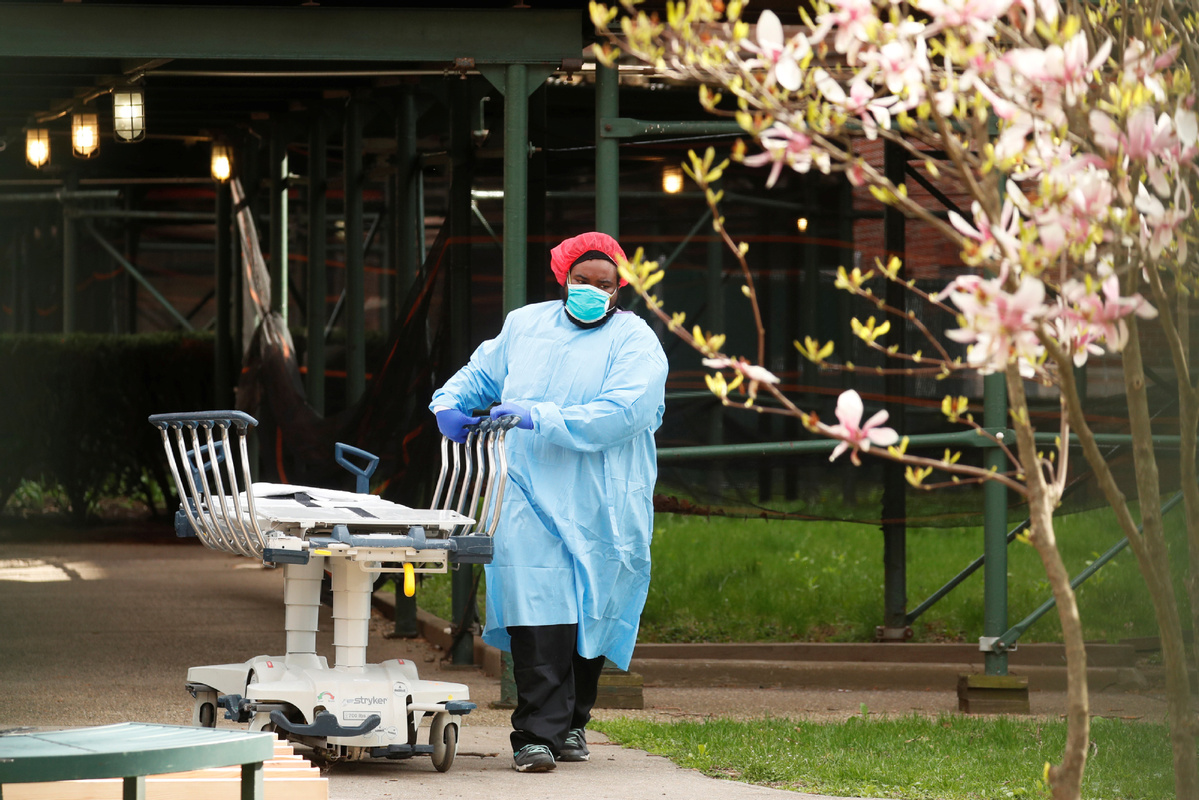 Confirmed infections in the US were more than double that of any other nation, at 399,929, according to data on Tuesday from Johns Hopkins University.
New York state, the center of the crisis in the US, reported 731 deaths on Tuesday, the highest number in a single day, Governor Andrew Cuomo said. That took the state's total death toll from the coronavirus to nearly 5,500. New York City's total death toll surged past 4,000 on Tuesday - more than the number killed in the Sept 11, 2001, terrorist attacks.
Globally, the number of confirmed cases rose to more than 1.4 million, while deaths topped 82,000, according to the Johns Hopkins data. More than 300,000 people have recovered.
Trump said the US "might be on track for far fewer deaths than projected". The president's coronavirus task force previously projected, based on models, that as many as 240,000 people in the US could die in the pandemic.
Trump also reiterated his will to reopen the US economy, saying, "We want to get it open soon, that's why I think maybe we're getting to the very top of the curve."
Meanwhile, earlier on Tuesday, Trump said he was considering putting a hold on US funding for the World Health Organization.
"The WHO really blew it. For some reason, funded largely by the United States, yet very China-centric. We will be giving that a good look," Trump wrote on Twitter.
At the outset of a coronavirus task force briefing at the White House on Tuesday night, Trump reiterated what he said in the tweet: "We're going to put a hold on money spent to the WHO. We're going to put a very powerful hold on it, and we're going to see."
He later walked back his statement, telling reporters he was "looking into it" and that a global pandemic was "maybe not" the best time to freeze funding for the international organization.
Trump has repeatedly criticized the WHO. His administration's most recent budget proposal, in February, called for slashing the US contribution to the WHO from an estimated $122.6 million to $57.9 million.
Angela Rasmussen, a virologist at the Columbia University Mailman School of Public Health, tweeted on Tuesday: "The WHO is underfunded as it is. Denying them funding based on their correct criticism of US failures to respond adequately to the coronavirus pandemic is deeply damaging to global public health."