Traffic trouble leaves Yu's career at red light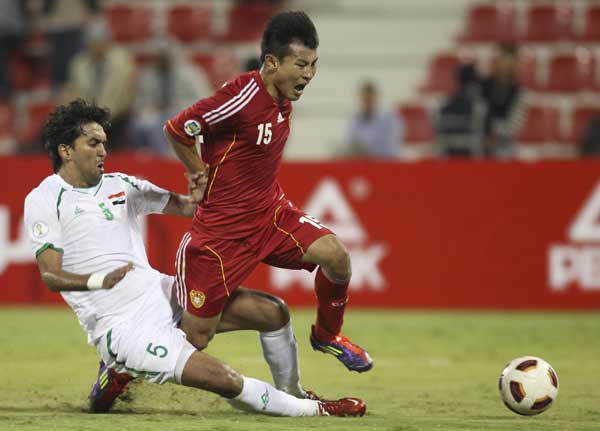 Chinese international Yu Hanchao's fall from grace came fast and hard this week.
A video showing the 33-year-old doctoring the license plate on his Mercedes 4x4 in an apparent attempt to dodge local traffic restrictions was posted online on Tuesday. The footage attracted the attention of the Guangzhou traffic police and cost Yu both his freedom and his job.
Local police fined Yu 5,000 yuan ($700), added 12 penalty points to his license and will hold him for 15 days in administrative detention. That was before Chinese Super League champion Guangzhou Evergrande fired the veteran winger on Tuesday night, saying he had "severely violated" the club's disciplinary code.
The 59-capped Yu has won five Chinese Super League titles and one AFC Champions League crown with Evergrande. Considered ever-reliable for Team China, he had steered clear of controversy throughout his career. On the contrary, Yu was renowned for his charity work, having donated to leukemia patients and Wuhan's coronavirus relief efforts.
His upstanding reputation made this week's drama all the more shocking for fans.
"After an investigation and evidence collected by Guangzhou traffic police, the perpetrator, surnamed Yu, admitted the illegal facts," read a statement from Guangzhou police.
Yu's misdemeanor became the most discussed sports news on Chinese social media so far this week, with related topics viewed over 400 million times on Weibo by Wednesday afternoon.
"It's the most serious penalty in Evergrande's history," said renowned sports commentator Han Qiaosheng, who has over 14 million followers on Weibo. "Before the Yu incident, penalties imposed on players just included fines, suspensions or demotions to the reserve team.
"These penalties not only matter to players' own careers and interests, they should also be warnings to other professional players. No matter if you're an ordinary member of the public or a high-profile soccer player, violating regulations or breaking laws are the red lines that people cannot cross.
"I hope the penalty on Yu will alert all Chinese professional players, especially those who have been in the national team. They should understand that, as public figures, they must be extra cautious about their personal behavior on and off the pitch."
According to Chinese publication Soccer News, Evergrande chairman Xu Jiayin decided that Yu should be fired as long as the police confirmed that he had broken the law.
The club prides itself on a strict approach to player discipline.
Only a month ago, the eight-time CSL champion fined Fernandinho 3 million yuan ($430,000) after the Brazil-born forward missed a chunk of Evergrande's training camp in Dubai, where club officials were unable to establish his whereabouts for several days.
Yu's misstep has undoubtedly damaged Evergrande's image, but some have questioned whether the offense was deserving of the punishment.
"Yu received the administrative detention because he altered his personal license plate in his personal time, so technically it doesn't fall under Evergrande's work management scenarios," Fujian-based lawyer Chen Jun wrote on his Weibo account.
"It would be illegal if Evergrande considers Yu's behavior to have taken place during his personal time as a violation of the club's disciplinary code. It goes beyond Evergrande's administrative scope."
Even so, Yu has still been severely criticized by fans and media, although some reckon he deserves a second chance.
"We can find better ways to help a man to grow," said Dalian Pro defender Zhu Ting.
"Some people who have nothing to do with the matter went too far (online). This is a tough lesson for Yu. But he's a good player, better than me and the majority of us. I believe he will continue to make contributions to Chinese soccer.
Yu is paying the price for his mistake, which will hopefully prove to be a lesson learned for the Chinese soccer community.
"Had it not been for his foolish mistake, Yu Hanchao could have brought back more CSL titles with Evergrande and fought in more games for Team China before his retirement," reads a commentary by the thepaper.cn.
"There is no lack of negative news about Chinese internationals. The reversal in Yu's public image... is no doubt another hit to Chinese soccer."