Japanese moved as China repays favor
By WANG XU in Tokyo | CHINA DAILY | Updated: 2020-04-17 07:10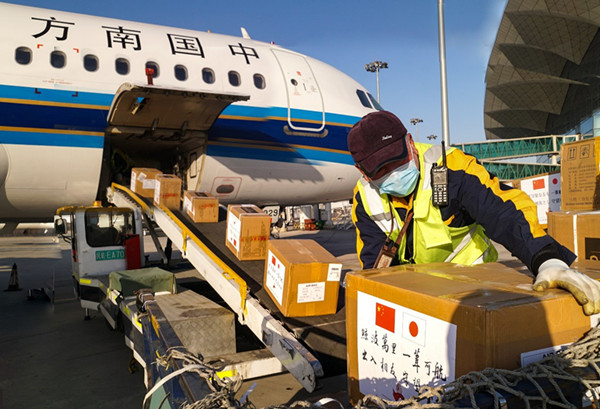 When the chief of a Japanese youth association raced to get donated face masks to China's Hubei province in January, he could have never imagined that the favor would be repaid so soon.
Keizo Honda, secretary-general of the Japan Youth Development Association, or JYDA, said his organization subsequently ended up running out of masks amid a shortage in Japan after the coronavirus spread in the country. That predicament forced the JYDA to halt its operations.
"We did not expect at all that the virus would spread so fast, and now in Japan, one can hardly get a mask," said Honda, wearing a cloth mask.
The JYDA, an organization that helps Japanese students to study abroad, also serves as the secretariat for the body administering the HSK Chinese-language proficiency test in Tokyo. The examinations scheduled for March and April had to be canceled because of the virus outbreak and the shortage of masks.
Now, the donations from China have started to pour in.
On Tuesday, the first batch of 3,000 masks was sent to Honda's office. Delivering them was Tian Pujun, founder of the Chengli Academy, a foreign-culture experience provider for Chinese entrepreneurs.
"Chinese always say the grace of dripping water should be reciprocated by a gushing spring and I am doing this on behalf of the many friends behind me that want to repay this Japanese organization for their gesture earlier," Tian said.
Not long ago, pictures of the boxes of donations that Honda sent to Hubei province-then the epicenter of the COVID-19 outbreak-went viral on Chinese social media.
All the boxes came with a line of classical poetry from the Tang Dynasty: "Mountains and rivers apart, we share the same winds and moon under the same sky".
Photos of the donation attracted more than 170 million views on social media platforms such as Weibo and WeChat.
Stay together
"I thought the poem was well-received because it best described how people felt when facing the coronavirus," Honda said. "We need to stay together to fight it."
Honda's institution is not the only one that was forced to suspend its operations due to the shortage of protective gear as infections grow.
Japan had reported 9,005 confirmed cases, including 182 deaths as of Thursday.
Prime Minister Shinzo Abe on Thursday expanded a state of emergency to all of Japan from just Tokyo and six other prefectures in a bid to contain the coronavirus outbreak. It will last until May 6.
"Japan is now struggling with a shortage of protective gear. The average mask supply in a month in 2018 was 350 million in Japan and more than 74 percent of that was imported," said Zhou Xuan, chief consultant of Nomura Securities.
"Now we estimate that at least 700 million are needed every month, so you can imagine how hard the situation is. And that also makes donations and supplies from China extremely crucial at this time."
According to data collection from the Chinese embassy in Tokyo and China Daily, the central and local governments of China, Chinese enterprises and civil society groups have donated to Japan more than 9 million masks, 98,000 items of other protective gear and 175,000 medical gloves over the past two months.
Masashi Haneda, vice-president of Tokyo University, also received donations from China for his institution.
He said that he is very thankful to Japan's Chinese friends and that with the two countries fighting the virus together, the day of victory cannot be too away.