Europe must reject US-backed attempts to rewrite history and sow division
By Bradley Blankenship | CGTN | Updated: 2020-05-11 11:00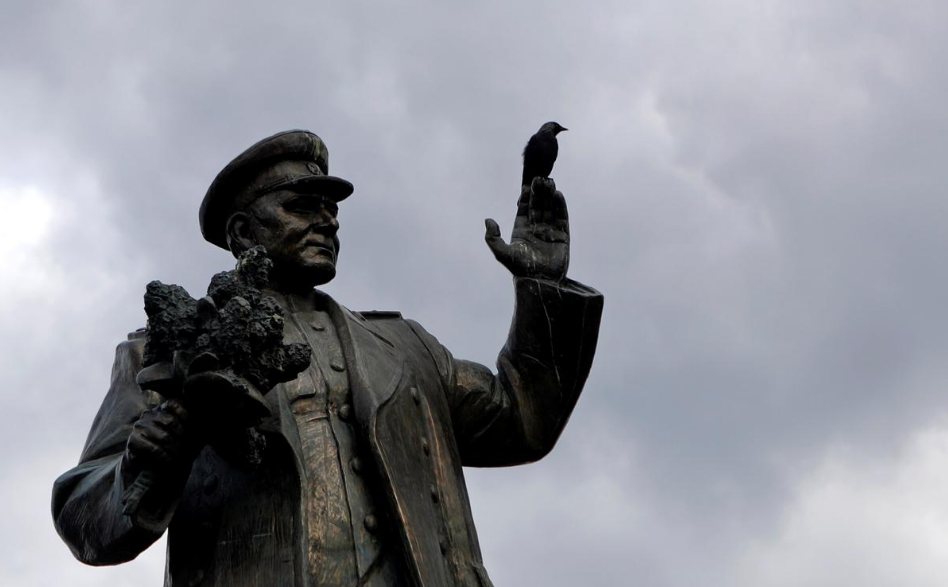 Over the decades following Europe's liberation from Nazi tyranny by the brave efforts of the allied forces, namely the Soviet Union, there has been a disturbing attempt to rewrite the narrative of this important moment in European history, especially in Eastern and Central Europe.
Those who wish to change the history of the war and dishonor those who sacrificed their lives are doing so out of political weaponization and not historical facts.
A recent diplomatic row between the Czech Republic and Russia highlights how deep this attempt goes.
In December, protesters came with flags of NATO, the EU, the United States, and also a banner reading "Here is not Russia, here we lead ourselves," to harass those who came to pay their respects for the 122nd birthday of Soviet war hero Marshal Ivan Konev at his statue in Prague 6.
Konev was the commander of the Red Army who led the Eastern Front of the Second World War, responsible for retaking much of Eastern Europe from the Axis Powers. In May 1945, days after the unconditional surrender of Nazi Germany, Konev's forces entered Prague and liberated the city from Nazi control.
The general was also a key player in the suppression of the Prague Spring in 1968, when Warsaw Pact troops entered then-Czechoslovakia's capital of Prague. It's for this reason that many Czechs view Konev negatively, though at the same time many also respect him and the Red Army's liberation of their country.
An opinion poll in March of this year by Median agency for Czech Radio found that 55 percent of Czechs feel that their modern history is being distorted, including 66 percent of respondents aged 60 and over. Two-thirds are not in favor of removing monuments linked to the Second World War.
However, on April 3, Konev's statue was removed from Prague as local city officials used the lockdown to do so quietly, following up on a local council vote in September.
What's more, on April 30, Prague's Reporyje district built a monument to Andrey Vlasov and the so-called Russian Liberation Army, a group of Soviet defectors that fought alongside Nazi Germany during the Second World War but allegedly (and historians dispute this) assisted Czech forces during the Prague uprising.
These attempts to rewrite history in favor of reactionaries reflect a very deliberate attempt to take the mantle of victory away from the Soviet Union, and the international socialist movement at large, who it should be noted suffered the worst losses and destruction during the war in Europe.
One cannot visit Soviet war memorials in Central and Eastern Europe without understanding the tremendous suffering and loss suffered by Soviet forces and civilians. Monuments in these countries show entire bloodlines of families exterminated by Nazi forces, including women and children.
In Berlin's Tiergarten, for example, one will find a Soviet memorial dedicated to the soldiers who died in Berlin – a majority of whom are young men between the ages of 18 and 25, representing an entire generation lost to the genocidal Nazi regime.
Germany itself recognizes its central role in starting the war and has unwaveringly rejected any attempts to cast "victims as perpetrators." The German Foreign Ministry on Friday denounced these actions in a statement, saying:
"The repeated attempt in recent months to rewrite history so disgracefully requires us to speak up loud and clear – something that should not actually be necessary in view of the irrefutable historical facts – and to leave no doubt whatsoever that Germany alone unleashed the Second World War by its invasion of Poland and Germany alone is responsible for the crimes against humanity of the Holocaust."
"Those who sow doubt about this and thrust other countries into the role of perpetrator do injustice to the victims, exploit history for their own ends and divide Europe."
The statement seemed to be a direct response to Friday's joint statement by the U.S. Secretary of State and the Foreign Ministers of Bulgaria, the Czech Republic, Estonia, Hungary, Latvia, Lithuania, Poland, Romania, and Slovakia. Their statement mentioned Nazi Germany only once and seemed to be a crackpot, anti-communist rant.
The United States, for its part, has shown to be the main ideological driver of this attempt to rewrite history and paint itself as the guarantor of world freedom after its supposedly galant showing in the Second World War. But nothing could be further from the truth.
Politics aside, it is not only morally repugnant to forget the sacrifice of the nearly 27 million Soviet people that died to liberate Europe, it is also dangerous.
As the cliché by philosopher George Santayana goes, "Those who cannot remember the past are condemned to repeat it."
This attempt to rewrite history, or in this case reality, is already playing out once again as Western countries, and in particular the United States, attempt once again to deny and downplay China's crucial contributions to Europe and the world during the COVID-19 pandemic simply because they do not agree with China's mode of production. That's what all of this comes down to.
So let's finally say the truth that Western elites don't want to hear: it is the masses that are the engine of history, and it is them that bear the mantle of victory in every struggle that challenges humanity to its core. So too will be this latest crisis.