Song psyched for ultimate challenge
Share - WeChat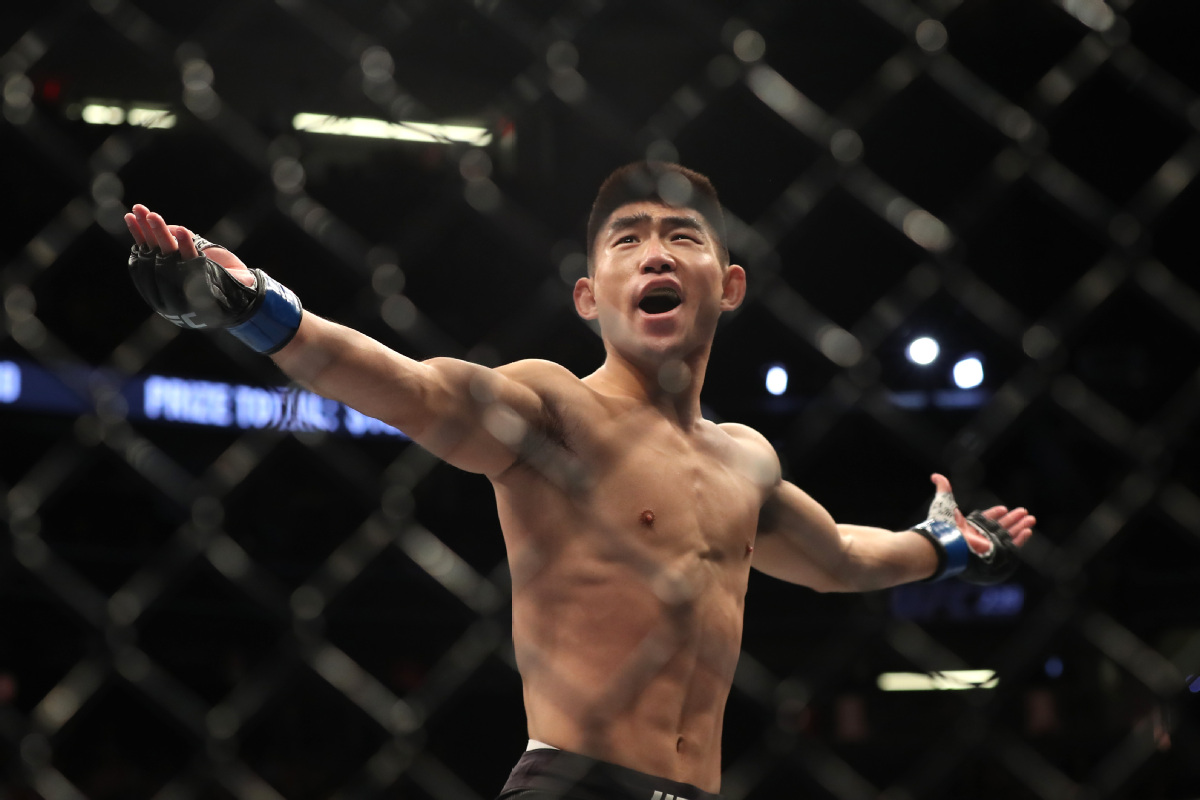 Chinese cage crusader raring for UFC return despite virus crisis looming large
Facing a dangerous opponent in the cage and the elusive COVID-19 threat outside it, young Chinese brawler Song Yadong knows the stakes have rarely been higher as he prepares to return to action in the Ultimate Fighting Championship this weekend.
With UFC pushing ahead with behind-closed-doors events during the pandemic, Song (15-4-0) will square off against Marlon Vera (15-5-1) at an empty VyStar Veterans Memorial Arena in Jacksonville, Florida, on Saturday.
The 11-bout fight night, headlined by a heavyweight showdown between Dutch striker Alistair Overeem and American southpaw Walt Harris, wraps up a three-event series launched by last Saturday's UFC 249-a bold statement of intent to resume the action from the promotion despite the virus crisis ravaging the United States.
UFC only reached out to Song about the fight barely two weeks ago, but despite the short notice, the 22-year-old has vowed to pull no punches once he steps into the Octagon.
"To be honest, I have my concerns and I didn't want to fight at the moment when I received the call-up," Song told China Daily during a telephone interview on Saturday.
"But after talking with my coach I realized that I need this fight as a pro even during this challenging period of time.
"Nobody is forcing you to do anything. It's my choice. I'll train to recover as best as I can physically and I'll make sure I handle every step in the buildup to the fight as cautiously as possible to keep myself safe from the virus."
Song and Vera usually compete as bantamweights (135-pound) but both have agreed to fight in the featherweight (145-pound) division on Saturday, reckoning that dramatic weight loss could make them vulnerable to infection at a time when autoimmunity matters.
"To turn myself back into combat mode from an indefinite break very quickly was a big challenge," said Heilongjiang native Song, who has been training under the guidance of UFC Hall of Famer Urijah Faber in Sacramento, California, for the last three years.
"Vera is a strong opponent but I am confident of beating him. I am better than him in quickness and power."
Ranked 13th in the bantamweight division as the only Chinese man cracking the top 15 in any UFC category, Song, aka "The Kung Fu Monkey", is unbeaten in his last eight fights.
After four consecutive UFC victories since his promotion debut in 2017 in Shanghai, Song had to settle for a majority draw against American Cody Stamann in his most recent outing in December where he was deducted a point for an illegal knee in the opening round.
Known as "Chito", the 27-year-old Vera had been on a red-hot streak before the coronavirus pandemic put the brakes UFC's attempts to fight through the crisis.
The 14th-ranked bantamweight has won his previous five bouts, most recently a third-round TKO over Andre Ewell at UFC Tampa in October.
Having been reluctant to follow the example of all the other major North America-based pro sports organizations in suspending competition, UFC president Dana White was forced to relent in March and April due to virus-prevention regulations in host states and international travel restrictions.
Getting the show back on the road has not been easy.
UFC 249, originally scheduled to take place on April 18 in US virus epicenter New York, was postponed for three weeks until the promotion found a new host in Florida. Local government in the 'Sunshine State' deemed pro sports as "essential business", allowing it to continue during the pandemic.
However, the confirmation of Brazilian Ronaldo Souza's positive COVID-19 test just a day before his later-scrapped middleweight bout against Uriah Hall at UFC 249 should heighten vigilance levels at the promotion. As well as closing the door to spectators, UFC is limiting personnel and testing and isolating athletes upon their arrival at host venues.
Having stayed safe in California with his parents throughout the outbreak, Song said he will focus on his mission to eventually fight for the division belt, regardless of whatever challenges that journey might bring.
"I am still young and raw in terms of my all-round technique as a complete MMA fighter," said Song, who started practicing Chinese kung fu aged 9 at a martial arts school near the renowned Shaolin Temple in Henan province.
An exceptional kickboxer, Song is now building a more rounded style, which focuses on wrestling technique, under the tutelage of the legendary Faber, who at 30 still fights as a pro.
"If I can be as dangerous on the ground as I am on my feet, I think I will be ready for a shot at the title in the division," said Song. Saturday's rumble should also go a long way to deciding the young Chinese's title ambitions.