Some elite sport resumes in Europe but without fans
Share - WeChat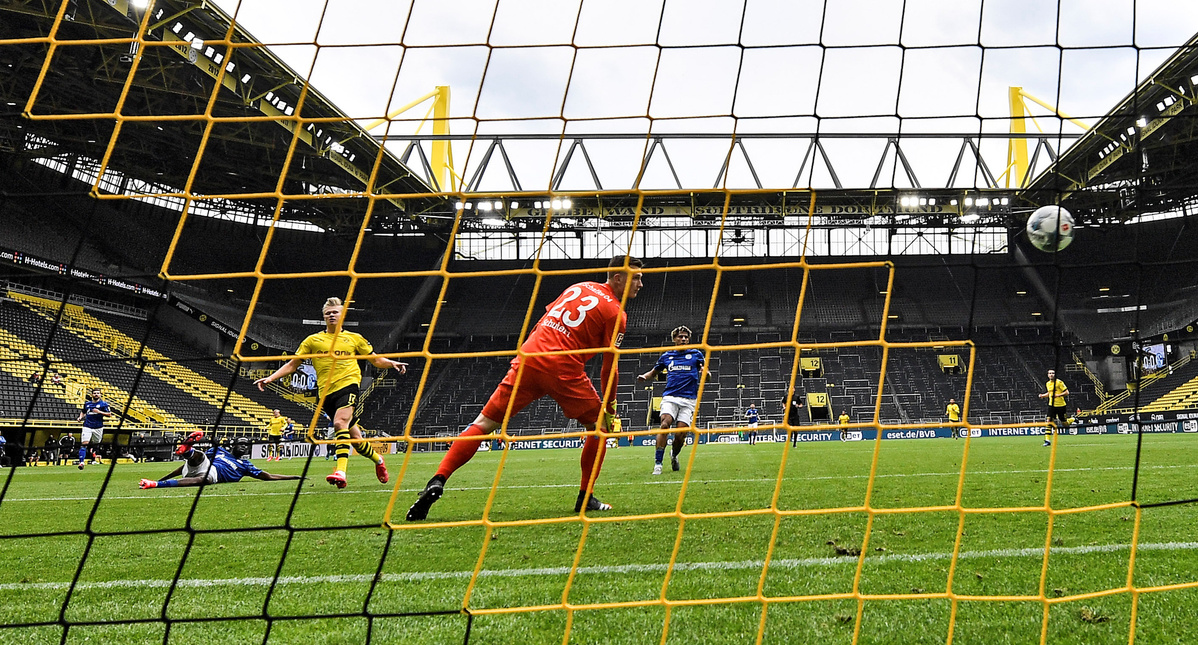 Europe's sport-lovers got their first taste, on the weekend, of topflight action, after two months of novel coronavirus-caused lockdown in Germany was relaxed to the extent that teams could meet once again in the hallowed Bundesliga.
It was the world's first elite-level soccer for more than two months.
But games were played in stadiums devoid of fans, even if some teams resorted to filling their stands with cardboard cutouts.
The resumption was greeted be some fans with delight and by others with derision but the fact that players could once again ply their trade meant that one of the continent's largest leisure industries, soccer, was at least able to rake in a little income after such a long time with almost none.
The BBC quoted Fortuna Dusseldorf manager Uwe Rosler as saying, after his team played out a goalless draw with Paderborn: "The day was a bit odd. I am an emotional man, I like to take a player in my arms, which I obviously couldn't do today."
Players arrived for games in fleets of buses, to ensure they could social distance, and they spent the preceding week in quarantine to guarantee they were not carrying the virus. Support staff members were kept to a minimum, and police dispersed fans that gathered outside stadiums.
Dortmund coach Lucien Favre said: "There is no noise. You shoot at the goal, you make a great pass, you score, and nothing happens. It's very, very weird."
But Freiburg coach Christian Streich said the idea of playing without fans at the game, while not ideal, is better than the alternative of drawing a line under the season.
In the United Kingdom, the English Premier League, or EPL, arguably the world's most prestigious national soccer league, is talking about a similar fan-less return to action, possibly on June 12, with games played in neutral stadiums to avoid the risk of home-team fans congregating outside grounds.
And the stakes are high, with stakeholders estimating that topflight European clubs stand to lose more than 3.5 billion pounds ($4.2 billion) because of the novel coronavirus and COVID-19 disease, even if teams manage to finish their interrupted seasons.
Business analysts Vysyble said EPL clubs could lose 878 million pounds if games are played behind closed doors until the end of the 2020-21 season.
Large clubs will suffer the biggest losses, with Manchester United likely to lose 140 million pounds because of the virus. Arsenal is looking at losses of 122 million pounds.
Charlie Marshall, chief executive of the European Clubs' Association, told BBC Sport: "The complete severing of match-day income is the big scare at the moment as these revenues have simply been switched off. This is financially devastating for all clubs-particularly those who rely more proportionately on sheer numbers of fans."