Foreign Ministry says US responsible for tensions
By ZHOU JIN | CHINA DAILY | Updated: 2020-05-19 10:46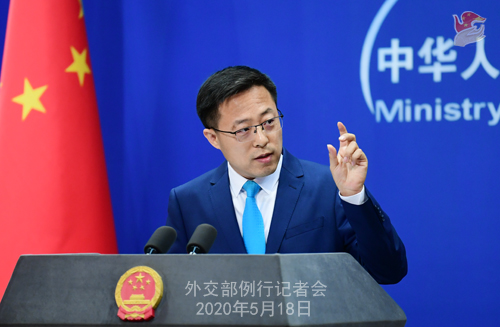 China said on Monday that it is the United States that caused and should be responsible for the current tension regarding journalists working in each others' countries, and it urged Washington to stop its suppression of Chinese media.
Foreign Ministry spokesman Zhao Lijian made the remarks after US Secretary of State Mike Pompeo claimed on Sunday that China had threatened to interfere with the work of US journalists in Hong Kong. He warned Beijing that any decision impinging on Hong Kong's autonomy could affect the US assessment of Hong Kong's status, Reuters reported.
An annual review of Hong Kong's special economic and trade status is required in the Hong Kong Human Rights and Democracy Act, which was signed into law by US President Donald Trump in November despite China's strong opposition.
"Hong Kong affairs are China's domestic affairs that brook no interference from any foreign government, organization or individual," Zhao said at a daily news briefing.
Zhao spoke out against the measures taken in the US against Chinese media, including designating five Chinese media outlets as "foreign missions" and expelling their employees and restricting visas for Chinese journalists to 90 days. China has since taken countermeasures against US media outlets in the country in response.
He said China deplores and opposes such wrong practices, saying the US has a Cold War mentality and an ideological prejudice against China.
Such moves will severely disrupt normal reporting by Chinese media in the US and will affect bilateral people-to-people exchanges, he said.
If the US goes further down this road, it could expect strong countermeasures from China, he added.
Pompeo announced on May 6 that the US State Department was delaying a report to Congress assessing whether Hong Kong enjoyed sufficient autonomy to continue receiving special treatment from the US.