Turkish authorities look to Chinese medical expertise
By LIU XUAN | CHINA DAILY | Updated: 2020-05-20 09:59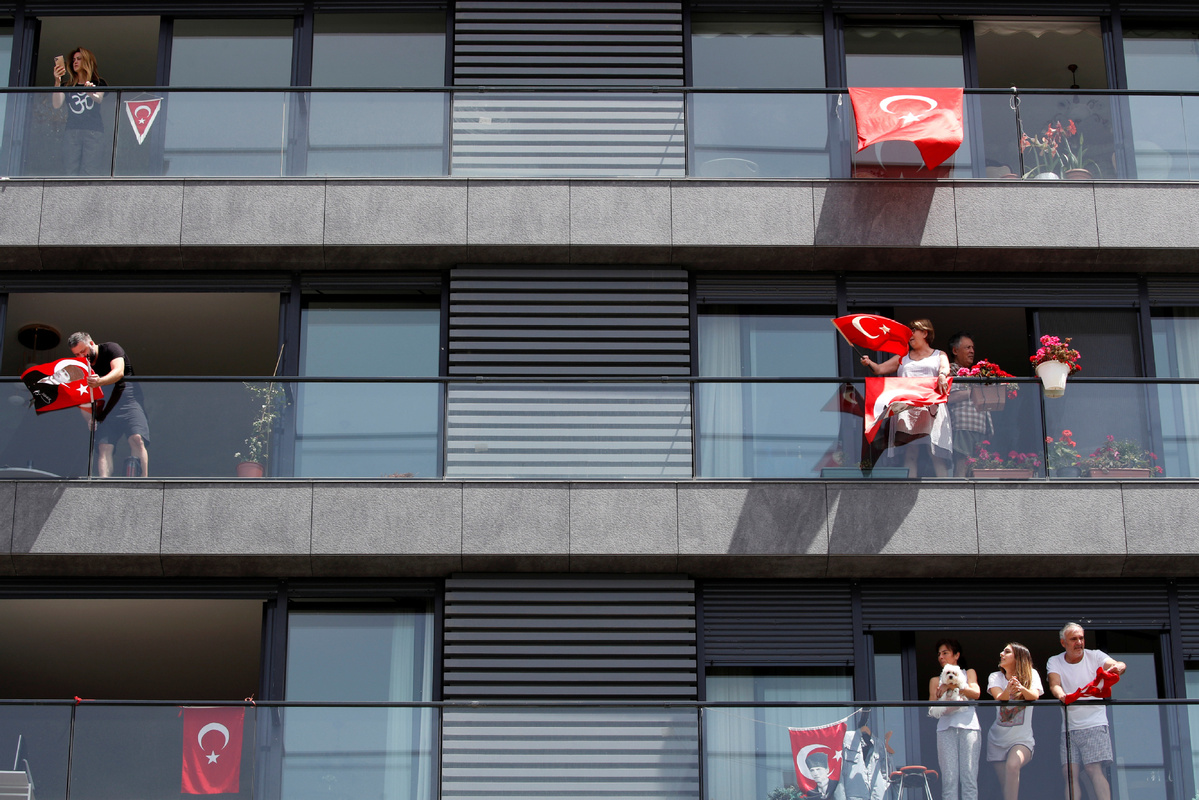 Experts offer pandemic advice, answer key questions
Editor's note: The world faces huge challenges during the COVID-19 outbreak, and maybe even greater ones when it is over. Here, in the 10th part of a series titled "One World, One Fight", we look at how countries can work together to fight the virus and meet the challenges when the pandemic ends.
After eating a simple break-fast, Ma Baocheng starts dealing with daily tasks at home. He eats lunch at about 2 pm, and in the afternoon, if there is not too much work to do, he usually watches a movie.
In the evening, he plays tennis with colleagues in his community, or completes a workout session by following an online video. He then cooks himself dinner and ends the day with another movie.
Working in Istanbul, Turkey, for AVIC International, a Chinese company focusing on the integrated aviation supply chain service system, Ma said life under lockdown has not been that bad but is less exciting than usual.
The 24-year-old has worked from home since March 11, when Turkey announced its first confirmed COVID-19 infection after a man returning from a trip to an affected country in Europe tested positive.
In the next two weeks, sporadic cases of the disease were reported in Turkey.
On March 19, media reports said that Aytac Yalman, 79, former commander in chief of the Turkish Army, died from COVID-19 four days previously. He tested positive after returning from Iran-at the time the epicenter of the outbreak in the Middle East.
On March 26, more than 1,000 patients tested positive, while next day, 2,069 positive tests were reported.
Confirmed cases and deaths in the country then skyrocketed, with the number of daily infections reaching as high as 4,800. Within just 20 days, the number of infections in the country stood at 10,000.
By April 1, the disease had spread to all the country's 81 provinces, and the bad news kept coming.
Haydar Bas, 73, chairman of the Independent Turkey Party, died on April 14, another high-ranking official to succumb to the virus.
Five days later, the number of confirmed cases in Turkey exceeded the figure in Iran, with Turkey becoming the most-affected country in the Middle East in terms of cases.
On April 24, the number of cases in Turkey surpassed 100,000, making the country the hardest-hit nation outside Europe and the United States. (Some 5 percent of Turkey's land mass is situated in Europe.)
Ma said that as an important gateway between Europe and Asia, it was no surprise that Turkey had seen such a huge rise in cases in such a short period, especially with the country being close to two main epicenters-Iran and Europe-and also a favored destination among large numbers of travelers.
"It was as if people had been mentally well-prepared for such a situation," Ma added.
However, anxiety and fear were spreading along with the virus.
Supplies of face masks ran out at many stores in Turkey, and Ma said the price of a liter of disinfectant rose from 80 Turkish lira (about $12) to 1,800 lira in just a few days.
Quick action
The country acted quickly-adopting a series of measures as early as the start of January to reduce the spread of the virus.
On Jan 10, the Ministry of Health set up the Coronavirus Scientific Advisory Board with 26 members, specializing in fields such as chest diseases, infectious diseases and clinical microbiology. The number of members later rose to 31. The board works on treatment guidelines for medics and on measures to be followed by the public. It also provides updates on the COVID-19 situation nationwide.
On Jan 24, the Ministry of Health installed thermal cameras at airports. It also said that passengers arriving from China would face additional screening, with anyone showing symptoms of the virus facing a period of quarantine.
The screenings were later expanded to include arrivals from all countries reporting a high number of confirmed cases.
Other precautionary measures introduced at Turkish airports included infrared detection guns, disinfection of all customs areas and distribution of free surgical masks and instruction leaflets.
At the start of February, Turkey barred all flights arriving from China, and on Feb 23, it closed the border with Iran, which had fewer than 100 confirmed cases at the time. It also halted all flights to and from Iran.
On Feb 29, the authorities terminated all flights to and from Italy, South Korea and Iraq-countries where the outbreak was more severe than in Turkey.
Soon after, they closed the border with Iraq, and the Ministry of Health set up field hospitals near the borders with Iraq and Iran.
On March 12, a day after announcing the country's first confirmed case, the Turkish government said all primary and secondary schools and universities would be closed.
A series of curfews or partial lockdowns were also imposed to curb the movement of people.
In late March, citizens age 65 and older and those with chronic diseases were ordered to stay at home, while on April 4, Turkish President Recep Tayyip Erdogan imposed a partial curfew on those age 20 and younger.
Erdogan also closed 31 cities, including Istanbul, to vehicles-excluding those in transit and those carrying essential supplies such as food, medical and sanitary products.
He said the closure order would be in effect for 15 days, but could be extended if necessary.
On April 10, curfews in 31 provinces were extended for another 48 hours. Before they ended, Erdogan said that until further notice they would remain in force during weekends.
On April 23, a four-day nationwide curfew took effect. This month, a three-day lockdown was imposed across the country, with Erdogan saying the weekend curfew would continue until after Eid al-Fitr, a Muslim feast marking the end of the holy month of Ramadan, late this month.
Ma, from Avic International, said: "Many restaurants are closed. Banks and supermarkets remain open, but have limited business hours. Our company also has some regulations, only allowing us to go out once a week to purchase daily supplies."
The curfews have affected daily life, but there was some good news on April 23, when the number of daily confirmed cases was about 1,000 fewer than the day before. Since then, the number of such cases has fallen from about 3,000 to around 1,500 in recent days.
On March 20, the Ministry of Health issued an order declaring all hospitals with at least two specialists in infections, pulmonology, internal medicine and clinical microbiology as coronavirus pandemic hospitals.
On April 6, Erdogan said the government was building two hospitals in Istanbul in the Arnavutkoy area on the European side of the city and in the Sancaktepe district on the Asian side. Both are located at airports.
Some 5,000 medical ventilators would be produced by the end of this month to fight the virus, the government said.
The authorities also took control of pricing and supplies of personal protective equipment and disinfectant. Erdogan issued a presidential decree, suspending import tariffs on ethanol, disposable medical masks and ventilators. Turkish citizens can also receive face masks free of charge.
Cooperation with China
"Once we heard the news from home, we started to act," Ma said. "On the eve of Spring Festival, the Chinese Consulate General in Istanbul and Chinese company associations asked all enterprises to report any personnel who arrived in Turkey from China."
Ma said that since February, many Chinese in Turkey have been buying and reserving medical supplies. "As far as I know, no Chinese companies or associations have faced a shortage of supplies," he said.
On the contrary, they have donated a considerable number of face masks to local communities.
On March 25, Chinese companies and people-including students-in Turkey donated medical supplies to the country, including 5,200 masks, 5,000 surgical gowns and 10,000 surgical hoods. Two days later, Industrial and Commercial Bank of China (Turkey) donated $100,000 to support the country's fight against the virus.
Ma said his company donated about 10,000 Turkish lira.
Experts from China and Turkey have held a series of online conferences to share their experience and opinions on preventing and treating the virus.
On March 26, a three-hour videoconference was held between members of the Ministry of Health's Turkish Science Board and Chinese experts involved in the fight against the virus, the Hurriyet Daily News, an English-language daily in Turkey, reported.
The Chinese experts proposed a series of recommendations, underlining the need for isolation as the foremost precaution against the spread of COVID-19.
On April 10, eight front-line experts from Hunan province held an online meeting with their Turkish colleagues, including Deputy Minister of Health Emine Alp Mese.
The experts addressed Turkish concerns and answered questions, including how to treat patients, ways to prevent medical workers from becoming infected, tracking the progress of patients who recover, and managing asymptomatic cases.
Hu Chengping, a professor of respiratory diseases at Xiangya Hospital of Central South University in Changsha, Hunan, offered advice on preventing less serious cases of infection becoming severe and critical ones. Hu is a leading expert from the province's team tackling the novel coronavirus.
Turkish medics said they found the knowledge useful.
Gule Cinar, a clinical microbiology and infectious diseases doctor, said, "There is a lot of experience to be learned from China, and we are trying to look to it in our fight against the virus, because we know that its methods worked."
Because of China's success, the doctor said lessons-such as controlling and containing the virus through isolation, confinement and social distancing-are worth learning.
"The death rate among infected patients has also remained low in China, which is something that we value and are trying to replicate here," Cinar said.
Muhammet Mustafa Aydogan, director of the Bosphorus Center for Asian Studies in Ankara, the Turkish capital, said, "China has played its part in a quick response to the outbreak and has adopted a responsible stance in the process."
Easing the lockdown
After a two-month battle against COVID-19, Turkey began to see some signs of hope this month, with the number of cases and patients in need of intensive care and respiratory equipment falling.
After a cabinet meeting on May 4, Erdogan announced a plan to gradually ease restrictions.
Under the plan, since May 13, those age 65 and older have been allowed outdoors on weekend for four hours, and children age 14 and younger have also been able to venture outside. On Friday, those aged from 15 to 20 were allowed to go outside for the first time since the outbreak.
Shopping malls were allowed to reopen from May 11, as were barber shops, hair salons and beauty parlors-as long as they obeyed a number of regulations.
The government is also lifting entry and exit restrictions in seven cities where the outbreak has been brought under control.
Health Minister Fahrettin Koca said the administration's science council would publish guidelines for businesses to follow as they resume operations, detailing precautions to avoid a rise in new cases.
The minister also said Turkey is preparing to test foreign tourists, as it plans to resume such flights later this month.
On May 13, Culture and Tourism Minister Nuri Ersoy said the Turkish tourism sector would resume operations in a controlled way.
However, even with the country gradually easing lockdown measures, Avic International's Ma said he prefers to remain cautious.
"Our company still doesn't allow us to go out. We are now in a wait-and-see situation. Hopefully we can go back to the office in early June," he said.
Erdogan, the Turkish president, has said, "If the rules aren't adhered to and the outbreak spreads again, we will be forced to resort to tougher measures."
Koca, the health minister, said the assumption that everything would return to normal was not true, while health experts warned of the risks.
Alpay Azap, a virologist and member of the Coronavirus Scientific Advisory Board, said: "The reopening of barber shops, hair salons and shopping malls doesn't mean that the outbreak is over. It means that the workload density in hospitals is decreasing and that if needed, there is a bed there for you."
Bulent Ertugrul, another virologist, said that until a vaccine is developed, "face masks have to become an extension of our daily clothing".
Xinhua contributed to this story.